Maria Shriver Was Never The Same After Her Divorce From Arnold Schwarzenegger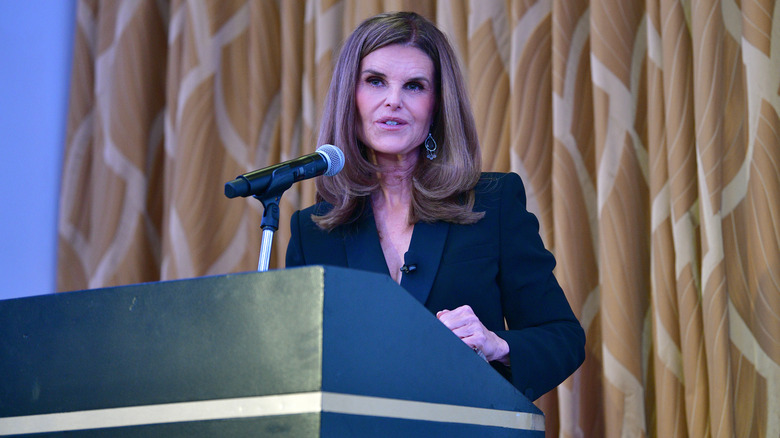 Araya Doheny/Getty Images
We may receive a commission on purchases made from links.
Few Americans can boast a political pedigree equal to that of Maria Shriver. She's the daughter of politician Sargent Shriver, who served as the founding director of the Peace Corps, and Eunice Kennedy Shriver, who established the Special Olympics. Most notably, she's the niece of late President John F. Kennedy. "I grew up in a family that was driven to serve," she states on her website. "I have always been surrounded by extraordinary people doing extraordinary things. At times, it's been challenging. But more often than not, it's been motivating."
Despite a civic legacy inherited from her family, she forged her own path in life, crafting a career in journalism. She's been a writer, producer, and eventually anchor at CBS News and NBC News. Throughout, she's traveled the world and interviewed some of the most influential and famous people in history. 
In 2021, Shriver sat for an interview on "The Ed Mylett Show," where she delved more deeply, more philosophically into her past. "I came into journalism when there were no women in it . . . you had to wear a power suit, and you had to work twice as hard, and, if you had a baby, you had to come back in a week." These experiences inspired a key question for Shriver. "What is the model of all-encompassing feminine strength?" Her answer? "To be able to celebrate your femininity and your sexuality, but also hold your ground and have boundaries," said Shriver, whose wisdom encompasses more than her occupation.
Evolving beliefs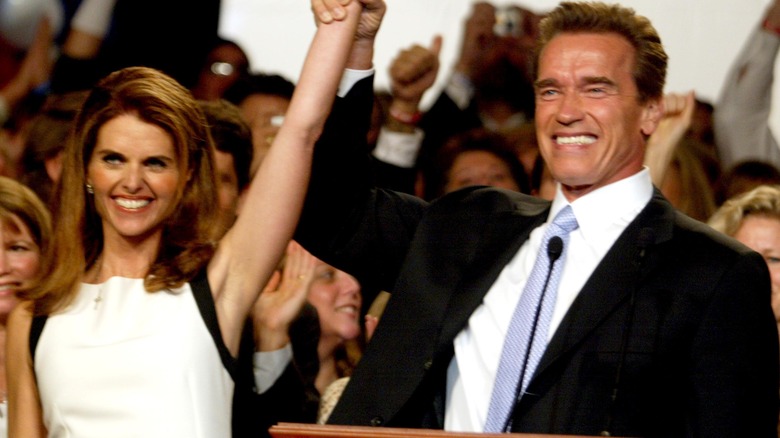 Lee Celano/Getty Images
Maria Shriver does not consider journalism her life's summit, instead, she counts her seven years as First Lady of California as "the role of a lifetime." Her casting call was courtesy of Arnold Schwarzenegger, actor-turned-governor. The couple got married in 1986 and raised four children (via People). Shriver's picture-perfect marriage erupted after 25 years, following Schwarzenegger's recognition of his 25-year-old son, Joseph Baena. The mother of this child? The family's longtime housekeeper, Mildred Baena.
In her interview with Mylett, Shriver shared the many insights gained as a result of her divorce. She noted that while it's natural for our beliefs to evolve based on our life experiences, "I noticed growing up in a political family that you're penalized for changing your mind." This, then, is the crux of her current work. 
"I write a lot about all the things I was wrong about that I've changed my ideas about," she said. "My parents are both dead, I got separated after being with one person for 34 years . . . so I've got to be different at this age than I was in my 20s." In particular, Shriver's changed her mind about what her life should look like following her and Schwarzenegger's relationship and divorce. "I never believed that I would be sitting here single at my age. I would have thought: 'What's up with that girl that she's single? Does she not have anybody who loves her, what's wrong with her.'"
It didn't take Maria long to get back on her feet and carve her own path in life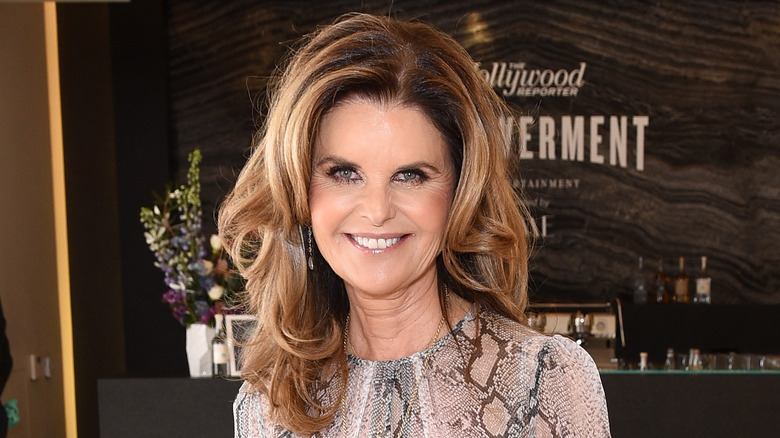 Presley Ann/Getty Images
Maria Shriver explained during her interview with Ed Mylett that facing her trials and tribulations meant she had to evolve from her old views and had even once considered divorce a sin.
The award-winning author's divorce from Schwarzenegger was finalized in 2021 after more than ten long years. Although the divorce process was relatively quiet and scandal-free, the former First Lady of California didn't sit around waiting for it to be over before taking up her passions and hobbies again. She authored a book in 2018 titled, "I've Been Thinking . . . Reflections Prayers and Meditations for a Meaningful Life," which turned out to be a bestseller, and also found her way back to journalism as an anchor with NBC. She has proved herself a strong voice in the fight for women's rights, tackling important issues like abortion rights. In 2017, Shriver was bestowed a Lifetime-Achievement award by the Alzheimer's Association for her work in raising awareness for and movement against Alzheimer's.
Not only is Maria Shriver a powerful advocate for important issues, but she's also an inspiration to people everywhere to not allow negative situations to define them.