Paul Mescal Is Embarrassed By His 'Undignified' First Meeting With Nicole Kidman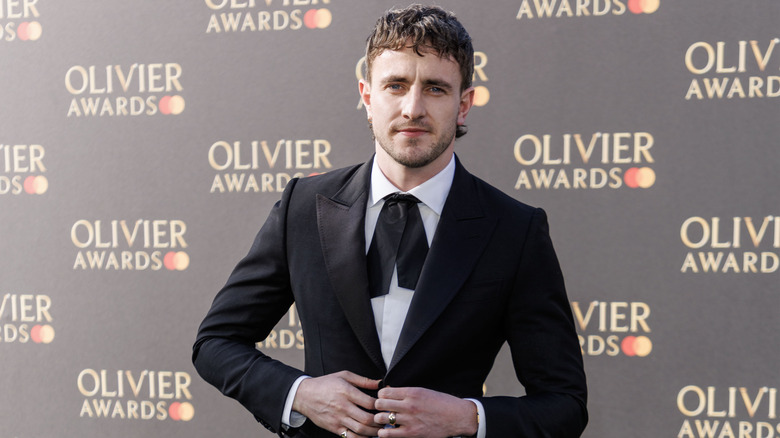 Mike Marsland/Getty Images
While the phrase, "Celebrities, they're just like us!" rarely holds true, when it comes to meeting A-list movie stars, anyone would get nervous, even if you're a fellow actor. One of the biggest names in the game is Nicole Kidman. She began acting in Australia in 1983, but when "Days of Thunder" brought her to the United States, Kidman's career truly took off. Since then, we've seen the Oscar-winner in everything from thrillers to romantic comedies, and even superhero films. 
Her relationships have captivated us, too, beginning with Tom Cruise and ending with her country-star husband, Keith Urban. Who wouldn't get a little tongue-tied in the presence of a true Hollywood great like Kidman? Especially if you were caught in an extremely awkward position like poor Paul Mescal. The "Aftersun" star could only explain his first encounter with Kidman as "incredibly undignified." It's certainly a meeting neither celeb will soon forget, even though Mescal undoubtedly wishes he could.
Instead of speechless, Paul Mescal was pantless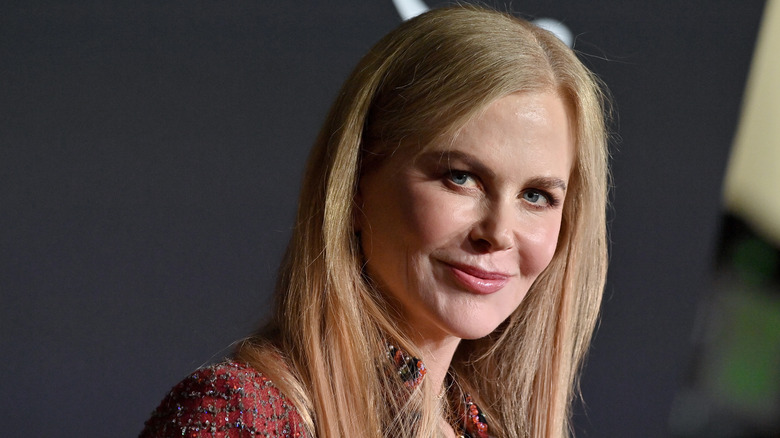 Axelle/bauer-griffin/Getty Images
Whether you view your favorite stars on television or grace the screen yourself, encountering an actor you look up to can be a once-in-a-lifetime experience. For Paul Mescal, though, meeting one of his Hollywood idols wasn't a dream come true but a nightmare. The Irish actor had taken a break from television and film to play Stanley Kowalski in "A Streetcar Named Desire," in London. 
As Mescal revealed on "Jimmy Kimmel Live!" he had no idea that Nicole Kidman would be in attendance for one of the performances. Mid-change in a dressing room with his castmates, the actor heard a knock at the door. Wrongly assuming it was the manager or another crew member, Mescal swung it open only to reveal none other than Kidman herself standing there. 
The shocked star recalled, "It's Nicole Kidman, and I'm standing there in, like, sweaty underwear." He couldn't very well pull up his pants as "there's something incredibly undignified about the act." So, Mescal briefly embraced the living legend in his half-dressed state before she went to find her seat, and then shut the door in disbelief, admitting, "'You just turn to each other like, 'What the hell just happened?'"
Both actors have a connection to the stage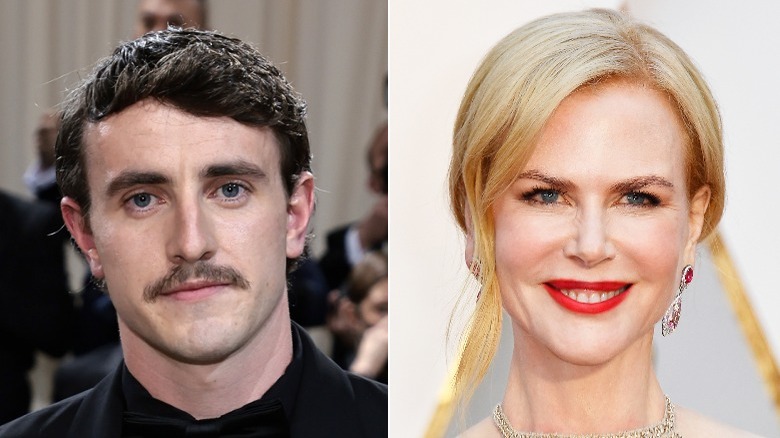 Jamie Mccarthy & Frazer Harrison/Getty
Nicole Kidman is known to be a fan of Broadway, donating $100,000 to Broadway Cares/Equity Fights AIDS during their 2022 fundraiser. However, even with her stunning voice, she has acknowledged that singing on stage is something she would never feel confident enough to do. But the same can't be said for Irish heartthrob Paul Mescal, who worked in theater until 2020 when Hulu cast him in "Normal People." 
Since transitioning from the stage to the screen, the actor has secured Emmy, Oscar, and Critics Choice Award nominations. Mescal probably wishes he had a bit more to say when it came to meeting Kidman, but his personal relationships are something about which he remains tight-lipped. The actor has been romantically linked to Phoebe Bridgers, although neither celeb was very forthcoming with any details. 
The celebrity couple was rumored to have split in February 2023, though nothing has been confirmed (Bridgers has since been linked to Bo Burnham). What is for sure, however, is that Mescal is on a meteoric rise, slated to appear in a host of upcoming films including the blockbuster sequel, "Gladiator 2," which is set to be released in November 2024. Kidman, meanwhile, continues to dominate Hollywood.