How Kelly Ripa And Mark Consuelos Manage Work-Life Balance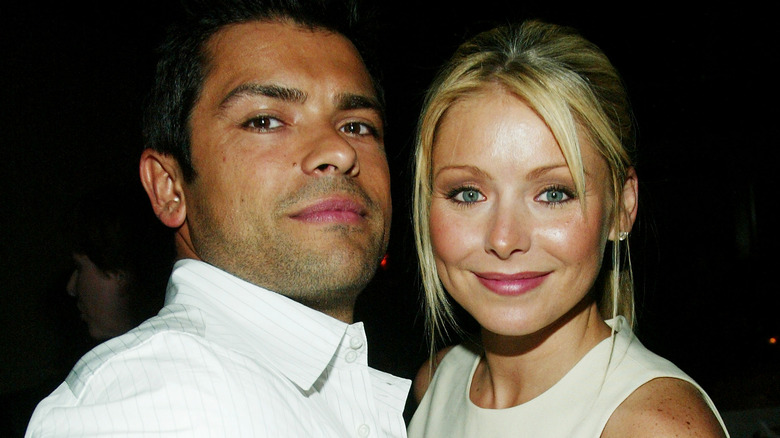 Evan Agostini/Getty Images
Kelly Ripa is a talk show royalty. Since 2001, she's greeted America first thing in the morning with humor and news. She's been a constant face on the show through the many co-host transitions. This season, she's gained one whom she's already close with.
Ripa's new co-host is her husband of 27 years, actor Mark Consuelos. The two met back in 1995 on the set of "All My Children." They immediately had a connection. So much so that Ripa said she immediately saw her future with him. "When I saw him, the photograph of him, I saw my entire future with him flash before [my eyes] — like I saw it," she said, as per "Radio Andy." "And I don't believe in any of that, and now I do because of that moment." The two quickly started dating and eloped in 1996. Since then, they've acted, started a production company, and starred in a soap opera together. As of April 2023, they added co-hosting to the roster.
The decision was finalized after former co-host, actor Ryan Seacrest, announced he was leaving. A source told Entertainment Tonight that Seacrest loved working with Ripa but was "burnt out." Consuelos enthusiastically agreed to take his place. But how do the two plan on balancing work and life? Here's what we know. 
The balancing act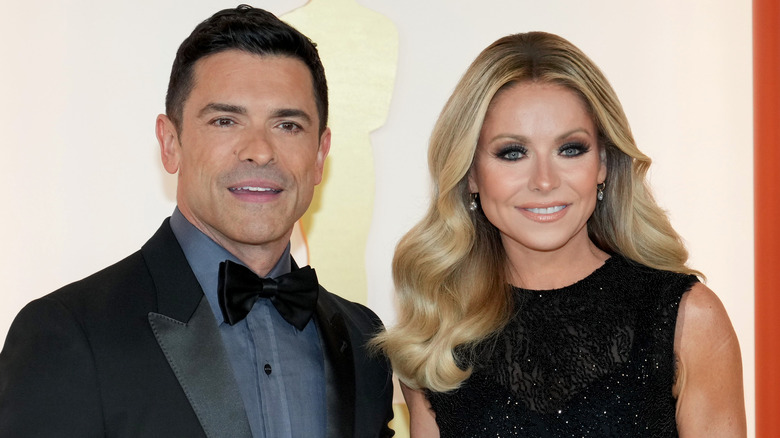 Jeff Kravitz/Getty Images
The new role for Consuelos means the couple will be spending extra time together. They're not worried about it though. They believe their interests are diverse enough so they'll be able to balance their time together and their time apart. "We have very different interests outside of work and outside of our marriage," Ripa told Entertainment Tonight. "The things that we do on a hobby level, on a skill level, are so vastly different." Consuelos, for example, enjoys cycling, while Ripa enjoys knitting.
Topics from work are likely to come up off the set, but neither seems concerned with it. While Ripa said it's unlikely they'll talk about the show after hours because of its spontaneous nature, she said she's an open book, and no topic is off-topic. The couple is confident their on-screen chemistry will be just as strong off-screen.
Friends and family came out to support Conseulos for his debut."I was very excited to see so many close friends and family and have an audience today, which is, really, live," Consuelos told ET. "It was really nice.".
The official debut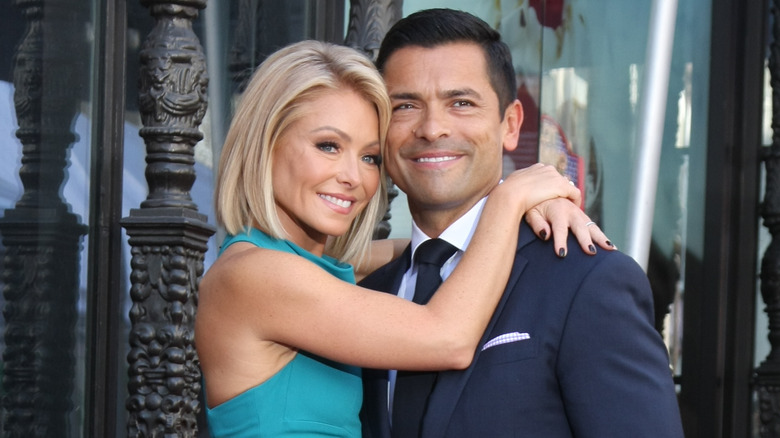 Kathy Hutchins/Shutterstock
Choosing Consuelos as the new co-host wasn't difficult for the network seeing as Consuelos had co-hosted for random episodes here and there and the fans loved him. Despite this, he was still, understandably, nervous. He was used to acting with a script, this was an entirely different venture. "It's the No. 1 show. I didn't want to screw anything up," Consuelos told the Hollywood Reporter. "It's like coming onto a championship football team, and the only place to go is down. I was like, 'Wait a minute, I want to make sure I don't mess anything up,' and [Ripa] reminded me every time we've done it, the response has been amazing." Consuelos told Entertainment Tonight that Ripa was his Tom Brady, and knowing that was reassuring. 
The first episode of "Live with Kelly and Mark" started off with a standing ovation as Ripa and Consuelos walked onto the set, hand-in-hand. After taking their seats, Ripa started off the show by joking, "Joining me today, and permanently, until one of us dies is Mark Consuelos!" That being said, it seems Mark Consuelos will be her final co-host. "You can't have your husband co-host, and then later somebody else," a friend of Ripa and substitute co-host of the show, Ali Wentworth, told The U.S. Sun.