Kourtney Kardashian's IVF Journey With Travis Barker Is 'Officially' Over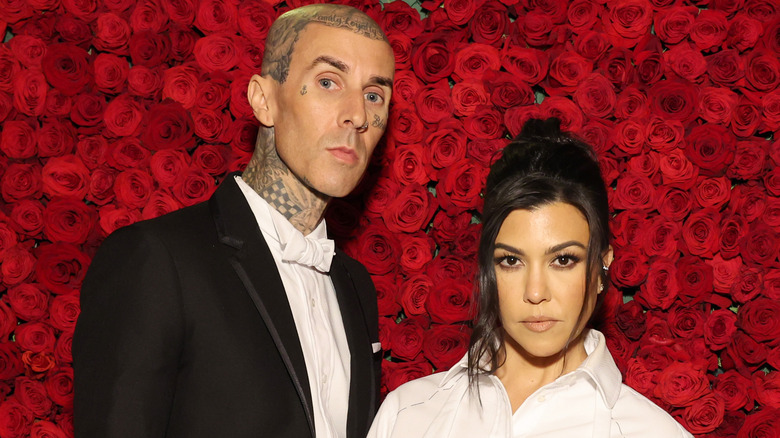 Cindy Ord/mg22/Getty Images
Kourtney Kardashian and Travis Barker have been pretty transparent with their journey to conceive. As a member of the reality star Kardashian-Jenner family, it only makes sense. Nonstop public displays of affection over the years give outsiders a glimpse into the timeline of Kardashian and Barker's relationship, so it was pretty much a given the two famous faces would be open to the idea of welcoming a child together after falling in love. While they both share three children with exes from previous relationships, Barker and Kardashian welcoming a child together would only solidify their blended family bond. "The Kardashians" Season 1 captured Kardashian and Barker's journey into conception via in-vitro fertilization (IVF) with clips from the trailer showing the Lemme founder gushing about her plans to "have a baby" with her then-fiance. 
After tying the knot in May 2022, Kardashian admitted to WSJ Magazine that she and Barker decided to take a little break from IVF to focus on the lavish wedding they hosted in Portofino, Italy. Barker also experienced a health scare when he was hospitalized for pancreatitis in June 2022 which put another pause on their baby-making plans. Sources for the famous couple told Entertainment Tonight that welcoming a child was "still an ongoing conversation," at the time, but Travis' health was a "top priority." By October 2022, Kardashian admitted on the "Not Skinny But Not Fat" podcast that she only went through with IVF after feeling "pushed" because of her age.
Kourtney debunks the misunderstanding about IVF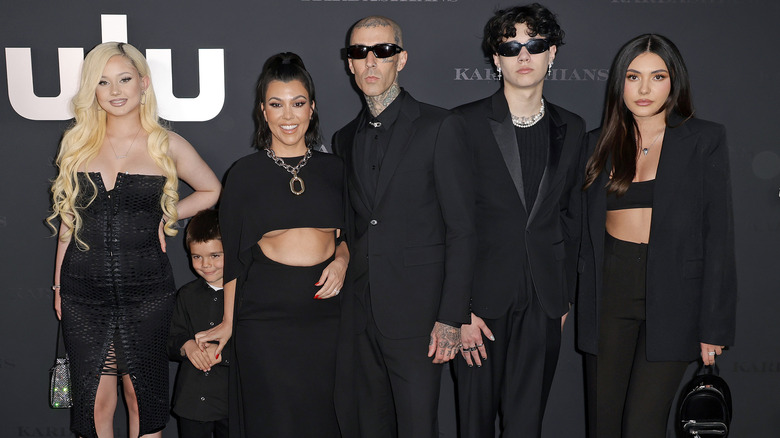 Frazer Harrison/Getty Images
After sharing her fertility struggles at the start of "The Kardashians," Kourtney Kardashian kicked off Season 3 explaining why she was "officially done" trying to get pregnant through IVF. Kardashian opened up during a confessional captured by Page Six and admitted how badly she and Barker want to welcome a child together, but the married pair have decided to let God make the final decision. Kardashian shares her three children, sons Mason, 13, Reign, 8, and daughter Penelope, 10, with ex Scott Disick, and Barker shares son Landon, 19, and daughter Alabama, 17, with ex-wife Shanna Moakler. The Blink-182 drummer also maintains his step-father role to Moakler's 24-year-old daughter, Atiana De La Hoya. 
Even with their big blended family of growing children, Kardashian and Barker were excited to share their plans to have a baby. As it turns out, the Poosh founder was already making moves toward future conception when she started dating Barker. Kardashian went on to reveal the seven eggs she froze at the start of their relationship that never developed into embryos. She might've made the reveal (via Page Six) in hopes of debunking any "misunderstanding" that freezing eggs automatically guarantees a future pregnancy. Instead of stressing herself through a demanding IVF journey, Kardashian shared the natural route she and Barker are taking. Cameras captured the moment an ovulating Kardashian delayed a meeting to squeeze in a quick baby-making session with her husband. 
Kourtney has no shame about her IVF body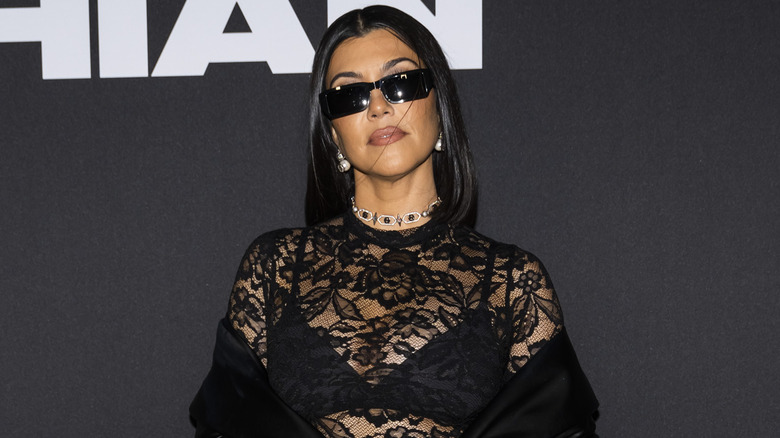 Gotham/Getty Images
Kourtney Kardashian and Travis Barker are continuing their plans to conceive but without all the challenges that come with IVF. The Hulu star noted the "toll" IVF took on her health due to all the hormones involved with the process, as noted by the Daily Mail. In March 2023, a leaked but since deleted teaser for "The Kardashians" Season 3 showed Kardashian open up about the weight gain and menopause the medication caused her, via Page Six. It came shortly after the mother of three had to correct one fan who left a comment under her Instagram photo questioning if she was pregnant. According to Kardashian, her body was reflecting "the after-effects [sic] of IVF," and she was only addressing the commenter since the topic isn't spoken about enough.
Now she's putting her health and family first while embracing her "IVF body," as she captioned a bikini pic posted to her Instagram story in May 2023, as captured by Us Weekly. With Kardashian and Barker remaining transparent about their fertility journey, maybe fans will be more mindful before putting their pregnancy speculations on their social media posts.