Jennifer Aniston Embraces Her Gray Hair And The Internet Can't Get Enough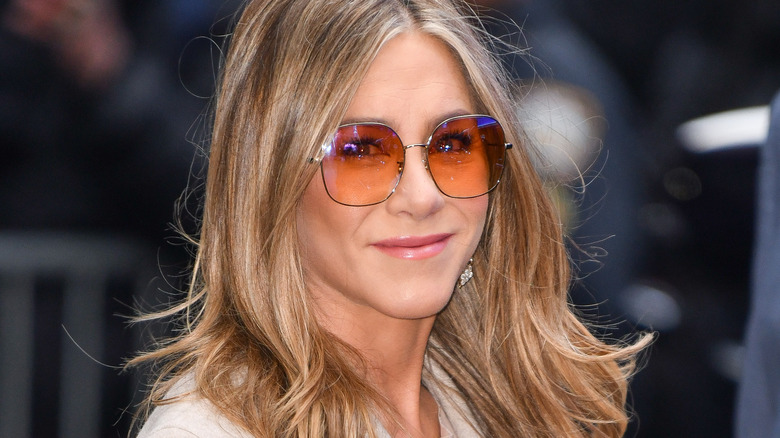 James Devaney/Getty Images
Jennifer Aniston has always been a huge hair inspiration to fans, from her early days on "Friends" when she debuted "the Rachel" haircut to all of the other hairstyles she's had along the way. The actress is known for her gorgeous locks and stunning styles. According to The Hairstyler, Aniston has shown off a wide variety of hairstyles throughout the years. However, she's often stuck to her warm caramel tones and blonde highlights. Whether she's rocking a straight style or curls, long layers or a bob, the "Murder Mystery" star knows how to showcase her stunning strands. Even now that she's going gray, her hair still looks amazing.
Aniston's hair is so famous that the actor even created her own line of hair care products, called LolaVie. The line includes vegan, cruelty-free ingredients. "Jennifer Aniston is also obsessed with medical journals, technological advances and the latest beauty and health innovations — something most people don't know about her," the brand's website reads. "Her vision for LolaVie is to combine the best of science and nature. With this brand, she wants to prove that you don't have to sacrifice one for the other."
Now that Aniston is in her 50s, she appears to understand caring for changing hair. For her, this now includes showing off hints of gray. Of course, her fans can't get enough.
Jennifer Aniston may be entering her gray era
In June 2023, Jennifer Aniston — who has undergone a stunning transformation over the years — took to her Instagram account to promote some brand-new LolaVie products. In the video, Aniston explained how to use her new intensive repair treatment during a quick and casual clip. The actor wore her long locks half-up, which gave fans a good look at her roots, which appeared to show hints of gray. Of course, her fans absolutely loved the look and praised Aniston for embracing her gray hair. "Well done for allowing grey to come through — refreshing," one fan wrote (via Page Six.) "So nice to see. And she's obviously still gorgeous," another stated. "I hope she stays natural — it's much more attractive," a third comment read.
Aniston has previously opened up about her thoughts on women going gray, and she was in total support of it. "If you want to go gray, go for it! If you want to keep coloring your hair, that's great too. I think everyone should feel confident in whatever choices they make, including embracing natural color or texture," she told Glamour in 2022. "Hair is a creative way to express yourself, and I love that your mood and energy can change with the change of a hairstyle, cut, or color. Embrace what is going to make you happy."
As many fans know, Aniston has been a champion of aging gracefully and taking care of her health.
Jennifer Aniston reveals how she's aging in a healthy way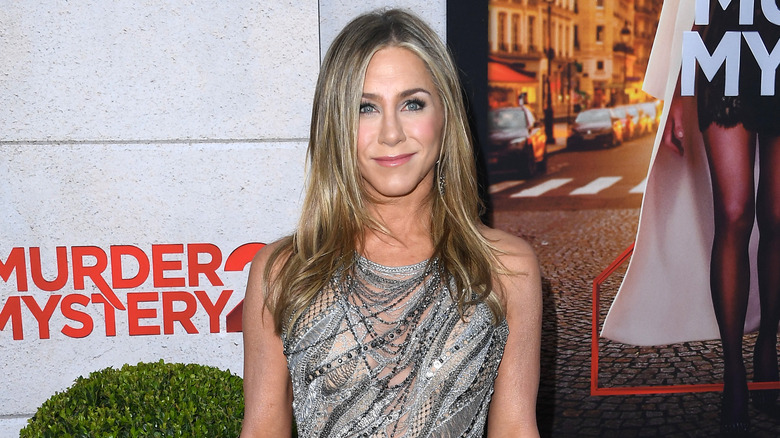 Steve Granitz/Getty Images
During her Glamour interview, Jennifer Aniston admitted that she's not afraid of aging, as she knows she's doing all she can to take care of her mind and her body. "For me, it's more of the question of how do I take the best care of myself, physically and mentally? We can still thrive when we're older, and that's thanks to all the advancements in health, nutrition, technology, and science," she said.
In March 2023, Aniston told USA Today that she's all about thriving at whatever stage of life she's in. The "Friends" alum also admitted that she's very interested in learning new ways to stay healthy as she ages. "I'm always up on the newest technology and [wondering] how can we improve our health in any way we can?" she told the outlet. "We're all going to get older. We're all headed to that exact same spot. But we can take care of our skin. We can have a healthy diet. We can drink lots of water," she explained.
Aniston has always been such a role model to her fans, and with her healthy outlook on aging gracefully and taking care of her body, she has likely inspired many to take control of their own health in order to live long and healthy lives gray hair and all.