Why Your Skin Needs Lightweight Moisturizers In The Summer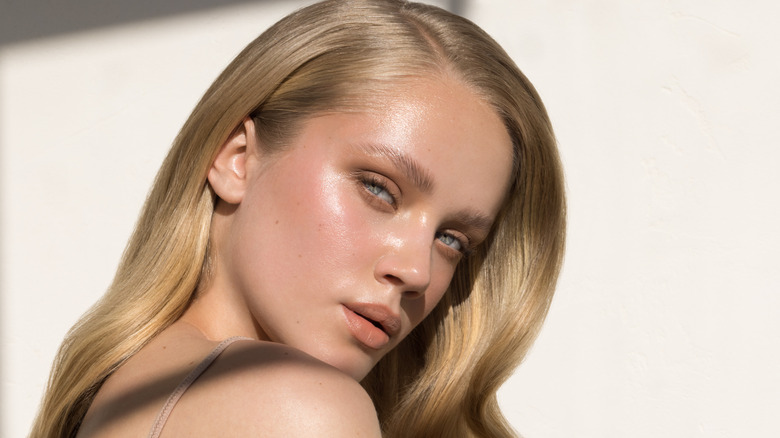 Svetikd/Getty Images
We may receive a commission on purchases made from links.
Every June like clockwork, we shed our grim winter dispositions in favor of a happier countenance brightened by the sun. Paired with lighter, breezier summer staple pieces and accessories, we're ready to take on the heat. The transition from colder weather to summer is often a transformation from the outside in. We create warm weather goals, change our appearance, and seize the opportunities that temperatures above 70 degrees bring.
Apart from a difference in attitude and aesthetics, our skin also takes on a slightly new form. During the winter, we suffer from dry, scaly skin that must be soothed with thick emollients and bundling up. It's common to get conditions such as eczema, psoriasis, or winter windburn from the harsh cold.
However, the humidity is typically much higher during the summer months, so those precautions don't need to be taken. Swapping out your thicker moisturizers from the winter for lightweight options is one thing that needs to be done every summer.
Why you need lightweight moisturizers in the summer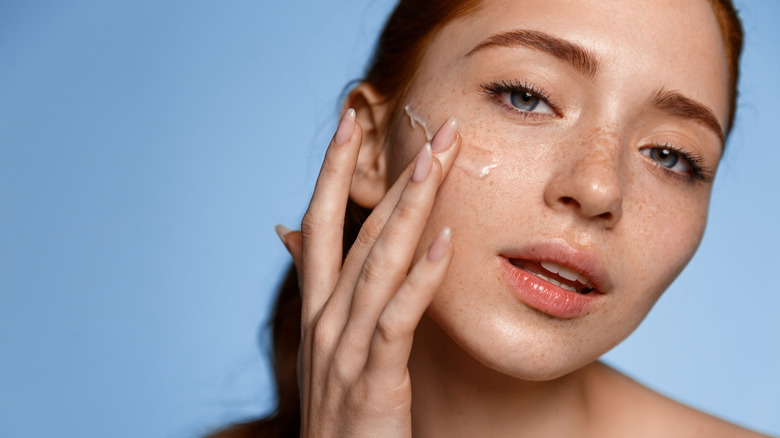 Lyubov Levitskaya/Shutterstock
Winter and summer are polar opposites — while heady, thick scents of cinnamon and clove dominate the holidays, you would suffocate with that around in the hotter months. Our skin goes through something similar. Emollient moisturizers on top of hot skin can feel heavy and sticky, like something's weighing you down.
If your skin isn't particularly dry during the summer, moisturizers like these can also clog pores because many of them are formulated with oil, which can cause breakouts or textural irregularities on the surface of the skin. Instead, use moisturizers that are water or gel-based. People with oily skin are probably well acquainted with oil-free moisturizers in other seasons — however, with the heat causing dehydration, this is no time to set aside the moisturizer.
For oily skin, try the Innisfree Green Tea Hyaluronic Acid Hydrating Moisturizer. It's formulated with squalane and five types of hyaluronic acid, drawing moisture into the skin without weighing it down. The Biossance Squalane + Probiotic Balancing Gel Moisturizer sinks into the skin quickly while targeting redness, great for drier skin types.
Shop the best lightweight moisturizers for summer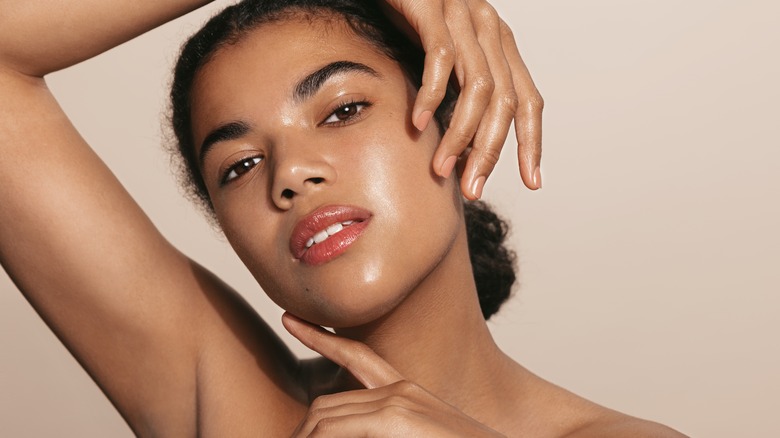 Lyubov Levitskaya/Shutterstock
The Byoma Gel Moisturizer aims to hydrate and balance skin without feeling too heavy. Packed with ceramides, green tea, and niacinamide, the vegan and oil-free moisturizer works to reduce redness and inflammation while providing the skin with cooling hydration, perfect for hot summer days. Another affordable buy, the Naturium Niacinamide Gel Cream 5% delivers soft, poreless skin thanks to its lightweight finish. It's formulated with coconut fruit juice and glycerin, so a little goes a long way with this hydrating formula.
If you have acne-prone skin, try the Benton Aloe Propolis Soothing Gel. This lightweight moisturizer provides relief for irritated skin and won't clog pores. It's soothing and feels fresh on the skin thanks to aloe, a popular inflammatory ingredient. It also fades old acne scars and brightens your overall complexion. The Farmacy Daily Greens Oil-Free Gel Moisturizer contains moringa and papaya which remove impurities caused by pollution on the skin. With both hyaluronic acid and niacinamide, it's also deeply hydrating, controlling shine while keeping pores free of sebum.
Different seasons often require different skincare treatments and regimens, so when you're transitioning to your summer style, don't forget to swap your richer moisturizers for something lighter and more refreshing.