A Look At Jennifer Lopez And Jennifer Garner's Co-Parenting Relationship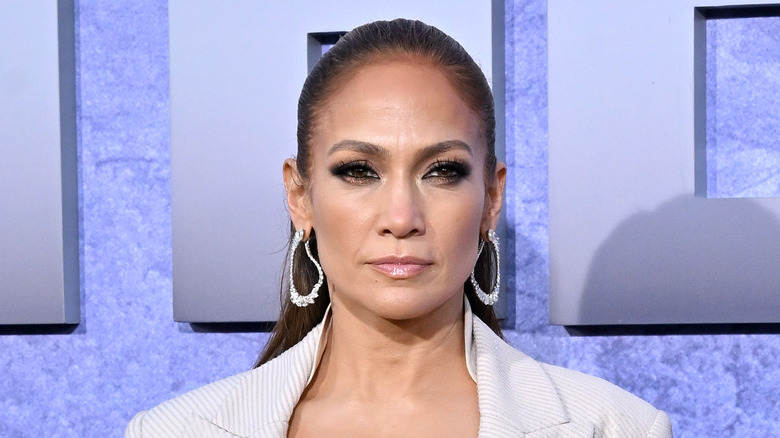 Axelle/bauer-griffin/Getty Images
Jennifer Lopez and Jennifer Garner's relationship had all of the potential to be messy, complicated, and even hostile. As fans will likely remember, Lopez was engaged to actor Ben Affleck in the early 2000s. After their wedding was called off, Affleck moved on to marry Garner. Affleck and Garner later welcomed three children together, Violet, Seraphina, and Sam. During that time, Lopez married singer Marc Anthony and welcomed twins Max and Emme. However, both Lopez and Affleck found themselves single nearly 20 years later and rekindled their romance. The couple tied the knot in 2022, solidifying Lopez and Garner's connection in each other's lives. However, the two women took the high road and are now even co-parenting their blended families together.
"J. Lo has Jennifer Garner's seal of approval," an insider told Us Weekly in 2021, adding that the admiration is mutual. "J. Lo thinks Jennifer is a kind and wonderful person and an amazing mother." Both Garner and Lopez have proven themselves to be fierce mothers who have gushed over their children. They are now bonded together by their relationships with Affleck and the fact that their children are step-siblings. However, they haven't let the media or the stress of their intertwining families get them down. Instead, they appear to be thriving in the situation. They've even reportedly become good friends.
Lopez and Garner have become friends
Steve Granitz & Frazer Harrison/Getty
Jennifer Lopez and Jennifer Garner have seemingly built a beautiful co-parenting relationship with one another alongside Ben Affleck. The two women have proven that they're ready to put the needs of their children above anything and really embrace their new family dynamic. That includes building a friendship between them. "Now that Jen and Jen have been co-parenting, they've been getting to know each other better and have formed a very new friendship," another insider told Us Weekly in 2022, adding that Garner appreciates how loving Lopez is towards her children. "They really enjoy each other," the source added.
That same year, Lopez opened up about the situation during an interview with Vogue, gushing over Garner and the way she and Affleck raise their children. "She's an amazing co-parent, and they work really well together," Lopez revealed. The "Waiting For Tonight" singer also admitted that blending the two families is something that takes time, but that it's been a good experience. "The transition is a process that needs to be handled with so much care. They're teens. But it's going really well so far," she said.
Meanwhile, Affleck is also said to have stepped up his parenting game and is focused on being a great dad to both his biological and step-children. "Any downtime he gets he's with the kids and Jennifer, he's very zeroed in on being the best family man, it's a role he loves," a source told OK! magazine in April 2023.
Lopez and Garner's kids get along as well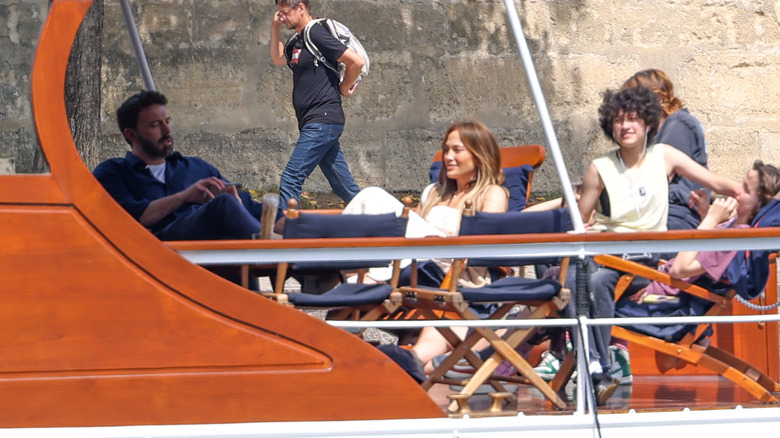 Pierre Suu/Getty Images
Jennifer Lopez and Ben Affleck have blended their families well, and their kids even appear to enjoy each other's company. The couple was spotted in April 2023 having dinner with three of their teens, Max, Emme, and Seraphina, as they enjoyed an Italian meal and looked happy to be together. The pair's children have seemingly become very friendly with one another: in May 2023, Jennifer Garner was photographed accompanying Seraphina and Emme to Disneyland as they enjoyed a day with their friends, proving that she and Lopez have a trusted co-parenting relationship between them.
As for Lopez's outlook on co-parenting and blending her family with Affleck's, she's all for it. "What I hope to cultivate with our family is that his kids have a new ally in me and my kids have a new ally in him, someone who really loves and cares about them but can have a different perspective and help me see things that I can't see with my kids because I'm so emotionally tied up," Lopez told Vogue.
It seems that things are going smoothly between Jennifer Lopez and Jennifer Garner as they help to transition their children into a new family era. The pair are a stellar example of co-parenting, and can hopefully inspire others to do the same.