Kylie Minogue Has No Plans To Get Married - Here's Why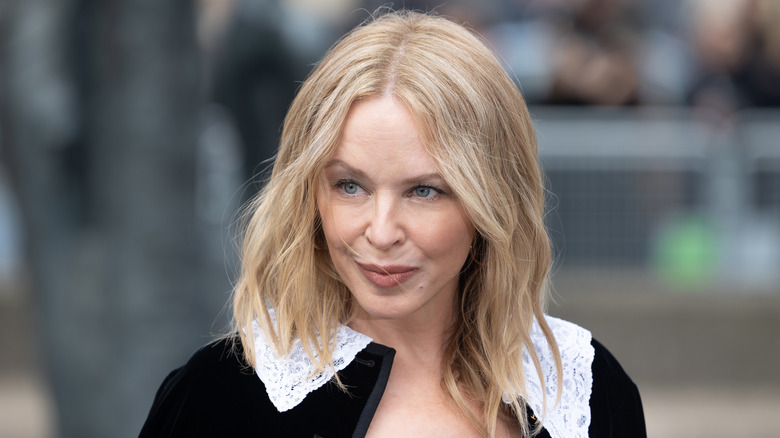 Marc Piasecki/Getty Images
Marriage is not for everyone, and Kylie Minogue seems to think she's one of the people who won't tie the knot. The "Can't Get You Out of My Head" singer, who split from British GQ executive Paul Solomons in 2023, was candid about why she didn't see married life in her future. 
Referring to her previous relationship with Joshua Sasse, to whom she was engaged before things broke off in 2017, the Australian songstress told Red Magazine (via E News), "I never thought I would get married. Just going through 'being engaged' seems like an experiment, because I'd never as a girl or in all my life had a vision of getting married. I don't think marriage is for me." Splitting from British actor Sasse may have taken an emotional toll on Minogue, but the singer and actress is confident it made her reevaluate things too.
There are surprising benefits to being married, but with the lifelong commitment come trials and tribulations too. Minogue, who's been linked with a number of prominent names over the years — including Spanish model Andres Velencoso, actor Olivier Martinez, and actor Jason Donovan — doesn't think she fits into that traditional mold. 
The idea of getting married wasn't part of Kylie Minogue's childhood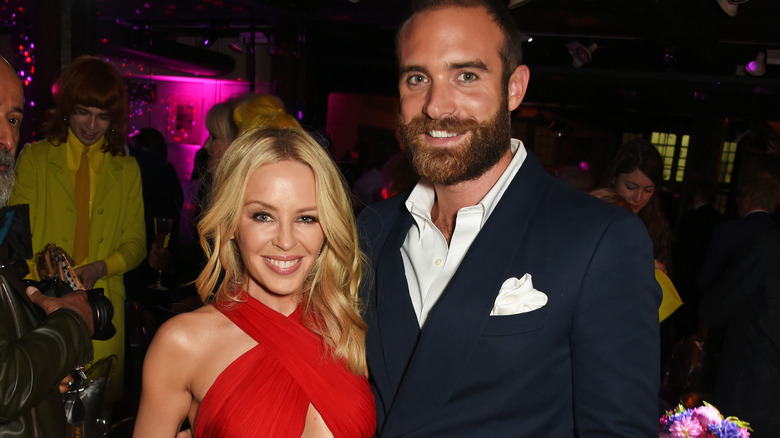 David M. Benett/Getty Images
Asked about the prospect of marriage, Kylie Minogue told Red magazine (via Evening Standard), "It's not something I needed or wanted. My parents never brought me up with the idea of 'the big marriage.' I never had it as a goal."
Minogue has spoken about how devastated she was after the breakup with Sasse, even admitting that she had a nervous breakdown as a result and took a trip to Thailand with friends in an effort to heal. She told Red magazine, "I thought, 'Maybe I've got it all wrong and I should go for it [marriage]. Maybe I should do what most of the world do. It works for them.' Now I'm going to stick to my previous view. I don't think marriage is for me."
Minogue's 2018 single, "A Lifetime to Repair," is a rather honest depiction of letting your guard down and coming close to settling down. Discussing the album "Golden" and the song on "The Dan Wootton Interview," the musician said, "I love singing those lyrics. I probably could not have sung them at the beginning of the year but certainly once I was feeling great. I was so happy to sing them. It's taking an honest look at where I am in my life." The musician and actress was also keen on letting her fans know that they needn't feel sorry for her. 
Kylie Minogue: 'It's important to be fluid in life'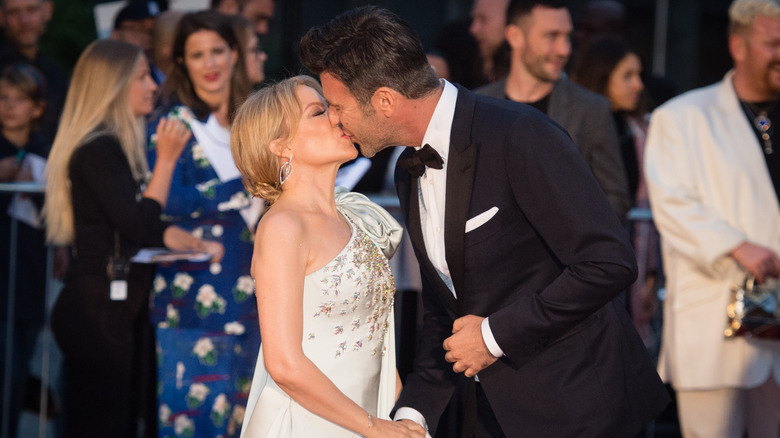 Samir Hussein/Getty Images
Of her long-distance relationship with Paul Solomons (the British GQ executive was in London while Minogue resided in Melbourne), she shared with The Sydney Morning Herald, "It's important to be fluid in life as you don't need to be put in a box." The "Spinning Around" singer added that her relationship with Solomons was not being defined by conventional ideas about being together all the time or settling down in one spot.
A good relationship is one that allows a lot of freedom to be yourself, according to the musician — and it's perhaps the one thing that can actually make or break a happy marriage. Minogue added to The Sydney Morning Herald, "I definitely know that I have been in relationships where I've wanted to turn myself into a version of what I think someone else would like. To reach a point where you are just yourself and encouraged to be the whole version of yourself — that is the thing to be cherished in a relationship."