Nick Jonas Had A 'Traumatic Moment' On Stage With Kelsea Ballerini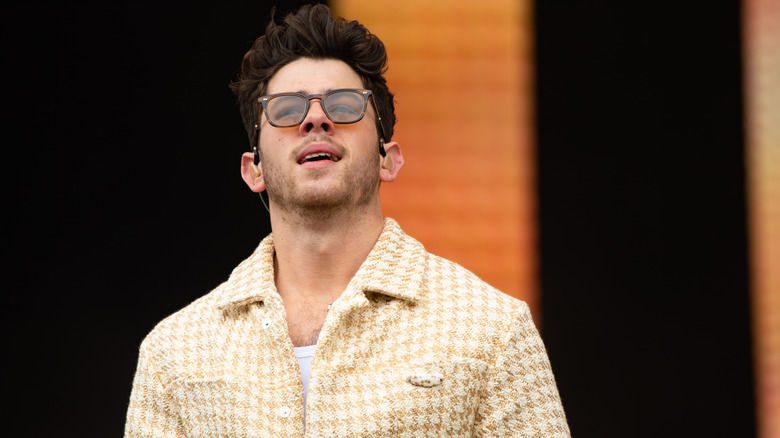 Joseph Okpako/Getty Images
Singer and actor Nick Jonas has had quite the journey to stardom. He was one of the most well-known actors on the Disney Channel as a child and has been one-third of the mega-popular boy band The Jonas Brothers with his older siblings Joe and Kevin since 2005. Plus, he also pursues his own musical aspirations on the side.
As a solo artist, Jonas continues to make music for his fans to enjoy, including performances on the guitar. It's safe to say that the musician feels right at home onstage since he's been in the spotlight as a celebrity for the majority of his life. But even the most dedicated artists can have moments where they just blank, especially when there's a lot of pressure on them to perform well. While he was performing on stage with country singer Kelsea Ballerini, the former boy band member let the pressure get to his head. This led to a traumatic moment that left fans wondering if all was okay with the pop artist.
He made a mistake during his guitar solo
It's sad to hear that any performer could have a misstep on stage that was bad enough for it to be labeled as "traumatic." Unfortunately, that's just how Nick Jonas describes the moment when he stepped onstage to play what should have been a magical guitar solo. Unfortunately, things didn't go exactly as planned.
If you haven't heard Kelsea Ballerini's song "Peter Pan," there's a beautiful guitar solo midway through that's totally inspired by those used by '80s rock bands. It's meant to get you excited and lost in the music. But when Jonas struck the wrong chord during the song's performance at the 2016 Academy of Country Music Awards, it took people right out of the experience.
Jonas sat down to relive the "tragic" duet with Ballerini in an interview with the podcast "Armchair Expert with Dax Shepard." He spoke candidly about the failed riff, noting that he "just went blank." He added, "I hit a wrong note and blacked out basically and clocked that it was wrong, and I couldn't stop."
The pressure to be perfect got to him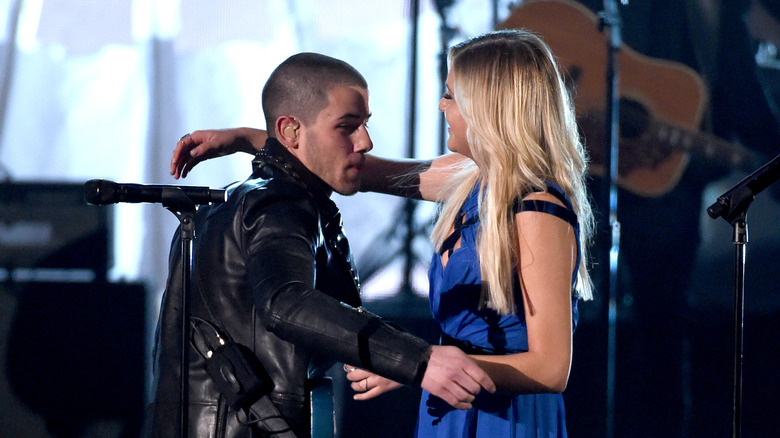 Ethan Miller/Getty Images
We've all had embarrassing moments where we've said something completely silly or made a mistake in front of people we're trying to impress. However, not many of us can say we had this embarrassing experience happen on live TV with millions of people watching.
Nick Jonas told the listeners of "Armchair Expert" that while he can now laugh at the thought of his guitar solo debacle, the experience was initially traumatic enough that he went into therapy. "I was in shock," Jonas admitted. "It was a really traumatic moment that shaped the pressure I put on myself to be perfect and to always be on."
Thankfully, the youngest Jonas brother is now able to joke about the 2016 performance. ET Canada reports that Jonas shared a meme poking fun at his flubbed guitar solo, and he attached this message to the pic: "We're all human and s–t happens sometimes, but whoever made this is a genius." In other words, because none of us are perfect, that means we're prone to making mistakes. However, it's important to be able to laugh at ourselves and move on. Even celebrities have embarrassing moments. We're happy to hear Jonas has learned to laugh at his mishap and embraces his mistake so he can find humor in the situation.