Savannah Chrisley Says Joel Osteen 'Saved' Her From Her Lowest Point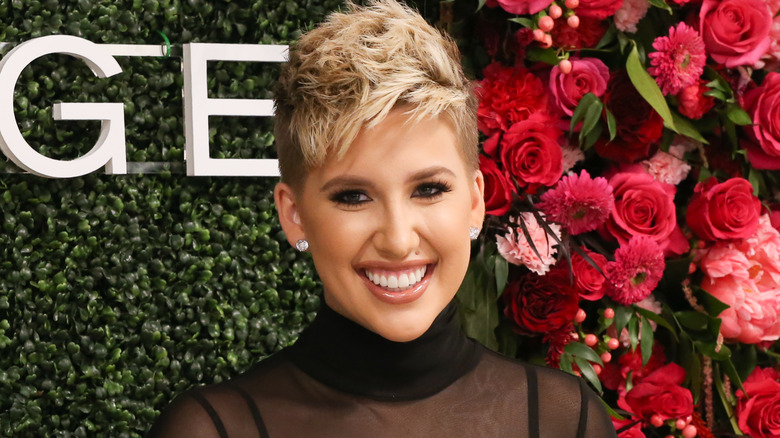 Terry Wyatt/Getty Images
"Chrisley Knows Best" star Savannah Chrisley is opening up about her mental health struggles on her podcast "Unlocked." The TV personality revealed she attempted suicide as a teenager and lives with high-functioning depression. Savannah said, "I didn't really have a life-or-death experience, but I did try committing suicide so that potentially was maybe my life-or-death experience. But for me, it was more a cry for help."
The troublesome incident left Savannah with brain fog — a common trauma response. Yet there is much of her story she wishes to share. "I do remember waking up in the hospital and, you know, my parents being there and discussions being had," she said. "Even at that time, I remember lying to the doctors because I didn't want to be held at the hospital."
Under the recording light of cameras, she managed to mask her depression. Growing up on TV did not make circumstances easier, but she was able to overcome the hardships thanks to those around her. Savannah's support came mainly from her parents, Julie and Todd Chrisley. But she also recalls pastor Joel Osteen playing an integral part during the lowest point of her life.
A devotion from Joel Osteen changed her life
Joel Osteen pastors the largest congregation in the United States. The Lakewood Church in Texas impacted many, and Savannah Chrisley was one of them. The day after a failed suicide attempt, she recalls on "Unlocked" that her life changed with the help of Osteen. "I suffered from really bad depression, and I remember that next morning waking up and there being a devotional that my dad had gotten in his email from Joel Osteen, and that's why I speak so highly of Joel because he kinda saved me," Savannah said. 
"And the devotional was Romans 8:28, and it stated that through whatever hardships and adversities you go through, God's gonna turn around and use it to your advantage." After reading the message, Savannah had a breakthrough — she realized it wasn't a question of "Why me?" but "Why not me?" and learned that struggles are a part of growth.  
It wasn't just Osteen who played a critical role in Savannah's mental health journey, though, but also her father, Todd Chrisley.
Todd Chrisley was also Savannah's saving grace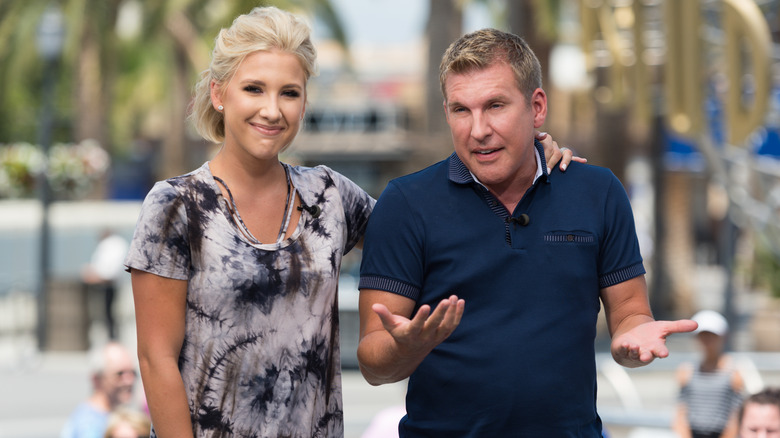 Noel Vasquez/Getty Images
Savannah Chrisley admitted on her podcast episode "By The Time You Hear This" that she was good at hiding her emotions. The truth of her depression was kept secret for a while. However, when it came to light, both her parents stepped in to help. Specifically, Savannah's relationship with her father, Todd Chrisley, was a saving grace.
The TV personality shared, "I say that he saved me because he invested so much time and energy into me. And making sure that I knew it was okay to feel and that I'm not the things that people say about me. He really dug deep in helping me to identify my trauma and just letting me know that I'm not alone no matter how alone I felt."
Now Savannah is using her platform to help others experiencing mental health issues. In an interview with Fox News, she said, "I know what it feels like to be in the dark. I know what it feels like to be alone. And I just wanted people to know they are not alone."
If you or anyone you know is having suicidal thoughts, please call the National Suicide Prevention Lifeline​ by dialing 988 or by calling 1-800-273-TALK (8255)​.
If you or someone you know needs help with mental health, please contact the Crisis Text Line by texting HOME to 741741, call the National Alliance on Mental Illness helpline at 1-800-950-NAMI (6264), or visit the National Institute of Mental Health website.