Jennifer Lawrence Would Be Totally 'Starstruck' If She Met This Celebrity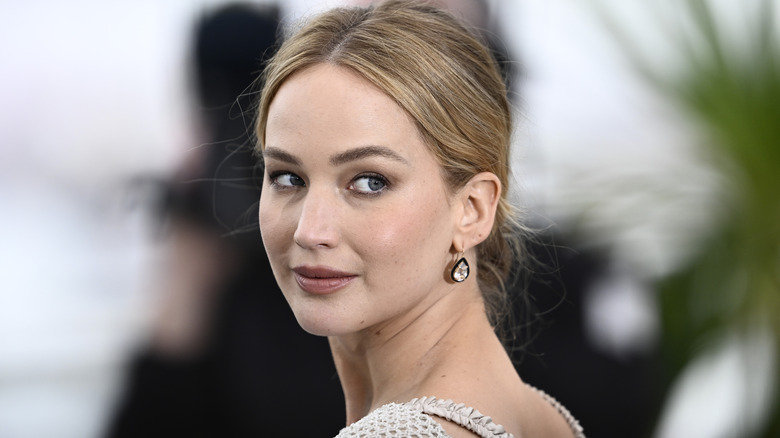 Gareth Cattermole/Getty Images
With her raw talent and infectious personality, Jennifer Lawrence has become a true icon of her generation. From her breakout role as Ree in Debra Granik's "Winter's Bone" in 2010 to her Oscar-winning performance as Tiffany in the film "Silver Linings Playbook," her ascent to fame has been impressive. Her ability to effortlessly embody complex characters and deliver compelling performances has garnered critical acclaim and a loyal fan base. As a Hollywood darling, one might assume that she's immune to the enthusiasm associated with being a fan. However, she breaks that stereotype with her fangirl moments. Lawrence, who welcomed her first child with Cooke Maroney last year, admittedly also gushes over other celebrities as well.
Apparently, the celebrities she cares about are the same ones we're concerned about. In her interview with W Magazine in January of this year to promote her film "Causeway," Lawrence has proven once again that she's just like everybody else. When Lawrence was asked if she's ever been starstruck, she said, "I would be starstruck if I saw Jessica Simpson. That would knock me over."
Lawrence's genuine enthusiasm towards other celebrities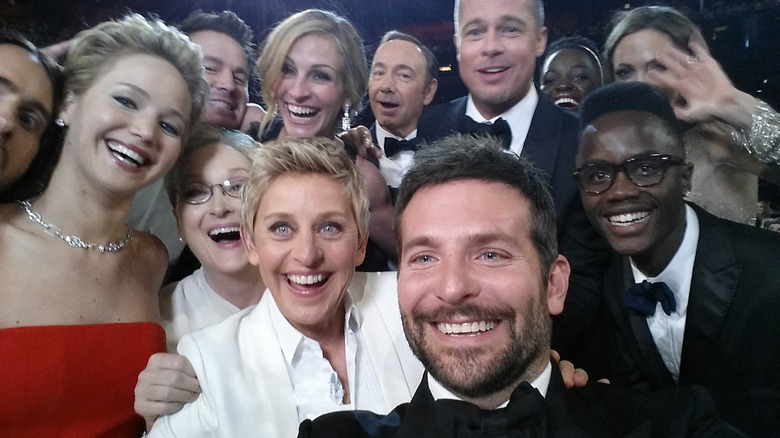 Handout/Getty Images
The actor who conquered the teen market in 2012 after starring as Katniss Everdeen in the film "The Hunger Games" has increased her "relatability" yet again. Jennifer Lawrence, who's had interactions with A-Listers such as Leonardo DiCaprio and Meryl Streep, considered Pete Davidson a big named celebrity. According to Lawrence, "the biggest celebrities in the world are, like, Pete Davidson. Or when Ariana Grande was in my last film, 'Don't Look Up,' I was photographed with her and I fully look like a radio contest winner," she divulged to W Magazine.
When professing her love for other celebrities, Lawrence wears her fangirl heart on her sleeve. It's been reported that just like a normal human being, Lawrence has asked a fellow celebrity for selfies. One such encounter happened with character actor Jonathan Goldsmith. Goldsmith was just hanging out in Hollywood when this happened. He told The Hollywood Reporter, "I was eating at Craig's and a waiter came up to me and said, 'Would you mind taking a picture with Miss Lawrence?' Well, this was not Gertrude Lawrence, it was Jennifer Lawrence. I went over to her table and she was very sweet. I met her friend and we took a couple pictures."
Lawrence is one true Kardashian fan
Jennifer Lawrence has this one guilty pleasure that she openly talks about: she is an unabashed fan of the Kardashian family. This was first revealed in 2015 after Kris Jenner posted a picture with Lawrence on her Instagram account with the caption, "God I love you #Jenniferawrence thanks for making this night a night to remember . . . even if we did get caught . . . I love you Happy Birthday Gorgeous!!!
According to Us Weekly, it was Lawrence's friends who reached out to momager Jenner to celebrate her 25th birthday. Since then, the pair have been hanging out regularly and became besties. In 2019, Lawrence even had a brief cameo in one of the episodes of "Keeping Up With The Kardashians" (KUWTK). She was with Jenner when Khloé Kardashian and Scott Disick wanted to Facetime with Jenner. Lawrence answered the call and even dissed the other "KUWTK" stars saying that she and Jenner wouldn't have so much fun if the other members of the family were with them.