How Taylor Swift And Diplo Put Rumors Of A Feud To Rest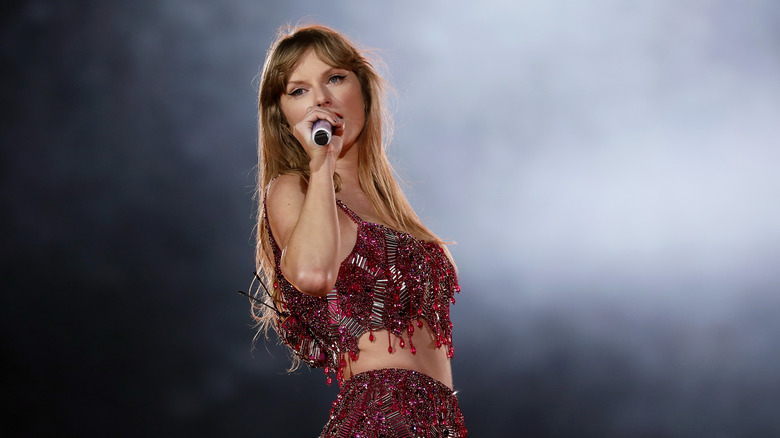 Natasha Moustache/tas23/Getty Images
Taylor Swift is regularly at the receiving end of some serious shade, as well as at the center of some very famous controversies. Even before the pop star found fame, she experienced bullying at the hands of some of her classmates. When she blew up, so did the caliber of her enemies. Yet, as always, Swift's rivals usually try to work their way back to her good side. A classic example of this is her situation with music producer and DJ, Diplo.
Diplo has had a definitively one-sided beef with the pop princess that stems all the way back to 2014 and some very mean comments made toward Swift. If there's one name that Diplo couldn't keep out of his mouth during the 2010s, it was "Taylor Swift." So much shade was thrown, you could've mistaken the "Bad Blood" belter for a tree. These days, however, it seems like the two musicians have decided it's nothing but water under the bridge.
For some unknown reason, Diplo apparently had some personal vendetta against the pop star, hurling various crude remarks at her over the years. The first one occurred when he took to social media to body-shame Swift unprovoked. The "Elastic Heart" producer tweeted: "Someone should make a kickstarter to get taylor swift a booty." Diplo also linked to a fundraiser which he titled, "Get Taylor Swift A Booty." Talk about uncalled-for.
Diplo body-shamed Swift pretty severely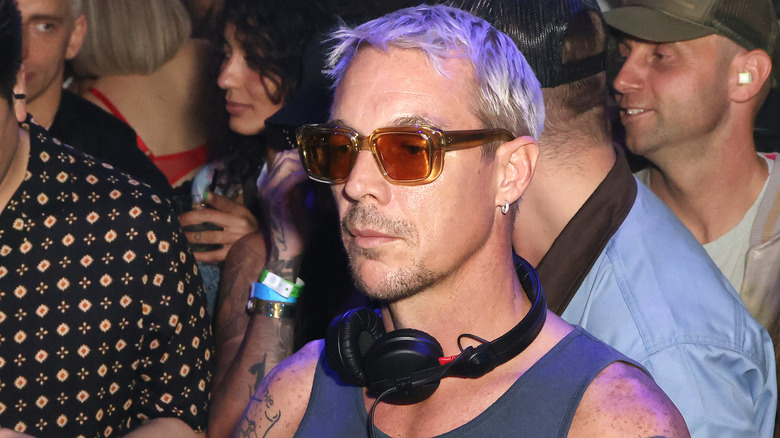 Alexander Tamargo/Getty Images
As the object of a great many transgressions, Taylor Swift has stood fast in the face of adversity and typically handles it as she does everything else in her life — with her pen and guitar. However, this time around, the Grammy-winning artist kept mum. While Swift herself didn't respond to the insults, her devoted fans rushed to defend their fave, as did alternative singer-songwriter, Lorde, who happens to be Swift's friend. 
The "Royals" crooner lashed out at Diplo, tweeting: "@diplo should we do something about your tiny penis while we're at it hm." We think we speak for everyone when we say that Diplo definitely deserved that one. The debacle didn't end there, though. Diplo came back for several more rounds, continually trolling Swift on Twitter, until publicly admitting in a 2015 interview with GQ Style Magazine that he regretted his actions.
While addressing his various Twitter feuds, the EDM enthusiast said, "All I know is, don't ever get into a feud with Taylor Swift. She has like fifty million people that will die for her. It's like an army that's worse than North Korea ... One of the biggest mistakes of my career was definitely f**king with her." Earlier that year, he and Swift were all smiles for a picture at the Grammys. But was ut a case of keeping their enemies closer? 
Diplo's snarky comments and mockery lasted until he showed up for Taylor's tour
However, Diplo's change of heart didn't last long and in 2017, he was right back at it with the trolling. Not only did he parody Swift's "Delicate" music video, but the music producer also had some backhanded things to say about her in a Rolling Stone interview. Mostly, Diplo criticized Swift's music, deeming it unrelatable and saying no one would want to stream it. "Streaming is literally what kids want to listen to over and over again," Diplo stated. "They want to listen to [Post Malone's] 'Rockstar' and [Cardi B's] 'Bodak Yellow' — they don't want to listen to, like, [Taylor Swift's] 'Look What You Made Me Do.'"
According to Diplo, the singer-songwriter only has millions of fans because of clever branding. It's unclear whether Diplo's disdain for T-Swift is real or simply a case of desperately scouring for clout, but either way, it seems like the bad blood might finally be over. In 2022, he told Input that people on Twitter simply didn't understand his humor, reasoning, "Sarcasm doesn't come through on social media."
The music producer was also spotted at Swift's 2023 Eras Tour and even posted about it on his Instagram Story. It seems like the pair may have decided to let bygones be bygones (even though Swift wasn't really involved in the feud in the first place). However, while Diplo's days of coming for Swift are hopefully over, he should probably watch his back. The singer may bury hatchets, but she keeps maps of where she puts them.