Shannen Doherty Gets Candid About Her Cancer Journey In Heartbreaking Update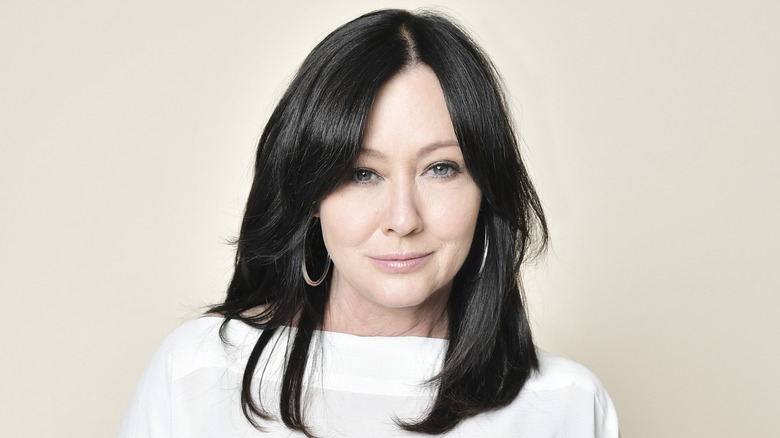 Neilson Barnard/Getty Images
Back in 2015, Shannen Doherty, star of hit shows like "Charmed" and "Beverly Hills 90210," announced that she had been diagnosed with breast cancer. Much to her own joy and relief and that of her loved ones and her fans, her cancer went into remission two years later (via CNN). However, in 2020, Doherty went public with the fact that her cancer had not only returned, but had spread, and was, at the time, considered to be stage 4. 
Since that time, Doherty has been fighting her cancer bravely and relentlessly with countless fans cheering her on. This week, however, Doherty has once again taken to her Instagram to announce publicly that her journey has taken another challenging turn. In a video, she revealed that in January of this year, she learned that the cancer had spread to her brain.
The caption on her video began by saying, simply, "January 12, 2023," and showed her getting ready to receive treatment for the Mets in her brain. "On January 5th, my ct scan showed Mets in my brain," her video began. "Yesterdays video was showing the process of getting fitted for the mask which you wear during radiation to your brain. January 12, the first round of radiation took place." 
Doherty is receiving loving support
As her video continues, Doherty addresses the fear she was feeling during treatment, saying, "My fear is obvious. I am extremely claustrophobic and there was a lot going on in my life." She went on to express her gratitude to her care team, writing, "I am fortunate as I have great doctors like Dr Amin (Mirhadi) and the amazing techs at cedar sinai. But that fear.... The turmoil..... the timing of it all.... This is what cancer can look like."
Thus far, Doherty's video has received over 150,000 likes from fans and others wishing to show their love and support as she battles cancer. Further, there are currently over 17,000 comments wishing her well and sharing stories of their own battles against disease or the battles they have witnessed their own loved ones fight against cancer. Some of her close celebrity friends also commented, with Selma Blair saying, "This is a lot to take on, still again. And I am wishing all the wise peace you have learned to find you in the terror moments. To know we are all holding you. Love. All love." 
And Doherty's friend Sarah Michelle Gellar commented, simply, "You are a warrior."