Hallmark's Tyler Hynes Loved Working With Co-Star Rhiannon Fish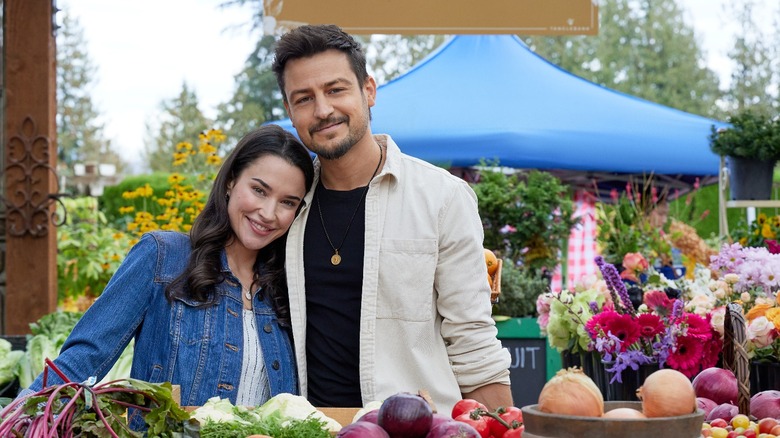 Allister Foster/Crown Media Press
In March 2023, Hallmark kicked off its "Spring Into Love" campaign, debuting movies with blossoming romances that bring all the classic feel-good vibes. The seasonal event saw the premiere of 10 new made-for-TV movies, starting with "A Picture of Her" on March 25th. This movie starred Rhiannon Fish and Tyler Hynes, two names that avid Hallmark viewers will likely recognize.
While they don't rank among the highest-paid Hallmark actors quite yet, both of the stars have appeared in a number of movies on the network. Fish has starred in films like "Journey of My Heart" and "A Royal Paradise," while Hynes is known for Christmas titles such as "Winter in Vail," "An Unexpected Christmas," and "Three Wise Men and a Baby." While "A Picture of Her" was the first time that the duo collaborated, both Hynes and viewers enjoyed the on-screen pairing.
In fact, though "A Picture of Her" received mixed reviews upon its debut, the leading performances are what make it one of the best Hallmark movies of 2023 so far. With a recent interview giving insight into the acting chemistry experienced between Hynes and Fish, it makes sense that such a positive working relationship would translate well into film. In fact, it sounds like Hynes really loved co-starring with Fish.
The actor felt it was easy to work with his co-star
Allister Foster/Crown Media Press
In an interview with Us Weekly, Tyler Hynes opened up about what it was like to collaborate with Rhiannon Fish for "A Picture of Her." The Hallmark star only had positive things to say about his co-star, explaining that he felt it was easy to work with her.
"There's something very present about [Rhiannon]. There was never a moment where I was looking at her and doing things in the scene where she wasn't right there with me," explained the "It Was Always You" actor. "I could do things and she would be right there with me. It wouldn't be thrown, wouldn't get discombobulated, she would just be present with me."
According to Hynes, the ability to keep up with one another really allowed both actors to hone in on their roles. "Once I taste a bit of that with another actor, I go, 'OK, now we can really have some fun because we can really start to play around here and try to find the magic and the in-between moments, which I think is where all the juicy stuff is," he added.
Hynes also admired what Fish brought to her role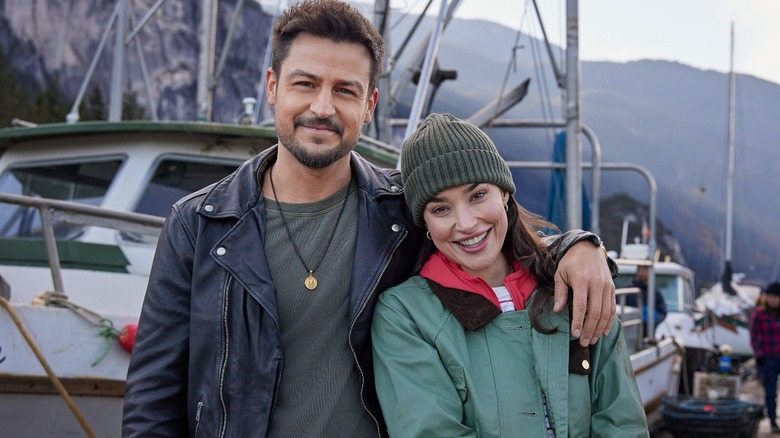 Allister Foster/Crown Media Press
Besides finding it easy to work with Rhiannon Fish in "A Picture of Her," Tyler Hynes also spoke positively about his co-star's talent and personality. Fish plays Beth in the movie, a woman looking to keep a low profile while visiting her aunt in LA only to become a viral sensation after being unknowingly photographed by Hynes's character Jake.
"This film could have been a different movie had it not been [Rhiannon] in that role," he told Us Weekly. "Seeing it up close and looking at what she's doing in this movie, she is really doing us a service. And I can't say enough about her. She's a really talented human being and just as lovely as you would think she is."
Since the actors seemed to have shared a positive experience filming "A Picture of Her" for Hallmark's "Spring into Love" movie campaign, we're pretty sure we're not alone in hoping that the duo will collaborate again soon. We can't wait to see what else they can create together.