Jinger Duggar's Most Rebellious Fashion Choices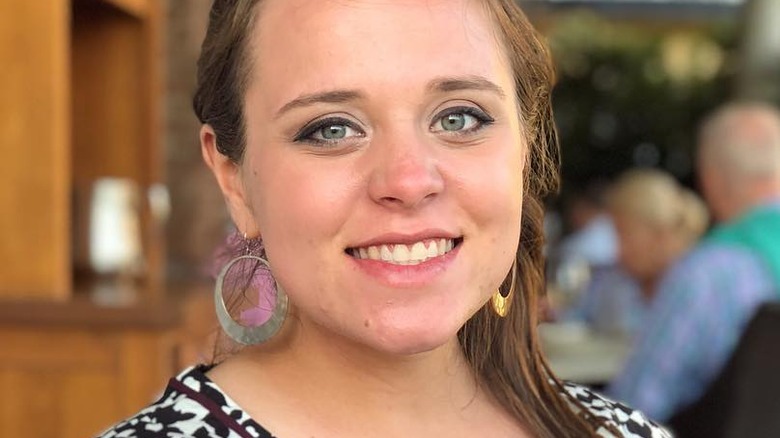 Instagram
Jinger Duggar, the sixth oldest child of Jim Bob and Michelle Duggar, was just 14 years old when the hit TLC show 17 Kids and Counting began. As the show morphed into 19 Kids and Counting, fans got to know Jinger, as well as the many other members of the Duggar brood, quite well. When the spin-off Counting On was born in 2015, Jinger decided to join some of her siblings and take part in yet another reality television show.
In the few years since the spin-off's premiere, Jinger has gotten married and even welcomed her first child with husband Jeremy Vuolo. With her transition out of the Duggar household, Jinger has also made some pretty big changes to her wardrobe. The new mom's fashion is — dare we say it — rebellious. Well, for a Duggar, that is. 
Mama Michelle told People back in 2015 that Jinger, as well as the other older Duggar daughters, coined the term "modern modest." But is Jinger still dressing conservatively according to Michelle's standards now that she's become Mrs. Vuolo? Take a look and see what you think.
Showing some knee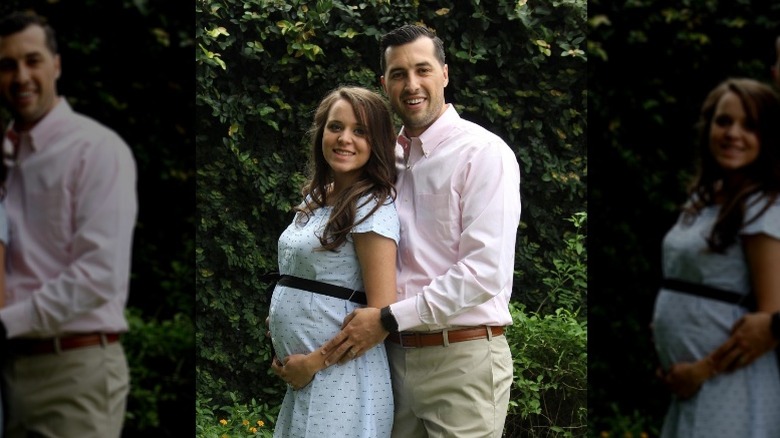 Instagram
When Jinger and Jeremy (you have to love that he has a J-name too) found out the sex of their little one, they took to their blog to reveal the big news. "We are so happy to announce that we are having a BABY GIRL!" the couple wrote. They also shared some photographs from their gender reveal party.
Jinger's outfit (seen here) — a lightweight pale blue dress with a black belt detail sitting just above her baby bump — while adorable, was an interesting length for a member of the Duggar clan. Falling at an inch or so above the knee, most people wouldn't think twice about the expecting mother's ensemble, let alone consider it immodest, but most people aren't Duggars.
Michelle Duggar shared the family's views about modest dress in a blog post on tlc.com in 2012, writing: "We felt like we needed to be covered from our neck to below our knees mainly because God talks about the thigh being uncovered [in the Bible], and how that's nakedness and shame." Perhaps Jinger is redefining her "modern modest" look with shorter hemlines.
Her "Sunday best" looks a little different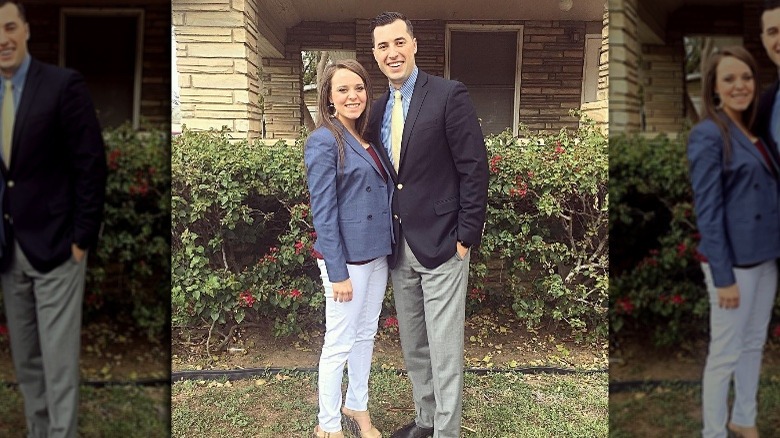 Instagram
In February 2018, Jinger took to Instagram to share a photo of herself and her husband with the caption: "Sunday" and a smiling face emoji. While the picture appears innocent enough, Jinger's outfit shocked fans because she wasn't wearing a long skirt or dress, but rather pants. Say what? 
While some fans thought the reality star looked great in her white pants, maroon blouse, navy blazer, and wedge sandals, others were perplexed. "Does your family ever sorta scold you for choosing to wear pants?" one Instagram user asked. Another simply expressed their amazement, writing, "OMG pants." OMG pants, is right.
The Duggars' deciding factor when it comes to clothing is modesty. So, since pants cover the legs, wouldn't they, too, be considered modest? Michelle told TLC, "I really feel like the Lord is impressing upon me that I should be modest in what I wear. And also, that I really should be defining who I am as a woman by choosing to wear dresses and skirts." Jinger's "unwomanly" choice to wear pants may not have gone over to well with her mom.
An even shorter hemline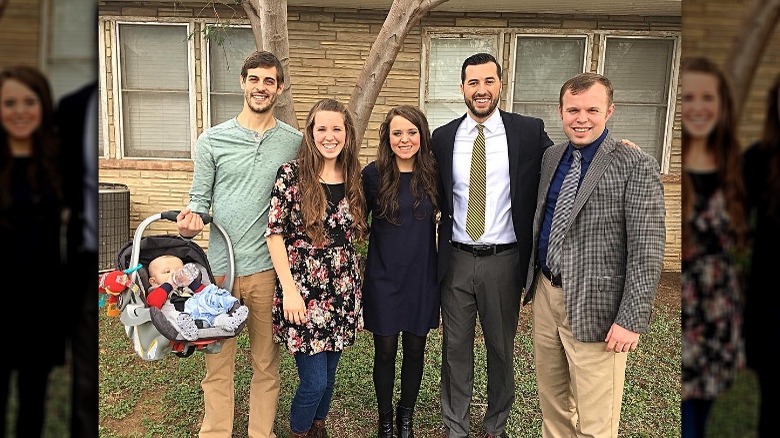 Instagram
Just a month before Jinger shared a photo of herself in pants, she posted a picture of herself and Jeremy with other members of the Duggar family, including Jinger's older brother John, older sister Jill, Jill's husband Derick, and their little one, Sam. In the photo, there was not one, but two cases of fashion rebellion! Firstly, Jill is wearing jeans, which, as you can imagine, caused a reaction from fans. And, although Jinger was wearing a dress, the hemline was several inches above the knee. While that may sound super scandalous, she was wearing tights.
Still, the very modern outfit isn't exactly common place in the Duggar family. Plus, as one commenter pointed out, "pants can be jeans, leggings, jeggings, [and] tights." And you know how Michelle feels about pants. The Instagram user further added, "Good to see the girls being able to express themselves freely after all those years, although it's mainly Jinger at this point. Hopefully they all get a chance to live how they want to."
Embracing ripped jeans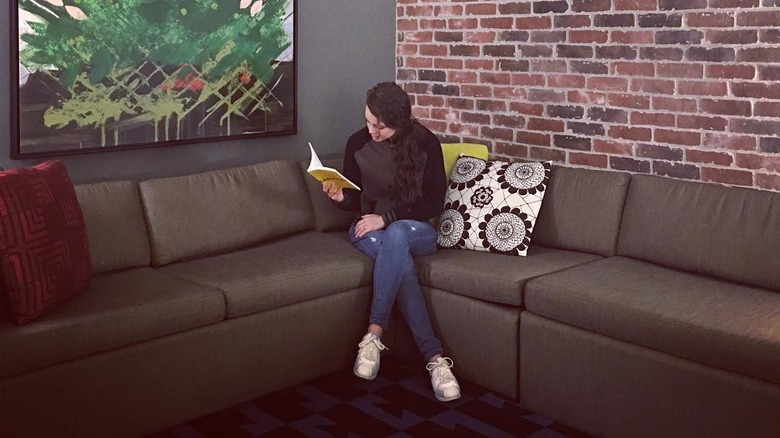 Instagram
Jill may have shocked Counting On fans with her jeans in Jinger's Instagram post, but she wasn't the first Duggar sister to try the cotton twill trend on for size. Just shy of three months earlier, Jeremy took a photo of his wife casually reading a book in a fitted hoodie and distressed denim. It's possible Jeremy didn't realize that sharing a photo of Jinger in jeans would shock their fans. After all, Jinger is usually the one that takes the photos as Jeremy's caption, "Trying my eye behind the lens," proves.
While the majority of fans swarmed in to commend the star, commenting things like "Those jeans though" to "I always knew she would be different. She looks so happy!" Some others, however, felt that it could be inappropriate. "I don't have a problem of her wearing pants, but as a follower of Christ you need to set an example," one fan commented. 
Rule-breaking with some sweats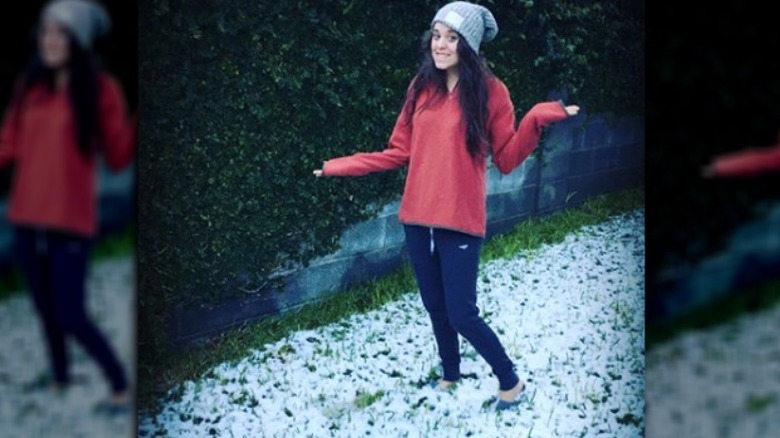 Instagram
With the Duggar matriarch's gendered stance on fashion and commitment to a wardrobe of mainly dresses and skirts, you have to wonder how she feels about her daughter's decision to wear casual and not-intrinsically-feminine clothing. 
In December 2017, Jinger shared a photo of herself catching some snowflakes in a gray knit beanie, an oversized sweatshirt, and joggers (or athletic sweatpants) that taper at the ankle. If this photo were of anyone else — well, anyone outside of the Duggar family — you probably wouldn't think twice about the winter apparel. If you were to post that same photo of yourself, can you even imagine your friends writing "she's wearing pants!!" or making a flippant joke like "how dare she wear pants as a married adult in 2017"? Of course, those were actually the comments Jinger received. 
While there's seemingly nothing immodest about her ensemble, Michelle would probably think differently and worry that her daughter isn't "defining who she [is] as a woman."
Dressing for the gun range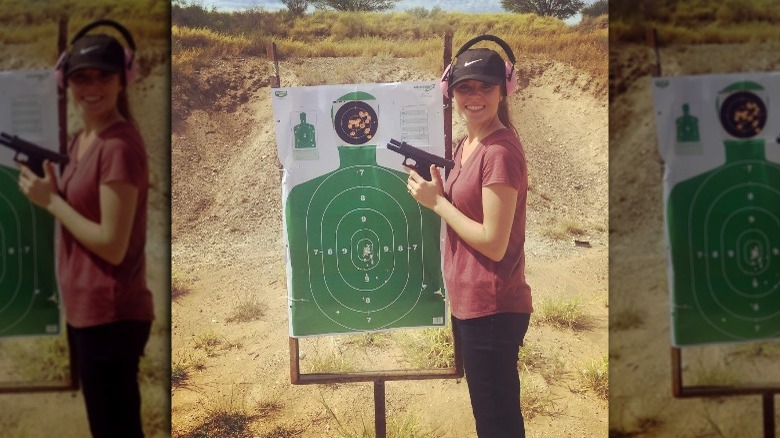 Instagram
In summer 2017, Jinger shared what many would consider to be a questionable photo at an outdoor gun range holding a handgun beside a paper target. The adult Duggar daughter's decision to pose with a weapon was obviously not appreciated by everyone. Ironically, though, the fact that she was wearing pants was also thrown into the conversation. "I just went through 795 comments. I bet 20-30% were about her pants," one Instagram user commented. She's not wrong. Jinger can be seen in a black Nike cap, loose-fitting t-shirt, and black jeans — in other words, a non-Duggar-approved ensemble. 
When Michelle made the decision to forgo pants for dresses and skirts, her husband initially raised some concerns. She told TLC, "Jim Bob said, what about when we're riding bicycles or going hiking? Do you think the Lord wants you to wear a dress then? How are you going to do that?" Michelle didn't have an answer to his questions yet, but said she'd "cross that bridge when we get there." Perhaps this was a time when Jinger had to cross the bridge over to pants.
Showing some toe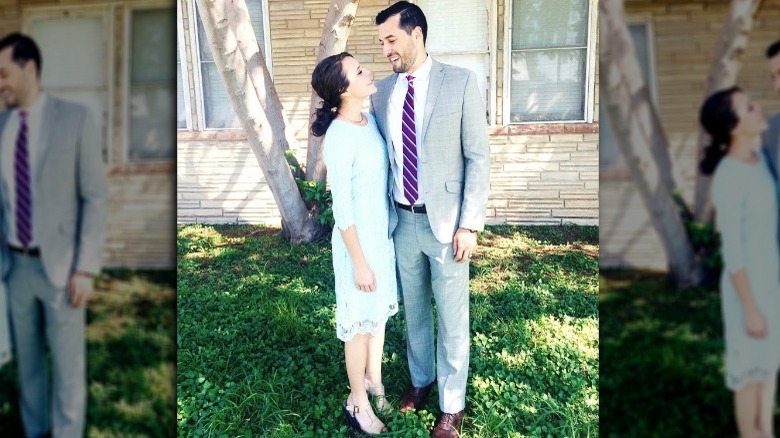 Instagram
In March 2018, Jinger and Jeremy spent the day at the Huntington Library, Art Collections, and Botanical Gardens in San Marino, California. Jeremy was able to capture a hawk taking flight. "Did you get it?" Jinger said as Jeremy panned the camera to her. The mom-to-be was seen — just for a second or two — walking gracefully in dark denim, a sleeveless tunic, and laced wedge boots.
Jinger has worn other types of wedges before, which makes us wonder: are there rules when it comes to "modest" shoes? It depends who you ask. "Cover the feet, cover the feet. It's a bit deal in our family," said Joy-Anna Duggar in an interview from 2014. Jana Duggar chimed in, adding, "Cover the toes," as Joy-Anna reiterated, saying, "You can't have 'em showing." Michelle Duggar, on the other hand, said, "Our family does not have any modesty issues for footwear." Hmm.
So, when Jinger shared of photo of herself wearing peep-toe wedges on Instagram in October 2017, you have to wonder if — despite what Michelle has said — they're a bit risqué for a Duggar.
Denim shorts (oh, no!)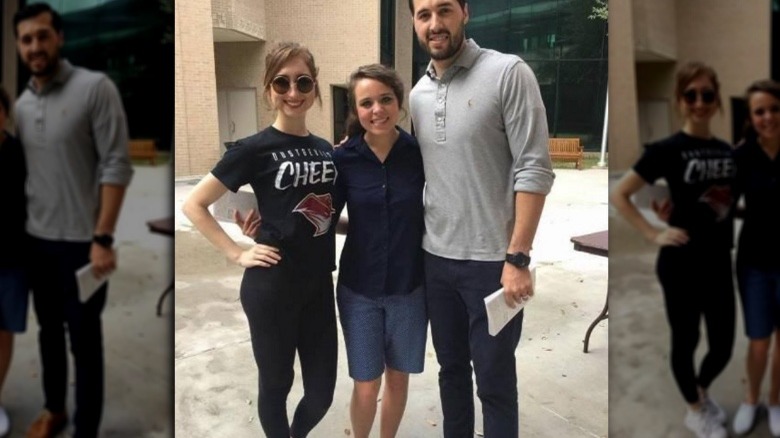 Twitter
Did you know the royal family and the Duggar family have something in common? In both households, shorts are out of the question. Well, with the exception of Prince George and Jinger Duggar, it seems. When a Twitter user shared a photo of Jinger out and about wearing denim-colored shorts — granted, they were Bermuda shorts — people were surprised, to say the least.
As is often the case when Jinger bucks her family's tradition, many fans were excited for her. "Jinger & Jeremy look amazing. ... Glad she's able to exercise her own judgement & free agency!" one person wrote. "And she looks real cute in them, this is Texas it is hot here so shorts are wonderful!" another fan wrote back.
It's not known whether Jinger's intention was to make a little leg room in the Duggar wardrobe rules or if she was just dressing appropriately for the weather. Either way, you can't fault her.
A short skirt AND a sleeveless top?
During the winter 2018 Counting On premiere, Jinger Duggar donned her most "brazen" outfit yet. When heading to the tennis court with husband Jeremy, Jinger definitely embraced the athletic look. In a Polo-style sleeveless shirt and short skirt, Jinger can be seen holding onto Jeremy with one hand and the couple's tennis rackets with the other. While her outfit is, without question, a departure from the reality television star's everyday wardrobe and could be considered immodest as far as Duggars are concerned, it's actually technically the "right" thing to wear for the activity.
University of Georgia senior tennis player Kate Fuller told The Red & Black, "The way that the skirts are now, it's so comfortable. ...We like them because they're also feminine. Dresses and skirts are unique to tennis and we really embrace that." Oddly enough, Jinger's outfit may be appropriate for Wimbledon, but not for the Duggars because, as Michelle said, "God talks about the thigh being uncovered, and how that's nakedness and shame."