Taylor Swift Topped Herself With This Impressive Billboard Record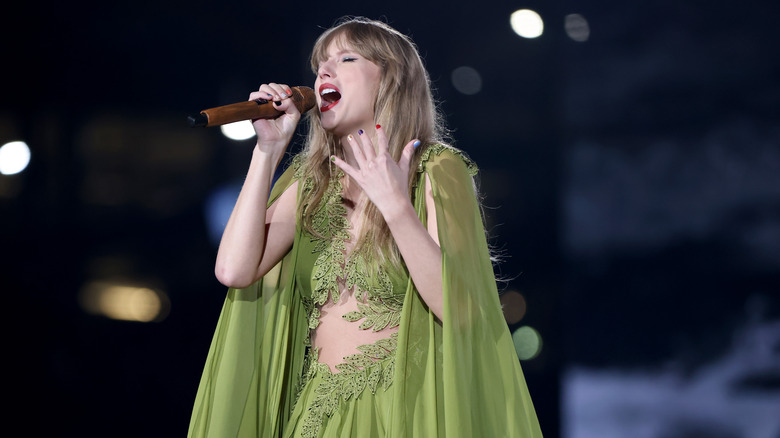 Scott Legato/tas23/Getty Images
Taylor Swift sold out stadiums all over the country during her 2023 Eras Tour, but a little over a decade ago, she was playing in park shelters and parking lots to just 15 people at a time. Even though Swift had a comfortable upbringing, she worked undeniably hard to get to where she is right now. As a child, the singer-songwriter spent her free time relentlessly playing the guitar until her fingers bled and wrote music primarily because it was vital to her happiness.
In a 2008 Entertainment Weekly interview, Swift recalled her initial struggles: "I took my demo CDs of karaoke songs, where I sound like a chipmunk — it's pretty awesome — and my mom waited in the car with my little brother while I knocked on doors up and down Music Row. I would say, 'Hi, I'm Taylor. I'm 11; I want a record deal. Call me.'" And, unsurprisingly, the diminutive wannabe pop star wasn't deterred when she didn't receive any calls. 
Although her journey to fame led many of her classmates to ostracize her, it prompted Swift to write her first song ever, "Lucky You," about a girl who wasn't like everyone else. At 14, Swift finally convinced her parents to move to Nashville so she could pursue her dreams. With a lot of perseverance, she got to the top and snagged several records along the way — including, perhaps most notably, becoming the only living artist with ten albums simultaneously charting on the Billboard 200.
Taylor Swift raised the bar with her Billboard achievement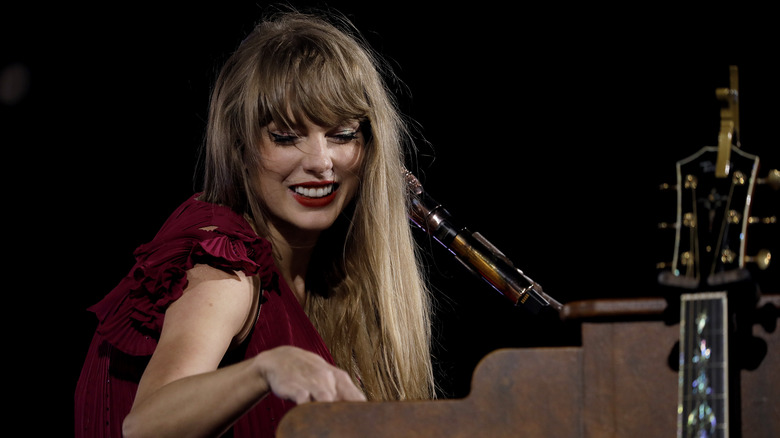 Natasha Moustache/tas23/Getty Images
Almost 20 years into her career, Taylor Swift continues to set impressive records, outdoing herself in the process. According to Guinness World Records, as of May 6, 2023, all of Swift's studio albums were on the Billboard 200 chart, except her debut and the original recordings of "Fearless" and "Red." A special release from 2020, "Folklore: The Long Pond Studio Sessions," led the pack at the third position on the charts, likely because Swift released a new edition in honor of World Record Store Day in April. 
And if you think that's impressive, you should know that this is her second time achieving this feat in 2023 alone, with the first being just two months prior, in March. The only other artists to have ten albums chart simultaneously are Whitney Houston, Prince, and David Bowie, but they were only able to achieve this milestone posthumously. Following his death, 19 Prince albums charted on the Billboard Charts, with five also in the top ten. 
Over the years, Swift has set numerous Billboard records. Following the release of her tenth studio album, "Midnights," Swift became the only artist in Billboard history to occupy all the top ten spots on the Hot 100 chart. Even Swift's re-recorded work is reaching new highs. "Red (Taylor's Version)" charted at number one for 98 consecutive weeks on the Billboard Top Country Albums Chart, breaking Shania Twain's record of 97 weeks.
The Eras Tour has broken several records in its own right too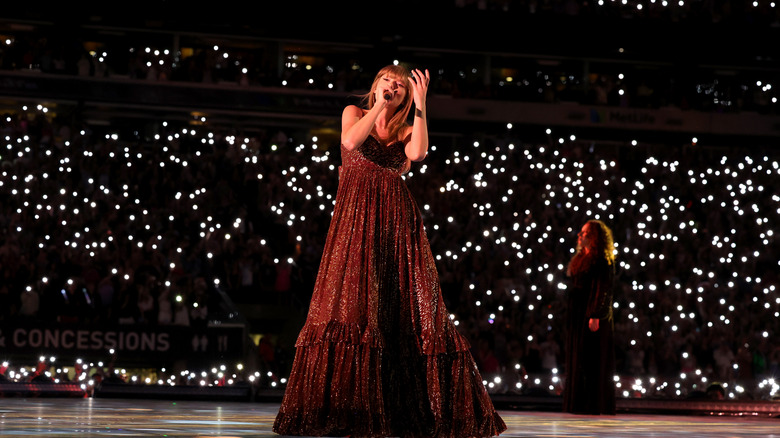 Kevin Mazur/tas23/Getty Images
Given her success, it's unsurprising that Taylor Swift's first tour in years, "The Eras Tour," is a historic success. The opening night show in Glendale, Arizona, broke Madonna's 36-year record for the most-attended female concert in US history with an attendance of over 70,000. Most fans will remember Nissan Stadium as the place where Swift announced the re-recording of her third studio album, "Speak Now," but you might not know that Swift set a record for stadium attendance there too. 
Her third show saw a historic attendance of 71,000 people and brought the three-night total to a jaw-dropping 212,000. It was an all-time high for a single event and a weekend performance. Further, pretty much every city that Swift graces have honored her in some way. Glendale was temporarily renamed "Swift City" to mark the tour's opening night. When she performed in Las Vegas, the iconic Gateway Arches lit up in the shades of Swift's ten albums. 
Nashville commemorated Swift's arrival with a bench in Centennial Park to match the lyrics of her song, "invisible string." Meanwhile, East Rutherford did things a little differently and named "Taylor Swift Ham, Egg, and Cheese" the state's official sandwich. And while this tour contributed to Swift's stunning reported $740 million net worth, it has also helped local economies tremendously and contributed to record-high hotel bookings in places like Chicago. Fortune speculated the tour could gross up to $4.6 billion in consumer spending in the US.