Kelly Ripa And Andy Cohen Bare All In Their Friendship (Literally)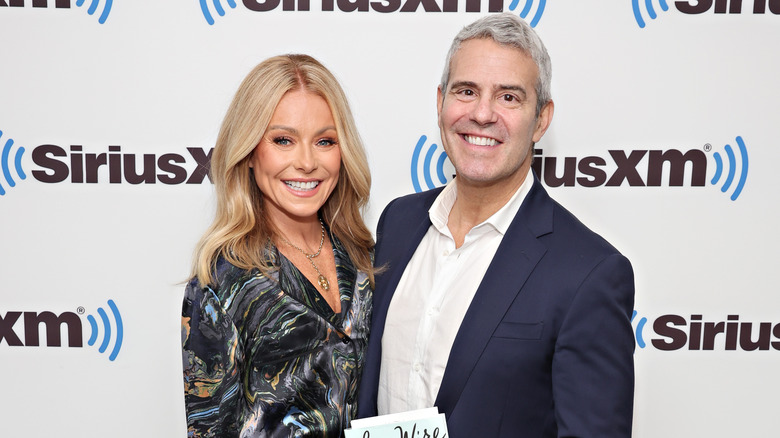 Cindy Ord/Getty Images
Kelly Ripa and Andy Cohen have been great friends for years. In an Op-Ed published by Variety in 2017, the morning talk show host shared that she first met Cohen at a Christmas Party at Bryant Gumbel's apartment in New York City. "Nobody has their finger on the pulse of everything the way Andy does. There's simply nobody better," she wrote. Over the years, Cohen and Ripa — and her husband Mark Consuelos — have built a strong relationship, and the couple is even close to Cohen's kids. In fact, Cohen's son Ben calls them Mee Maw and Pee Paw, which Cohen shared in an Instagram caption back in September 2021.
Whether they are spending an afternoon at the park or attending special events in Manhattan, Cohen and Ripa are supportive of one another in a multitude of ways — and their relationship goes even deeper than we originally realized. On the May 31 episode of Ripa's "Let's Talk Off Camera" podcast, she shared a story about Cohen sending her an explicit photo of a man that he had been talking to... while she was at work. 
Andy Cohen apologized to Kelly Ripa for sending the NSFW photo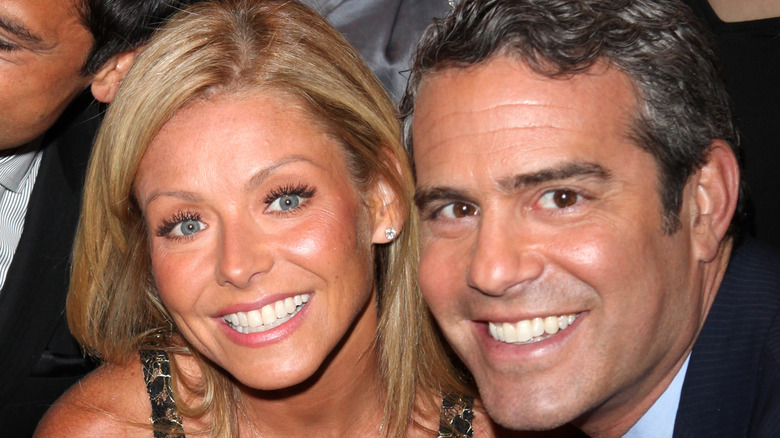 Walter Mcbride/Getty Images
Kelly Ripa was left completely shocked by the photo. "So, my work iPad is open and I'm sitting here reading through my notes and he is over my shoulder trying to show me something. And suddenly, a completely erect penis pops up," Ripa explained on her podcast. Andy Cohen said that he'd been talking to a couple that wanted to have a threesome with him in Boston. "I had already texted Kelly the night before saying, 'I think I'm going to lose my virginity [to a woman] tomorrow in Boston,'" Cohen said, though he ultimately decided not to go through with it. "Sorry, Kel," Cohen said, apologizing for the NSFW snap. 
Ripa, for one, was happy that Cohen didn't end up in any sort of unsafe situation. "Mark and I get very nervous with this stuff on your behalf. I'm constantly convinced that it's going to be a couple of serial killers," she said, adding, "I've had this discussion with you many times, where I'm so afraid for your life." Cohen hasn't had a serious relationship in a couple of years but has said that he's ready to settle down with someone. He admits, however, that as a single dad of two kids, there's a lot more that goes into finding a partner. "I'm not only dating someone, but obviously there's going to be a point where I'm like, I want you to meet my kids,'" he said at BravoCon 2022, according to People.
Kelly Ripa once answered a FaceTime call from Andy Cohen while she was naked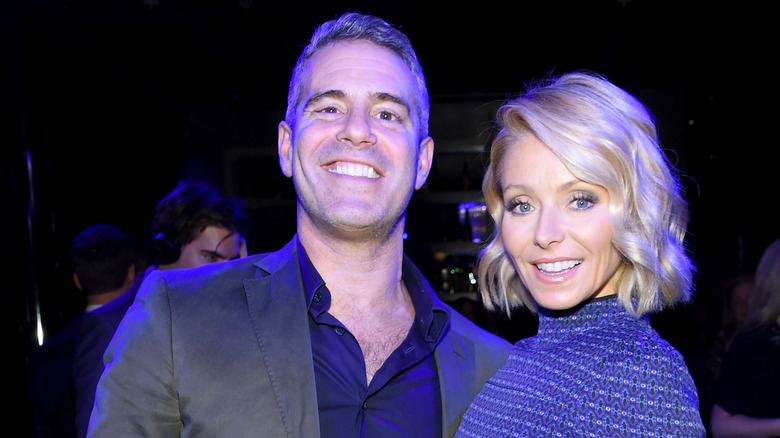 Jamie Mccarthy/Getty Images
Andy Cohen isn't the only one in the relationship to share something NSFW. He and Kelly Ripa are so close that she isn't shy about answering a video call from him when she's not wearing any clothes. In a February 2019 episode of "Live With Kelly and Ryan," Ripa revealed that she was in the gym when she got a FaceTime call from Cohen. Although she was changing her clothes, she didn't really think much of it and decided to answer. "I'm in the gym. I'm in the locker room. And, yes, I'm naked. 'Cuz I sometimes get naked when I change my clothes," Ripa told the audience and her "Live" co-host, Ryan Seacrest, at the time. "I see my phone. 'Andy Cohen wants to FaceTime,'" Ripa continued her story. She said she answered the phone, showing Cohen her naked body before quickly realizing that he wasn't alone. 
"Oh, sweetie. I'm at JCrew," Cohen told her. When Seacrest said it's "rude" for people to FaceTime others without warning, Ripa responded, "I'm a grown woman. I should know better." Of course, Cohen and Ripa can obviously laugh about those times in their friendship, which is one of the best parts of having a friend for life.