Jennifer Lawrence's Dreams Came True As A Guest On The Ellen Show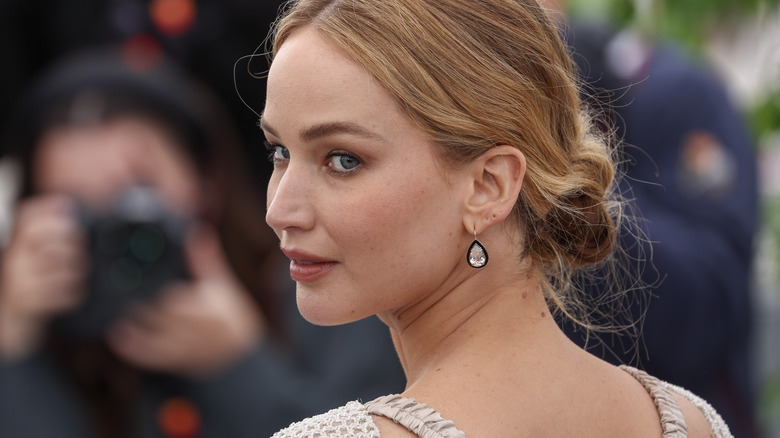 Mike Marsland/Getty Images
Actress Jennifer Lawrence is no stranger to interviews. As one of Hollywood's most successful and charismatic actors, she's chatted with journalists and talk show hosts all over the world for many years. However, her 2022 interview on "The Ellen DeGeneres Show" was different than the rest. While there was nothing unique about the format — DeGeneres called Lawrence on the phone from the set of her popular daytime talk show for a chat — the things they discussed had both of them laughing.
Since DeGeneres' successful show premiered on NBC in 2003, Lawrence was a fan and tuned in often. Like many people who dream of fame, the "Hunger Games" star would pretend to be a guest on talk shows. From around ages 13 to 17, Lawrence would conduct these imaginary interviews with celebrities while she was on the toilet. She pretended she was on DeGeneres' show most often, saying, "I was really into your show. So pretty much any time it was a number two — it was you!" To which Degeneres responded with, "Wow, I'm honored."
Manifesting in an unlikely place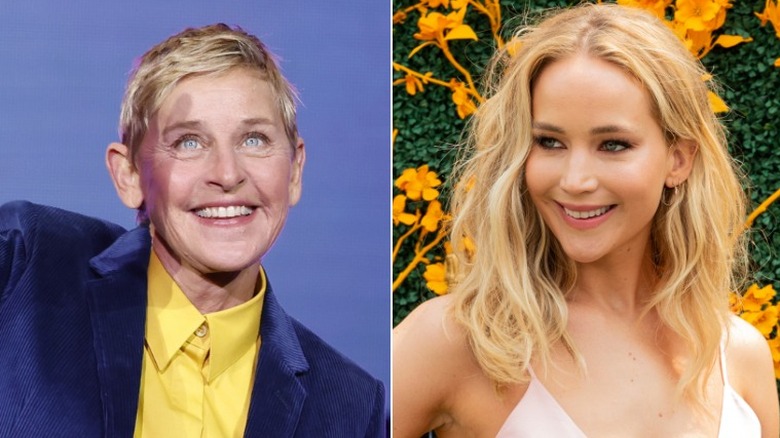 Tasos Katopodis/Getty & undefined & lev radin/Shutterstock
Jennifer Lawrence claimed that she must've been manifesting all those years ago when she pretended to be interviewed because she eventually wound up on "The Ellen DeGeneres Show" in real life, after all. "And don't think you're just on the toilet for one reason," Degeneres said after Lawrence mentioned manifesting. "You can manifest anything when you're there." 
When Lawrence was asked what she used to imagine talking about during her interviews, she jokingly responded, "Probably just like, 'How did you get so pretty? You're the prettiest person I've ever seen.' And I'd be like, 'Oh, Ellen. Stop! Oh my God. I'm definitely not the prettiest person you've ever seen.'"
Before calling, Degeneres claimed that she was calling Lawrence at home while the actress was on the toilet to create a full-circle moment. Once Lawrence picked up, Degeneres mentioned how Lawrence was now living in the very house DeGeneres owned back when she started her show, highlighting another meaningful moment between the two stars. Before hanging up, DeGeneres also offered her congratulations on the news that Jennifer Lawrence and her husband Cooke Maroney welcomed their first child.
Fulfilling her dreams has taken many years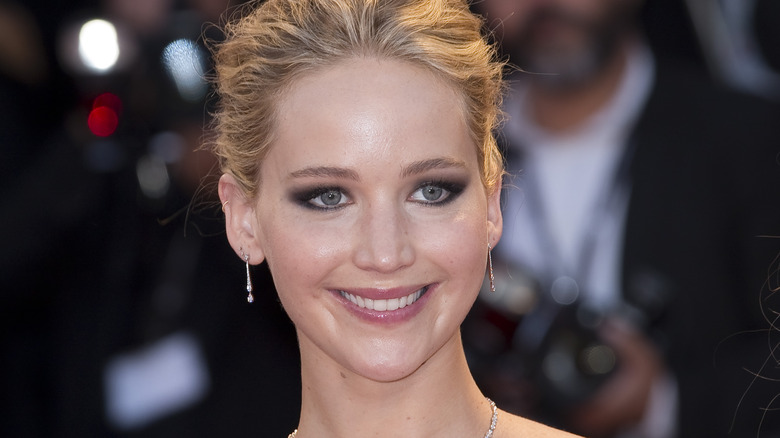 BAKOUNINE/Shutterstock
Lawrence lived out her dream of being interviewed on DeGeneres' show not once but a couple of times. But that's not the only dream she fulfilled. Her career has taken her to places most actors only dream of. From being nominated for an Oscar four times (and winning one for "Silver Linings Playbook" in 2013) to becoming the highest paid actress in the world in 2016, her list of Hollywood achievements is long and incredibly impressive. However, her popularity in the industry hasn't excluded her from the effects of the gender pay gap over the years. She's had to negotiate for better pay like many other actresses.
Lawrence is from Louisville, Kentucky, but moved to New York City at age 14 after dropping out of eighth grade to pursue her acting career. After taking on several small roles, she eventually moved to LA, where her career truly took off. In addition to starring in "The Hunger Games" and all of its sequels, Lawrence is also known for her roles in "Silver Linings Playbook," "American Hustle," "Winter's Bone," and "X-Men: First Class."
As for recent works, Lawrence helped produce the documentary "Bread and Roses," which sheds light on the plight of Afghan women after the Taliban regained power in Afghanistan. She also stars in the comedy film "No Hard Feelings."