Catherine Zeta-Jones' Key To Lasting Marriage With Michael Douglas Is Truly Romantic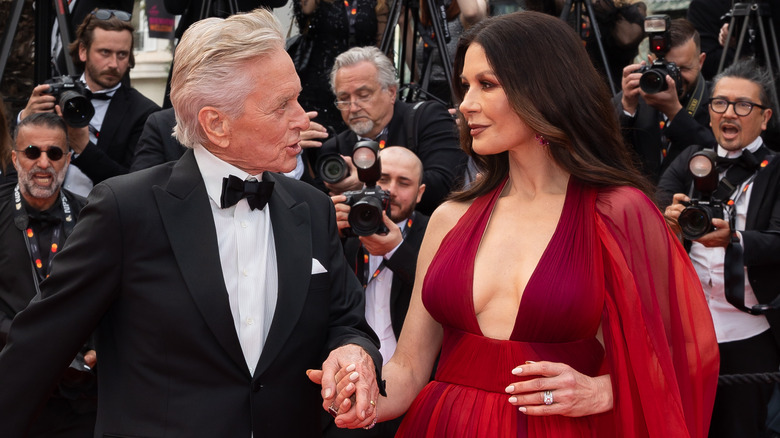 Marc Piasecki/Getty Images
Many couples aspire to unlock the secrets to a lasting union, and while there is no one-size-fits-all answer, there are key elements that contribute to the foundation of a long and fulfilling marriage. Catherine Zeta-Jones shared what keeps her marriage with Michael Douglas strong through the years. While no relationship is without its challenges, Hollywood power couple Zeta-Jones and Douglas have shown a genuine commitment to one another. They have proven that true love can withstand the tests of time.
With a 25-year age gap, Zeta-Jones and Douglas are considered among the most successful age gap relationships. The couple has endured over two decades of marriage, and fans couldn't help but wonder what their secret is. In an interview with WSJ Magazine in 2021, Zeta-Jones shared, "The constant is love and respect. We've never, ever lost our sense of humor, and we enjoy each other's company."
Douglas also shared his fair share of effort in making their relationship work. In an interview with US Weekly in 2019, he said, "I would say sometimes we make more of an effort with strangers than we do with the person who's closest to us. And I've always tried to remember how fortunate I am and what an extraordinary lady she is and daily remember [of] that kind of respect."
Spending quality time together also helped Zeta-Jones and Douglas' relationship
Enjoying each other's company is one thing, but couples have to make sure that they also get to spend some quality time together. For Catherine Zeta-Jones and Michael Douglas, it helps that they get to spend long periods of time together. Zeta-Jones further told WSJ, "My husband and I spend a lot of time together, because unlike so many couples, we've never had a 9-to-5 job where it's consistent ... So we've had in our relationship huge amounts of time where we've been just us. We lived on the island of Bermuda for 12 years bringing up our kids. We respect each other's space, and our humor is just long-lasting."
In addition to this, it seems like the "Basic Instinct" actor has never failed to show Zeta-Jones how much he loves her. To celebrate their marriage, he shared a short but sweet message on his Instagram account, along with their wedding photo. He wrote, "Happy Anniversary to my darling Catherine! I love you so much."  
Catherine Zeta-Jones and Michael Douglas briefly separated in 2013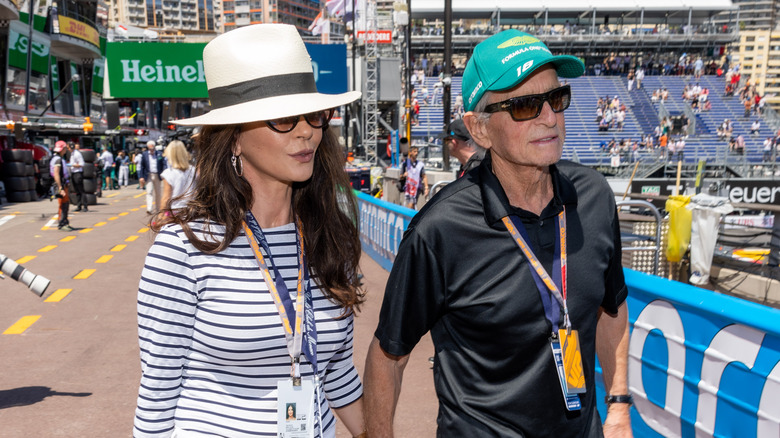 Arnold Jerocki/Getty Images
After 13 years of marriage, Catherine Zeta-Jones and Michael Douglas took a break in August 2013. Both of them still wanted to work on things as neither party filed for divorce or legal separation. The couple's health and wellness might have impacted their marriage. In 2010, Douglas was diagnosed with cancer. He stated that Zeta-Jones showed an unparalleled level of strength during this time. He overcame the illness in 2011. However, it was this time that Zeta-Jones wasn't doing well mentally. She reportedly checked herself into a mental health facility to treat her bipolar II disorder. Less than a year after their break, the couple got back together in April 2014.
In an interview with The Telegraph in 2022, Zeta-Jones shared her thoughts on what they went through. She explained, "It's impossible for there not to be ups and downs if you live with the same person and wake up with them every day. I've been waking up to Mike for nearly 25 years. I love being married but it's a crazy thing when you really think about it."