It Wasn't Easy For Ashton Kutcher To Become Stepdad To Demi Moore's Kids - Here's Why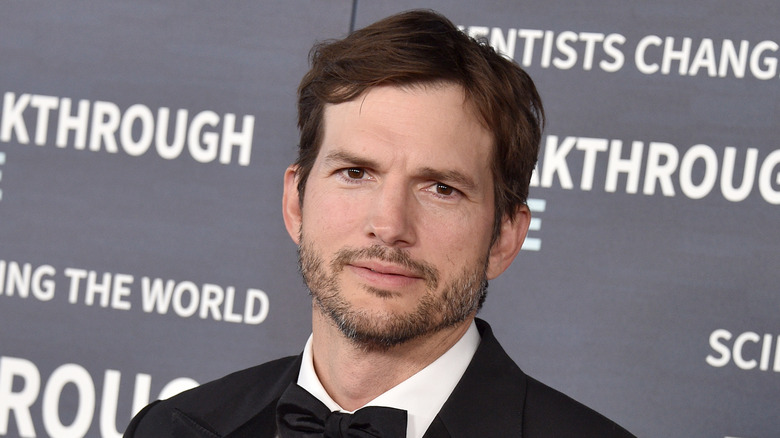 Gregg Deguire/Getty Images
Ashton Kutcher's romance with Demi Moore took Hollywood by surprise. However, it was also hard for Kutcher to find balance as a stepfather to Moore's three daughters, whom she shares with actor Bruce Willis. Kutcher and Moore first met in 2003 through mutual friends and began dating not long after. The couple's 15-year age difference made headlines, but the pair continued to prevail. The duo eventually got engaged and tied the knot in 2005. During their marriage, the actors had hoped to expand their family but struggled to get pregnant. They considered adoption and tried fertility treatments. When Moore was 42 years old, the pair suffered a late-term pregnancy loss that rocked the family. "I really lost sight of everything that was right in front of me, which is the family I had," Moore said of the situation on "ABC News' Diane Sawyer."
That same year, Moore's daughters, Rumer and Tallulah Willis, appeared on "Red Table Talk" and spoke out about the toll the pregnancy took on them. "She wanted to have another baby, and then it wasn't happening, and there was so much focus on that," Rumer said. "It was like 'Oh, well we're not enough.'" Sadly, by 2011, Kutcher and Moore had announced their split. The couple officially divorced in 2013.
As for Kutcher, he told Esquire, he also struggled during the marriage as he felt a lot of pressure being a stepfather to three young girls.
Ashton Kutcher as a stepfather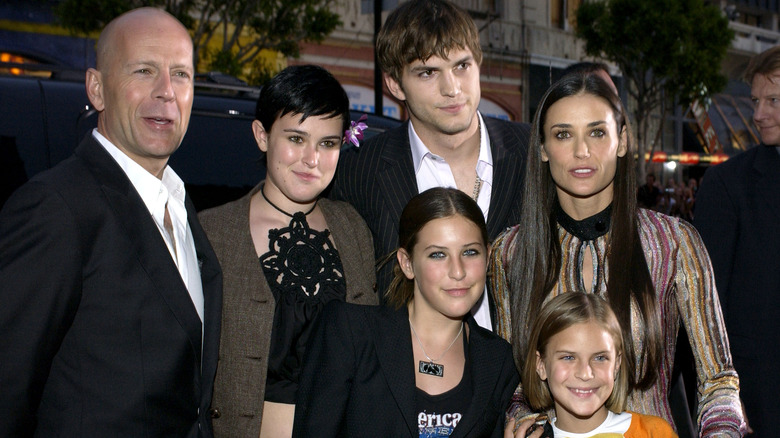 L. Cohen/Getty Images
In January 2023, Ashton Kutcher opened up about many personal things in his life during an interview with Esquire. "The Butterfly Effect" actor touched on his relationship with ex-wife Demi Moore, and the struggle he felt to become a stepfather to her three children at a young age. "I was 26, bearing the responsibility of an 8-year-old, a 10-year-old, and a 12-year-old," he stated. "That's how some teen parents must experience their twenties."
Of course, Kutcher admitted that he loved children and the idea of having a family of his own. "I love kids. I wouldn't have gotten married to a woman that had three kids if I didn't love kids." He also touched on the topic of having a child with Moore. "The idea of having another kid would have been incredible," he added, referencing Moore's miscarriage. "For whatever reason, I had to have that experience."
Sadly, Moore's daughters, Rumer and Tallulah Willis, remember that time as a difficult period for them as well. "So much of that time, especially with Ashton, I was so angry because I felt like something that was mine had been taken away," Rumer said during her "Red Table Talk" appearance. In June 2023, Tallulah opened up about that time in her life during "Stars on Mars," calling it a "dumpster fire," via Page Six. "It was really hard, and I'm still unpacking," she added.
Ashton Kutcher is still in contact with his former stepdaughters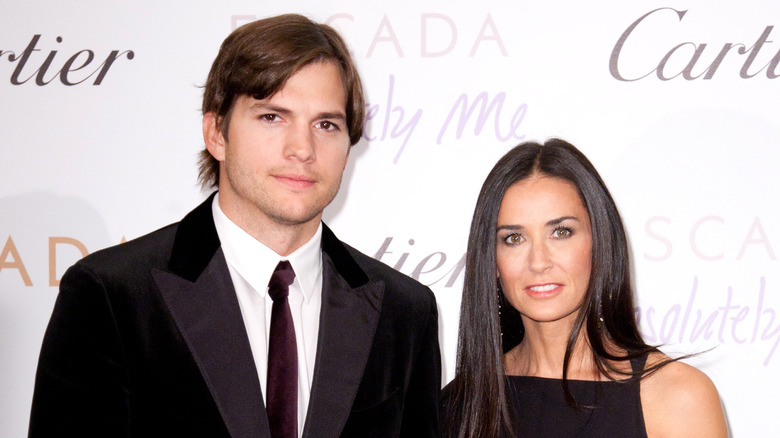 Victor Boyko/Getty Images
Following Ashton Kutcher's divorce from Demi Moore, the actor married his "That 70s Show" co-star and longtime friend Mila Kunis. Kutcher and Kunis went on to have two children together. However, Kutcher admitted during "WTF with Marc Maron" podcast in 2020 that he still has a relationship with Moore's three children and that he stays in contact with his former stepdaughters. "I make a really conscious effort to stay in touch with the girls," the actor stated. "I love them, and I'm never going to stop loving them, right? And respecting them and honoring them and rooting for them to be successful in whatever they're pursuing." Kutcher also gushed over his feelings for the Willis girls during a 2015 interview with Howard Stern. "I loved those kids like my own kids, and I helped raise them until Tallulah was 18 when we got divorced," he stated via Us Weekly.
In addition, Kutcher's relationship with Moore is also on good terms. Despite the end of their marriage, the two are friendly toward one another. "We have some things that overlap. It's friendly. But we're not...hanging out," Moore told The Wall Street Journal in 2019. In 2022, Moore even co-starred with Kunis in a Super Bowl commercial, proving there's no bad blood between them.