The Go-To Disguise John F. Kennedy Jr. Used To Escape Prying Paparazzi Eyes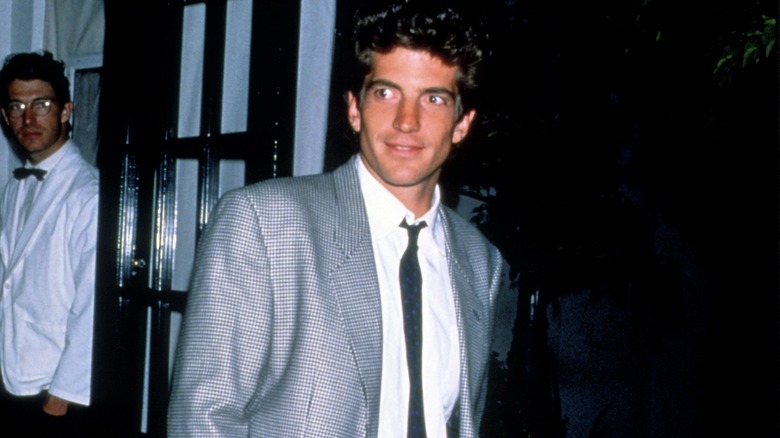 Images Press/ Getty Images
On November 25, 1960, John F. Kennedy and Jackie Kennedy had their first son, John F. Kennedy Jr. A year later, JFK became one of the most talked about presidents in United States history. To the country's horror, he was assassinated just in 1963, just three days before his son's birthday This left Kennedy without a father, sitting directly in the spotlight underneath the fascination, scrutiny, and adoration of the American media. Throughout his childhood and into young adulthood, Kennedy and his family were making headlines left and right.
Born into fame, Kennedy was accustomed to the paparazzi following his every move. In an interview with InStyle, biographer and close friend of Kennedy, Steven M. Gillon, revealed that, for much of his life, Kennedy felt at home in the eyes of the public. Gillon told the publication, "John liked attention ... He grew up being in the focus of media attention, and I think he was kind of addicted to it." 
Like all addictions, the highs it brought came with staggering lows, taking a toll on his marriage. Despite being a ham, even John F. Kennedy Jr. needed time away from the publicity.
John F. Kennedy Jr. dressed up as a woman to avoid paparazzi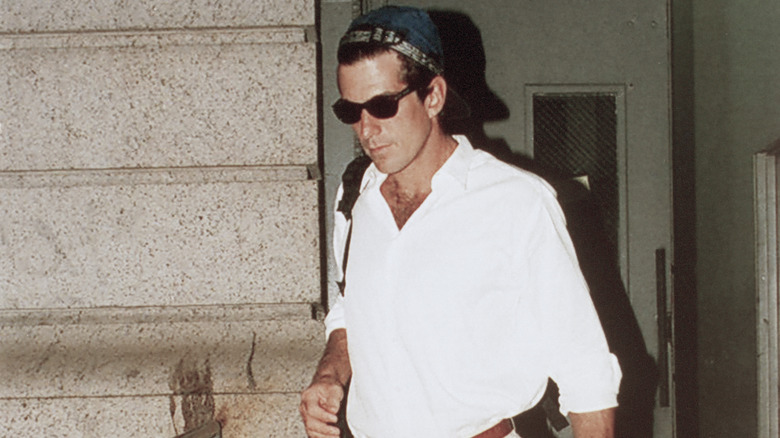 Lawrence Schwartzwald/ Getty Images
John F. Kennedy Jr. was constantly making appearances in the papers. Dating high-profile celebrities like Sarah Jessica Parker, Cindy Crawford, Daryl Hannah, and Julie Baker, Kennedy was more than familiar with the flash of a photographer. In an interview on "Watch What Happens Live with Andy Cohen," Parker, a wildly famous actress, told Cohen, "I never had any idea what real fame was until I met John." And while the unofficial prince of America was known to be charismatic and easy-going, he sometimes needed a break from the public eye.
The Kennedys' family hairdresser, Lenny Holtzman, recounted in J. Randy Taraborrelli's biography of the family, "The Kennedy Heirs," that Kennedy would call Holtzman while leaving the airport in Cape Cod and ask for the most absurd favor: "I'd have to go and meet him with his bike, his wig, and a dress. He'd go into the ladies' room and change and get on his bike and ride right past the paparazzi," said Holtzman. 
The stunt worked seamlessly, and the crowds would have no clue that the handsome poster boy was hidden beneath his costume, according to Holtzman. Unfortunately, it was his wife, Carolyn Bessette Kennedy, who yearned the most for this kind of anonymity.
John F. Kennedy's wife could not handle the media exposure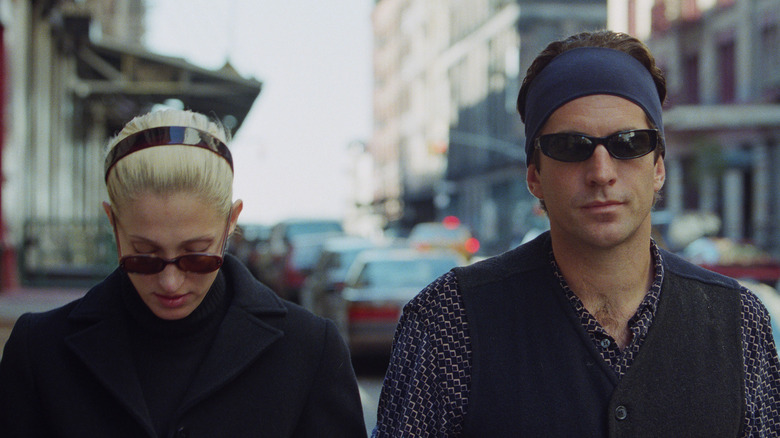 Lawrence Schwartzwald/ Getty Images
John F. Kennedy Jr. and Carolyn Bessette Kennedy had a heartbreaking love story for many reasons. One of them was that his wife did not take to the limelight naturally. A publicist for Calvin Klein, Carolyn Bessette Kennedy was just another hardworking woman in New York City before she met John F. Kennedy Jr. in 1995. By 1996, the couple was married, and Carolyn became an official part of one of America's most-followed families. Gillon told People, "John believed once he got married, the press would leave him alone. He'd no longer be America's most eligible bachelor. He'd be another married guy. And just the opposite happened." 
Carolyn was not prepared for this high-visibility lifestyle. Mitchell Fink, a close friend of hers, told The Guardian, "Carolyn was a very sophisticated woman who knew exactly what she was getting into, but it was still difficult to handle at first. It offended her that her privacy was being intruded on that level." 
Unfortunately, Carolyn didn't have a go-to costume like her husband's when she wanted to escape the paps. Before she could learn to handle the attention, John F. Kennedy Jr. and Carolyn Bessette Kennedy were killed in a plane crash in 1999, one of the many tragedies surrounding the Kennedy family.