Tragic Details About Fran Drescher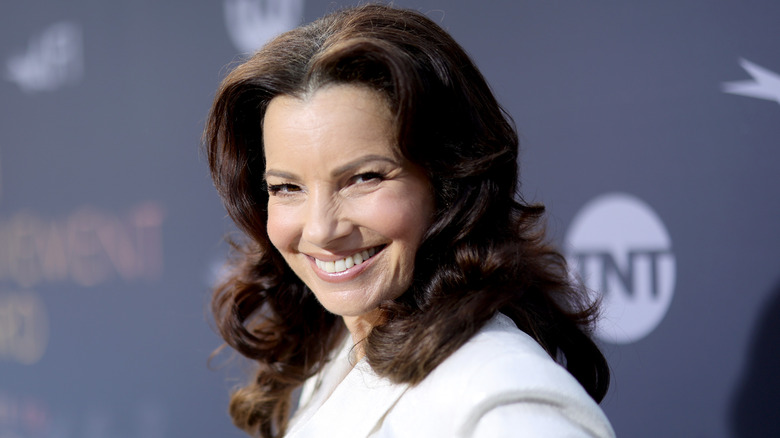 Emma Mcintyre/Getty Images
The following article contains references to sexual assault and stalking.
Who could forget the legendary, nasally voice and famous bouffant of Fran Drescher's "The Nanny"? Not to mention the iconic fashion that made her character a symbol of '90s television. The show was a smash hit, running for six seasons from 1993 to 1999, and Drescher was launched into the limelight with it.
Born Francine Joy Drescher in 1957, the Queens, New York native was more than the lead character of the sitcom. She and her husband at the time, Peter Marc Jacobson, were also the masterminds behind the show. In 1997, Drescher explained her inspiration behind "The Nanny" to The Hollywood Reporter, saying she'd been shopping in London with her friend's daughter and was giving her some advice about how to break in a new pair of shoes. "She's a proper British boarding-school girl, and I was like a bull in a china shop around her. ... It occurred to me this was a funny kind of Queens logic, self-serving advice I'm giving her. I wasn't really functioning in a parental mode, and it seemed humorous," Drescher recalled. With that, she called her husband and said, "What do you think about doing a spin on 'The Sound of Music' except instead of Julie Andrews, I come to the door?" Before long, the sitcom was born.
Typically when celebrities are launched into stardom suddenly, it's the fame that contributes to their devastating misfortune. However, Drescher was first impacted by tragedy back in the '80s, well before she was a household name. From then on, she faced repeated hardships that affected her deeply.
She was the victim of a horrific attack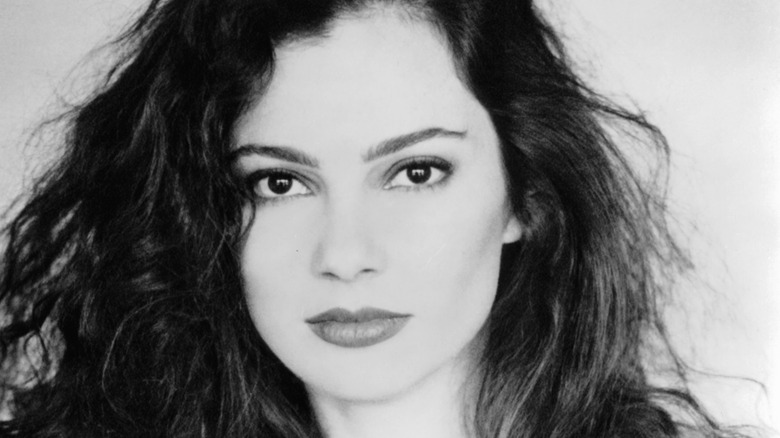 Michael Ochs Archives/Getty Images
In 1985, years before she starred in "The Nanny," Fran Drescher was the victim of a horrific and violent attack. Drescher was having dinner with her friend and then-husband Peter Marc Jacobson when intruders broke into the couple's house, tied up and blindfolded Jacobson, and proceeded to rape the two women at gunpoint.
Speaking of the incident years later, Drescher told Fox News, "I felt like I was shattered in a million pieces. ... It took me at least a year before I even felt close to being myself." She described a time after the incident when she went out to eat at a restaurant and said that she was so on edge that when a busboy dropped some utensils, she jumped out of her seat and screamed.
In an interview with CNN, Drescher revealed that the two men who'd assaulted her were brothers, and one of them had been on parole. "It's very disheartening to think that he was incarcerated and then he was let go, and then he went on a rampage, and I was not the only woman that he had raped," she said. The men were later arrested, thanks in large part to Drescher. She explained to CNN that because she has a photographic memory, she was able to assist the police in the facial composite, which ultimately led to the perpetrators' arrests. "I have at least the closure, which a lot of women sadly do not have." She continued, saying, "He's locked away now for good."
If you or anyone you know has been a victim of sexual assault, help is available. Visit the Rape, Abuse & Incest National Network website or contact RAINN's National Helpline at 1-800-656-HOPE (4673).
Fran and her husband divorced after 21 years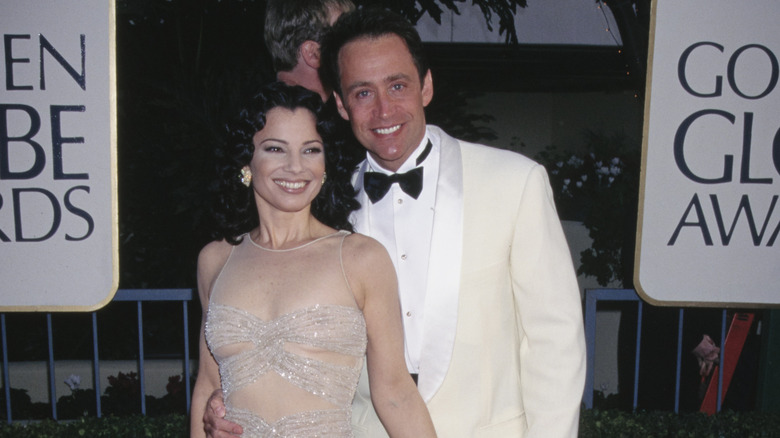 Michael Ochs Archives/Getty Images
Fran Drescher and Peter Marc Jacobson seemed like the perfect couple for decades. They were high school sweethearts, having been together since they were 15, and collaborated together when they made "The Nanny." Enduring a traumatic home invasion led the couple to therapy, where Jacobson ultimately confronted his conflicting feelings about his sexuality.
Speaking to Oprah, Jacobson said, "We were living a heterosexual life. I wasn't having affairs on the side or anything like that. I thought that I was straight." When he went to therapy in the past, Jacobson said he was often told by his therapists, "You're straight. You're not gay."
In the same interview, Drescher said Jacobson began acting differently. "He was very controlling. ... He was even jealous of our dog, when I wanted the dog to be with us. So it became very suffocating." Jacobson came out to his wife as bisexual and she supported him unconditionally, but ultimately decided to end their 21-year marriage. "He begged me not to leave him, and for me, it was the hardest thing because I've always been all about putting everybody else's feelings above my own," she explained.
After many years of working through their issues, and with Jacobson now living as a gay man, they are still close friends. As he told People in 2011, "We work together. Go out to eat. Travel together. I feel like I still have a wife."
Her stalker made an impact on how The Nanny was filmed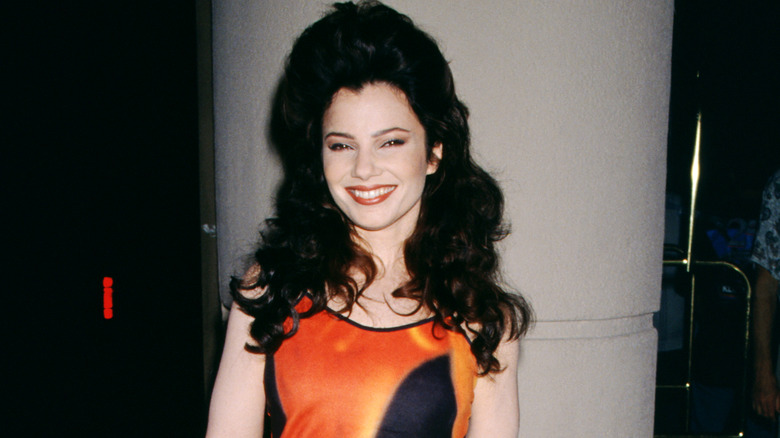 Ron Davis/Getty Images
Eight years after the horrific home invasion that rocked Fran Drescher to her core, she managed to seal the deal with CBS and "The Nanny" came to fruition. Playing the lead in the sitcom, she became a recognized face in Hollywood, leading to plenty of media attention. But unfortunately, it wasn't just the media that had their eye on the actor. Around 1993, Drescher became the target of a stalker and was harassed by relentless calls and letters.
Back in the day, sitcoms were often filmed in front of a live studio audience, allowing members of the public to attend the tapings of television shows. Drescher was terrified that her stalker could be in the audience; however, with "The Nanny" being mid-season, they couldn't move the set. Instead, she worked with the show's producers and, with the help of casting director Lisette St Caire of Central Casting, they replaced the audience altogether. St Claire put out a casting call for a few dozen people — this way, she could screen everyone coming into the studio.
Not only did this method of filling the audience ensure everyone was vetted, but St Claire could also verify that the audience would be good at what they do: laughing. This then became the norm for sitcoms.
Fran Drescher's first divorce took a toll on her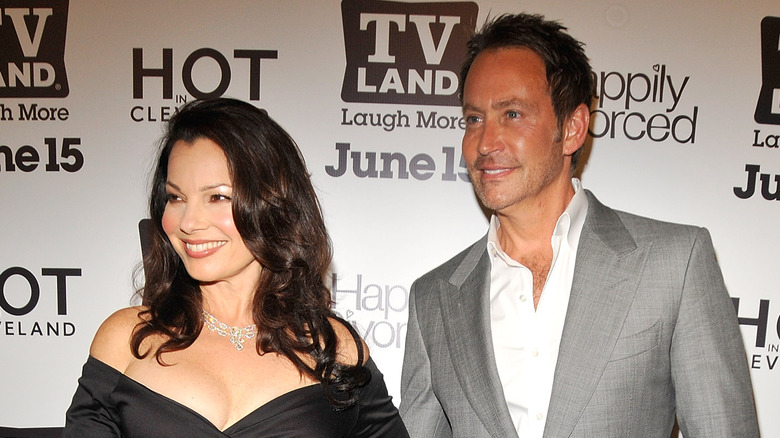 Ben Gabbe/Getty Images
Anyone who has either had a marriage end or knows someone who has is likely well aware of the emotional stress brought on by a divorce. Even though Fran Drescher was the one to end her marriage to Peter Jacobson, it took a lot of courage on her part. Her relationship had soured, as she told People, "Peter started to have control issues that I found somewhat suffocating, and only in hindsight, do we now understand that he was working so hard to control his authentic self, his true orientation." It was difficult, but Drescher knew she had made the right decision. "I had never done anything for myself that was against the will of somebody else that I cared about ... I was making everybody else happy, but not really myself," she said.
Although it wasn't an amicable breakup, and the hurt feelings took time to settle before they were eventually resolved, Drescher was able to rediscover herself. Speaking with ABC News about the life lessons she learned post-divorce, she said, "I learned not to be afraid to be alone. I learned to be wrong and apologize for it, and the world is not going to come to an end and nobody's going to hate me."
Eventually, Drescher rekindled her friendship with Jacobson — and they even went on to work together again on another sitcom that was heavily influenced by their own relationship, "Happily Divorced."
She was diagnosed with uterine cancer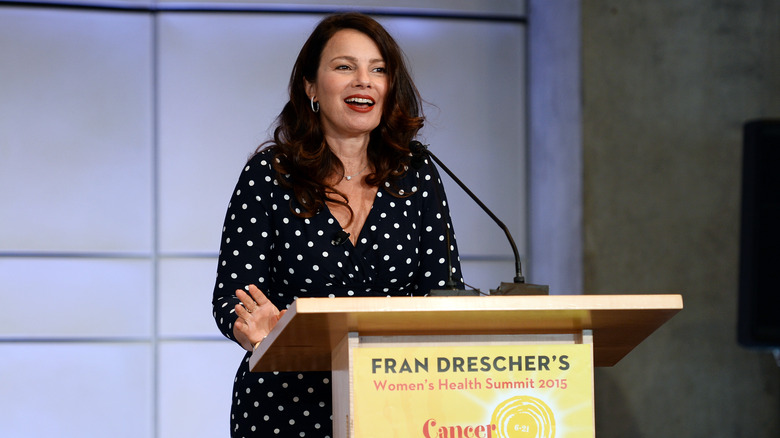 Amanda Edwards/Getty Images
Just one year after her divorce from Peter Jacobson, Fran Drescher was hit with more tragedy — she was diagnosed with stage 1 uterine cancer. The news wasn't a shock to the actor, though, as she had spent the last two years visiting eight doctors for her symptoms, which included cramping and spotting between periods. Although she was originally misdiagnosed with perimenopause, a biopsy confirmed what she suspected and her world was turned upside down.
What should have been private news quickly became public. As Drescher told CancerConnect, "I was outed by the tabloids. There was no recovering and keeping it under the rug and going back to normal. I had to develop a new normal." Her cancer remained slow-growing and after a couple of years, she was declared cancer-free. Drescher released her memoir, "Cancer Schmancer," in 2002, in which she delved into her survival story and the difficulty she faced during the diagnosis stage in the hopes of raising awareness.
Drescher went on to found the Cancer Schmancer Movement. According to the organization's website, its mission is "to save lives by transforming the nation's current sick care system into one that focuses on genuine health care." Cancer Schmancer Movement focuses on prevention, detection, and policy change, and it played a pivotal role in having the Gynecologic Cancer Education & Awareness Act passed in 2007. 
Her cancer treatment involved a total hysterectomy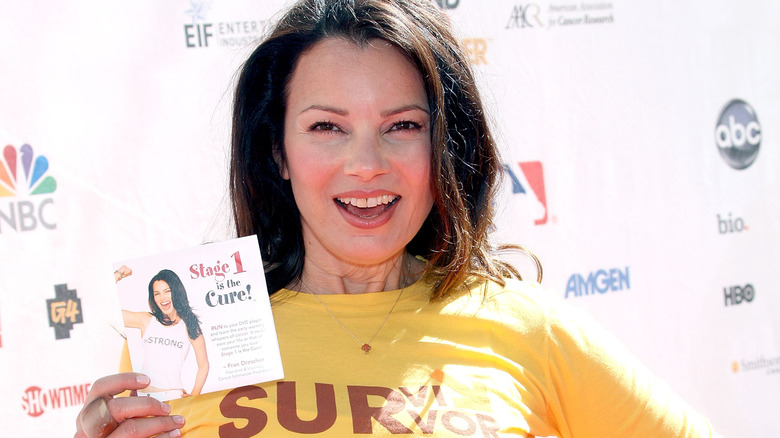 Frederick M. Brown/Getty Images
In 2016, Fran Drescher was the keynote speaker at the SmartWomen Luncheon and Expo, an annual fundraiser put on by St. Joseph's/Candler's Mary Telfair Women's Hospital. An incredible $151,000 was raised for uninsured women to receive breast health care, including mammograms. The actor and uterine cancer survivor spoke with St. Joseph's/Candler's ahead of the fundraiser, and she explained one devastating element of her cancer treatment.
Within just weeks of being diagnosed with a "stage 1, grade 2 malignant tumor on the endometrial lining of her uterus," Drescher said she underwent a full hysterectomy (a procedure in which the uterus is removed and, in Drescher's case, her ovaries as well). "I felt betrayed by my own body. I wasn't given a choice about how I would live the rest of my life. But you have to play the hand that's been dealt you, and you have to play it as elegantly and courageously as you can," Drescher said of the procedure.
Thankfully, the procedure proved effective, and the actor has been cancer-free for over two decades now. Speaking with Prevention, she said, "As you age, it's important to aim for optimal health. To do that, you have to honor your body and really listen to it. ... If you think something is going on with your health, pay attention so that you can get to the root of the issue and make the necessary changes. We all deserve a long, healthy life."
Fran Drescher feels like she 'missed out' on having kids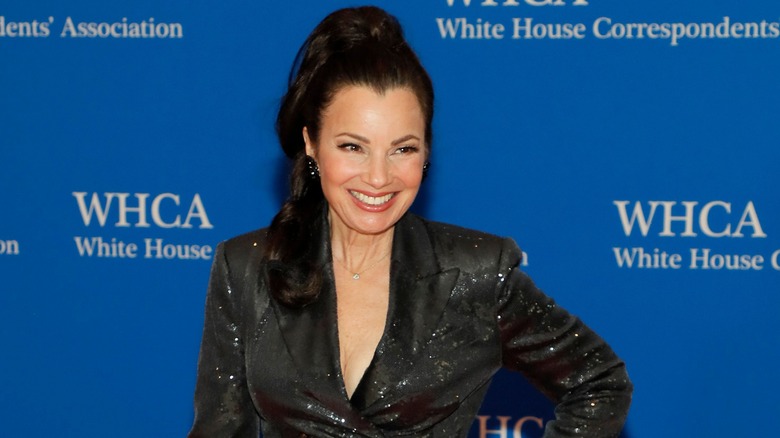 Paul Morigi/Getty Images
The protagonist of "The Nanny" may have fallen into her job of caring for children rather easily, but Fran Drescher never had that parental experience herself. While she was lucky to survive cancer, the procedure that possibly saved her life also sealed her fate in that she would never be able to become pregnant or give birth.
In 2020, many years after her hysterectomy, Drescher spoke with The Cut about the disappointment she felt about never having kids. "I think I would have been a good mom, and sometimes I think I kind of missed out on that," she said. 
The following year, Drescher spoke with Closer Weekly about her outlook on the ordeal she went through. "You could waste a lot of time saying, 'Why me? This wasn't supposed to happen.' ... But you have to start asking yourself, 'Why did the universe present this to me? How can I benefit from it, even though it is very painful?' ... You have to grab ahold of yourself and figure out how to turn this lemon into lemonade," she explained. While she may not have children, Drescher is a devoted dog mom. "She's a gorgeous white husky-shepherd mix with one blue eye and one brown eye," the actor told the publication. "I rescued her right before the lockdown, and we really bonded together at home."
Her second marriage didn't work out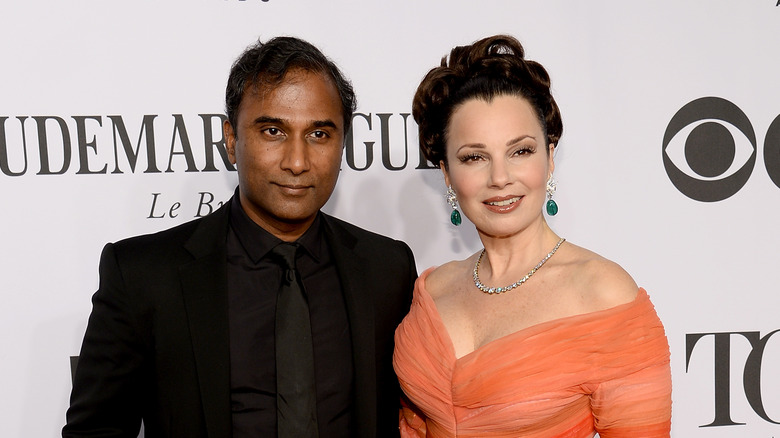 Dimitrios Kambouris/Getty Images
While Fran Drescher's first marriage and divorce were highly publicized, her second one was less of a talking point. In 2014, she married Shiva Ayyadurai, a politician, entrepreneur, and self-professed inventor of email; however, the couple was far from compatible, sources alleged to Closer Weekly. As one person told the publication, "They realized pretty quickly that things weren't working as a married couple. Shiva wasn't willing to compromise much, and he never loved her lifestyle as an actress." Another insider reportedly spilled to Closer Weekly, "They were complete opposites," adding that Ayyadurai was shyer than Drescher and that he didn't seem to enjoy the spotlight as much as she did. They lasted as a couple until 2016, when the actor announced their split via Instagram, writing in part, "No regrets. Love is a journey of many chapters."
Speaking with The Cut, Drescher delved into her decision to end her second marriage. "The first year was bliss, the second year was agony and ecstasy, and the third year was just agony, and I said, 'Enough.'" she remarked. Thankfully, the Hollywood starlet is an outspoken optimist and despite this setback, seems to have moved on. Drescher still has a close friendship with her ex-husband, Peter Jacobson, and has already stated her intentions of growing old with him.
As she explained to the Daily Mail, I don't think I will ever walk up the aisle with anyone. But I do see us growing old together." Drescher continued, saying, "We are divorced, but still single because it is hard to compete with what we shared. We have been together since we were 15 and we've been through so much."