The Simple Piece Of Parenting Advice Jamie Lee Curtis Gave To Lindsay Lohan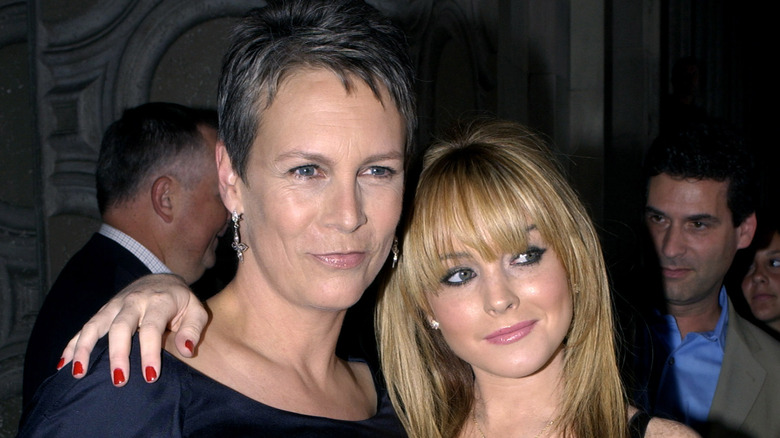 Albert L. Ortega/Getty Images
With "Confessions of a Teenage Drama Queen" star Lindsay Lohan expecting her first child with husband Bader Shammas, her closest circle is rallying around the actor, who has endured so much over the years. This includes longtime friend Jamie Lee Curtis. The two met during the filming of 2003's hit film, "Freaky Friday," portraying a mother-daughter duo who magically swap bodies. The comedy garnered massive success, bringing in over $160 million globally. As the two make plans for the long-awaited sequel, Curtis is helping Lohan prepare for her bundle of joy.
The ladies have remained close throughout the years, which is why Curtis' advice to the 36-year-old was so important to her. Given her nearly 50-year career, Curtis knows a thing or two about juggling children with her wildly successful career. She has two daughters of her own with husband director Christopher Guest. So what exactly did Curtis tell Lohan about keeping up with motherhood and acting? 
Jamie Lee Curtis told Lindsay Lohan to keep the baby close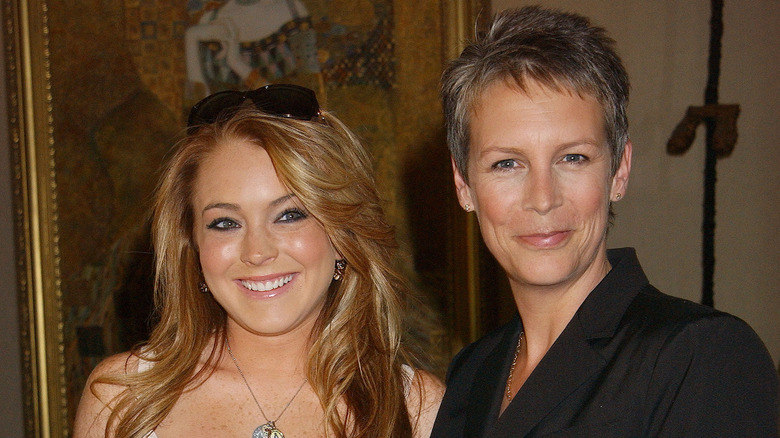 Gregg Deguire/Getty Images
Lindsay Lohan showed off her growing baby bump in an Allure spread. For the cover story, Lohan shared that she'd recently talked to her friend, mentor, and collaborator Jamie Lee Curtis about her pending motherhood journey.
"I spoke to Jamie Lee Curtis recently and she was like, 'You just bring the baby with you and everything will be fine,'" Lohan revealed.
Curtis is well-versed in the realm, having welcomed her first daughter Annie via adoption in December 1986 with husband Christopher Guest. By this time, Curtis had been in the industry for a decade, having starred in three "Halloween" films, amongst other horror and thriller flicks. The couple welcomed Ruby in March 1996, also through adoption. In 2020, their adored daughter revealed that she was trans and preferred the name Ruby, though she was given the name Tom at birth, as she was biologically born a male. Her parents have been avid supporters of her transition, with Curtis speaking openly alongside her daughter several times as an ally and activist for LGBTQIA+ rights.
Lindsay Lohan has long looked at Jamie Lee Curtis as a second mother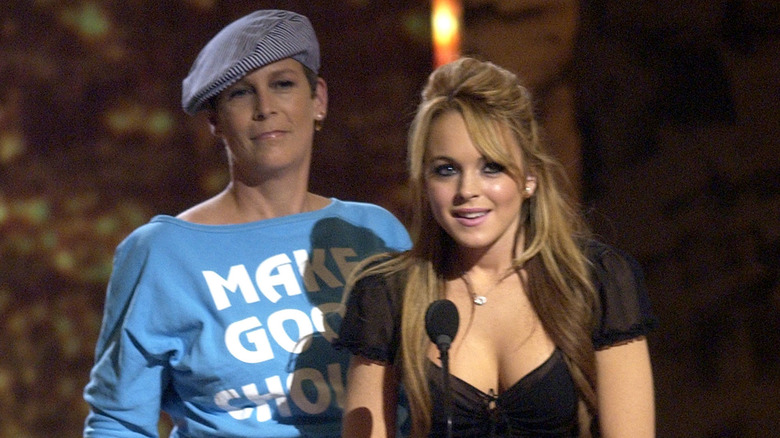 Ray Mickshaw/Getty Images
Jamie Lee Curtis' parental suggestion for Lindsay Lohan may be touching, but it isn't exactly a surprise considering the women's history. After initially connecting on "Freaky Friday," the two have remained extremely close over the years. In fact, when Lohan was battling drug addiction several years ago, Curtis wasted no time rushing to be by her side.
In 2011 following Lohan's 90-day rehabilitation stay, Curtis met with her costar. Lohan's father, Michael, told RadarOnline that the trusted family friend was acting as a second mother to his once-troubled daughter. "I couldn't be more pleased that Lindsay has an unbelievable person like Jamie, in her life, in any capacity," Mr. Lohan told the outlet.
Curtis has continued to take her role in Lohan's life seriously, even sharing a touching Instagram tribute in April after learning of Lohan's pregnancy. Sharing a gorgeous photo of a glowing Lohan showcasing her baby bump, Curtis wrote "My friend and film daughter @lindsaylohan is growing up! So thrilled for her. What a mama she will be." The two will soon be reunited on set, as "Freaky Friday 2" is officially in the works. While only a few details are available, it's been reported that both Curtis and Lohan will reprise their roles. Bringing that mother-daughter energy back to movie screens, it wouldn't be surprising if Curtis had even more mommy tips to give Lohan.