How Many Kids Does George Clooney Have?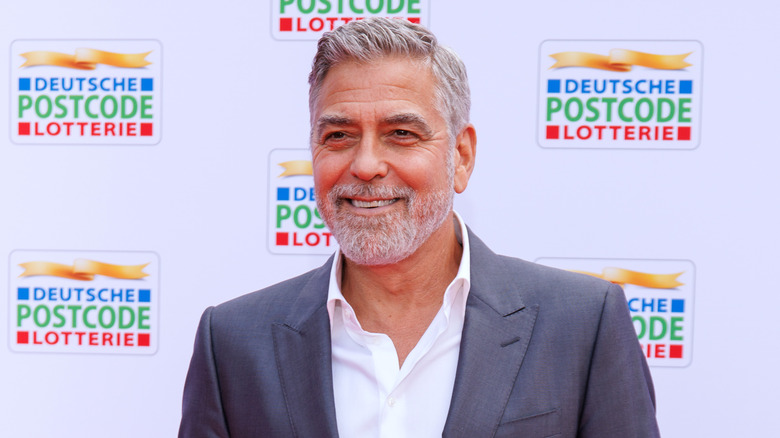 Joshua Sammer/Getty Images
Geoge Clooney became a star for his roles in hit films like "From Dusk Till Dawn," "Michael Clayton," and "Ocean's Eleven." He also gained a reputation for being one of Hollywood's biggest bachelors. However, George eventually transformed from a single man to a devoted husband and father. In 2014, he married human rights lawyer Amal Clooney. Months after they walked down the aisle, Clooney told "CBS This Morning" that the two were not yet ready to have kids. That eventually changed, and in February 2017, it was revealed that the pair were having twins. George later said on the podcast "WTF with Marc Maron" that he was shocked to find out he was going to be a father of two.
Although this was his second marriage, it was Clooney's first time being a dad. In June 2017, Amal gave birth to a daughter and a son. The couple subsequently released a humorous statement that read, "This morning Amal and George welcomed Ella and Alexander Clooney into their lives. Ella, Alexander, and Amal are all healthy, happy, and doing fine. George is sedated and should recover in a few days" (via People). George and Amal are notoriously private about their life and their children. Nevertheless, they have given the media tidbits of information here and there about their bundles of joy.
What we know about Alexander and Ella Clooney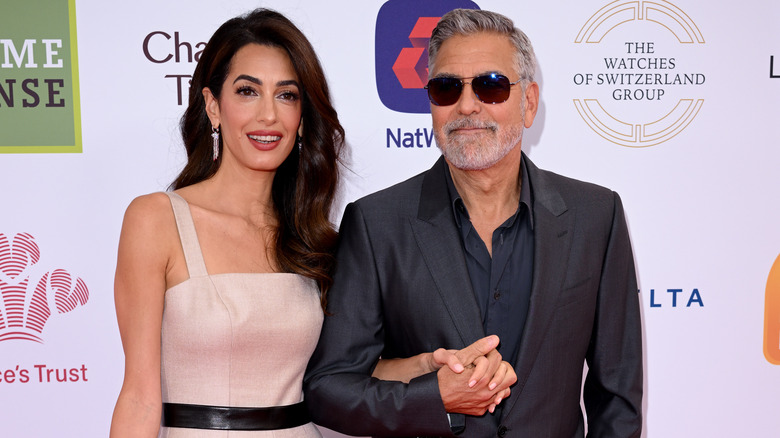 Karwai Tang/Getty Images
In a 2021 interview with The Guardian, George Clooney revealed that despite being twins, his children have their differences. He explained, "It's like night and day. Alexander loves to laugh and Ella's very serious, always making sure everybody plays by the rules. They really are born with their personalities!" He also told the publication that he and Amal decided to give their kids "normal" names, provided that their life is the opposite of normal. In 2019, George appeared on "The Ellen DeGeneres Show" where he spoke about his children. He told DeGeneres that Alexander and Ella speak English, but they know some Italian and can count in the language. Moreover, he revealed that Alexander had taken a liking to cars while Ella preferred clothes.
That said, the pair have decided to keep their children out of social media and the media in general. George has even asked the media to refrain from publishing photos of the twins, citing safety concerns regarding Amal's profession. However, a source who has seen the children explained to People, "They're too beautiful, simply adorable." They added, "One looks just like her mother and the other is the image of his father ... It looks like they took the best parts of both Amal and George and mixed them together."
George Clooney didn't see fatherhood happening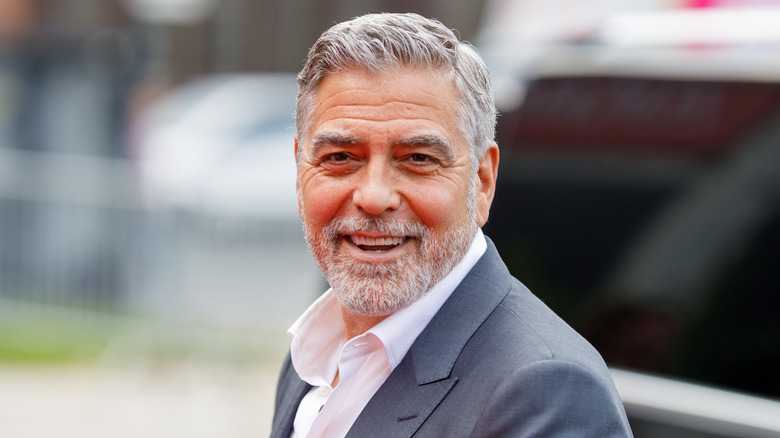 Joshua Sammer/Getty Images
George Clooney has been open about how being a father to Alexander and Ella Clooney has changed his life for the better. In addition, he's discussed how he didn't think fatherhood was in the cards for him. However, the actor said that meeting and marrying Amal Clooney made him see things in a new light. While appearing on "CBS Sunday Morning," he said, "It was the first time that everything that she did and everything about her was infinitely more important than anything about me." He added, "Then we had these two knuckleheads, and it is very fulfilling, It's something I ... didn't see coming."
Discussing his kids on "WTF with Marc Maron," Clooney said, "They're funny, and they pull pranks on me ... I just look at them thinking, I couldn't be happier, and I couldn't be more surprised at how happy I am." Clooney also explained that due to his age (Clooney is in his 60s), he and Amal are making sure they spend less time working and more time with their young children. In an interview with Extra, Amal said that the twins have a deep admiration for their father. She revealed, "They say, 'Papa can fix everything but the weather.'"