What Pippa Middleton And James Matthews' Wedding Was Really Like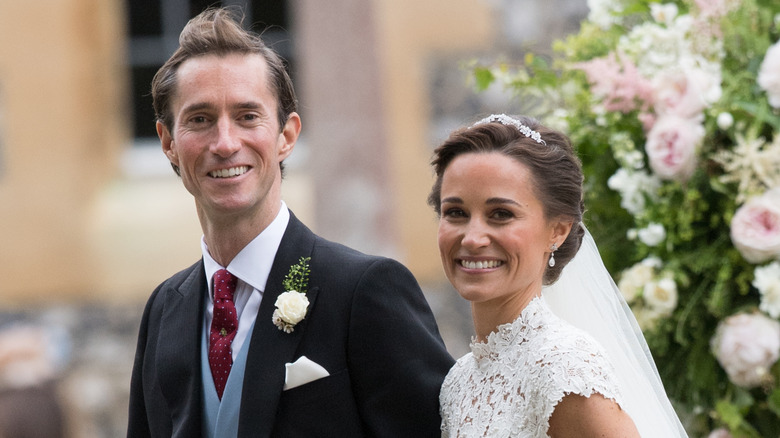 Samir Hussein/Getty Images
When it comes to royal events, few rival the pomp, circumstance, and attention of the firm's monumental weddings. It certainly seemed as though the world stood still when Prince William and Princess Catherine got married in 2011, taking over Westminster Abbey for the day and waving to the thousands lining the streets to get a glimpse of the newlyweds. Many quickly likened their wedding to that of King Charles III and Diana Spencer's nuptials, which one could argue was the most iconic royal wedding to date. And, as no one can forget, Prince Harry and Meghan Markle tied the knot in 2018 in an epic ceremony. It seems that even the most royally opposed among us can't help but indulge in the fairytale realities of a royal wedding, and watchers were treated to (almost) a royal event in May 2017, when Pippa Middleton and James Matthews tied the knot.
Pippa, of course, is Catherine's younger sister and a treasured figure among England's high society. She first made the headlines thanks to her incredible ensemble worn on Catherine's wedding day, and she quickly took the best dressed lists by storm. Finding her own prince — though without the official title — Pippa and James got married in a gorgeous ceremony attended by royals and members of the aristocracy alike. While it wasn't exactly a royal wedding, it was certainly close, and the bride and groom spared no expense to ensure that their big day was one worth remembering.
Pippa Middleton's wedding dress was an absolute showstopper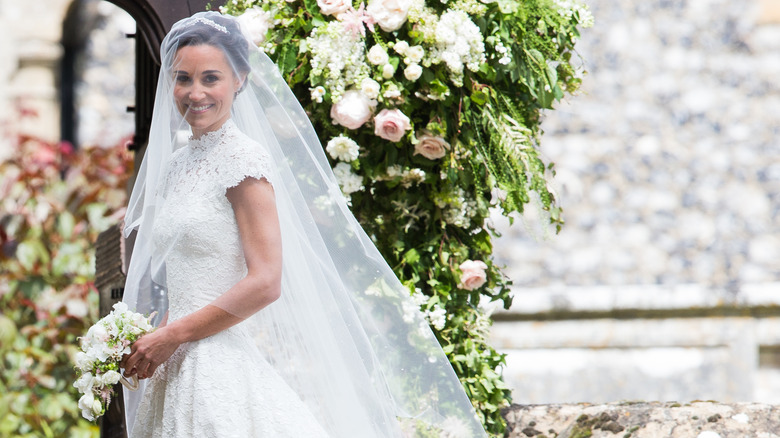 Pool/samir Hussein/Getty Images
Before we go any further, we have to start with the dress, which is one of the most important aspects of any high society wedding. As previously noted, Pippa Middleton quickly nabbed the headlines thanks to the super chic ivory dress she wore to Princess Catherine's wedding in 2011 — she was even dubbed "Her Royal Hotness" following the festivities — so naturally all eyes were on her and the gown she chose for her own wedding day.
Though there was a lot of speculation and predictions as to which designer was behind her wedding dress, Pippa stepped out on the big day in a gorgeous Giles Deacon bespoke ensemble, looking like a real life princess from head to toe. The dress featured an A-line silhouette with delicate lace laid across the entire body. The cap sleeve detailing was the perfect touch, and Pippa rounded out the look with a subtle, glittery hair piece. Deacon, meanwhile, spoke to Business of Fashion about the inspiration behind the gown, telling the outlet that including a wow component was one of their design goals.
"I wanted that 'how-was-that-done?' factor," Deacon told the publication exclusively, adding that Pippa's wedding dress was part of his then-new approach design as he pursued a career move into the ready-to-wear market. When asked if Pippa had a hand in creating her dress for the ceremony, Deacon simply said, "She has a great eye, she knew what she wanted."
Was Princess Catherine her sister's maid of honor?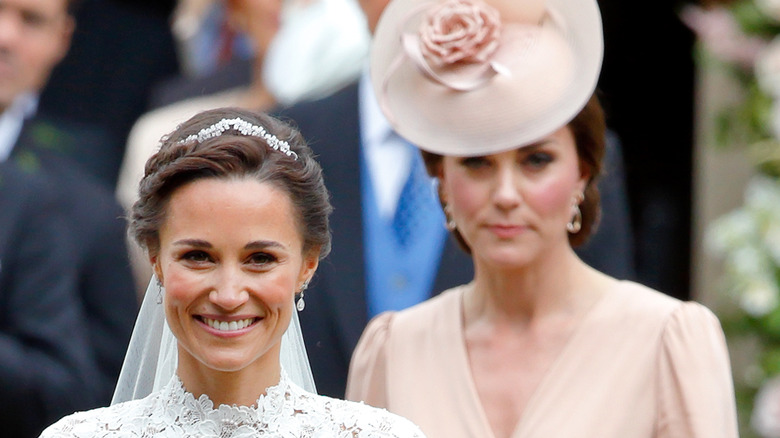 Max Mumby/indigo/Getty Images
Many royal watchers know that when it comes to the bridesmaids and page boys at royal weddings, children fulfill the roles. But much like Pippa Middleton walked behind Princess Catherine at her 2011 wedding, fixing her train and stepping in like any maid of honor would, some wedding watchers wondered if Catherine would serve as her sister's maid of honor on her own big day. As it turns out, the decision was a difficult one, but Pippa ultimately decided to not ask her sister to take the gig. Instead, children served as bridesmaids and page boys (more on that later),  and Catherine oversaw the little ones and their behavior while they entered the church. While she helped fix her sister's dress and train upon her arrival, Catherine largely existed in the background on Pippa's wedding day. According to Judy Wade, who wrote "Diana: The Intimate Portrait," it was all intentional.
"Kate would upstage her sister. It's a tricky situation for Pippa. She would want her sister by her side, as who else would she trust to make things go well? But if your sister is a future queen, she is going to upstage the bride and draw attention," Wade told People ahead of Pippa's wedding, explaining why Catherine would not be taking on a more prominent role on the day. "Kate would want to be in the background as much as possible," she concluded.
Pippa Middleton incorporated this detail from her sister's wedding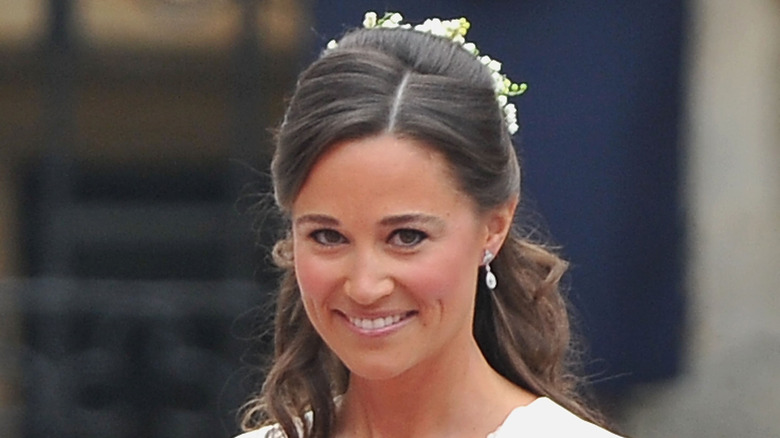 Pascal Le Segretain/Getty Images
Just because Princess Catherine didn't have a big role on Pippa Middleton's wedding day doesn't mean the bride didn't want to incorporate nods to her sister in her wardrobe and jewelry choices. As more details began emerging about Pippa and James Matthews' nuptials, royal fashion watchers noticed that Pippa donned a pair of lovely diamond earrings, but they weren't just any random set — they were the same earrings that she wore to her sister's wedding back in 2011.
Ahead of Catherine's wedding, Michael and Carole Middleton commissioned two pairs of earrings from British jeweler Robinson Pelham to give to their daughters. Both sets contained nods to the Middleton family coat of arms — Catherine's containing oak leaf and acorn motifs, and Pippa's incorporating leaf and pear-inspired designs. The Princess of Wales' earrings were more pronounced than her younger sister's, but Pippa certainly didn't seem to mind as she wore the pair again on her own wedding day six years later.
Along with the commissioned earrings, Pippa wore some other pieces of stunning jewelry. Her incredible engagement ring was also said to be designed by Pelham, though she received a simple gold wedding band that didn't compete with the art deco style rock. Topping off the look, she chose a small tiara that framed her auburn updo perfectly.
Pippa Middleton arrived to the church in style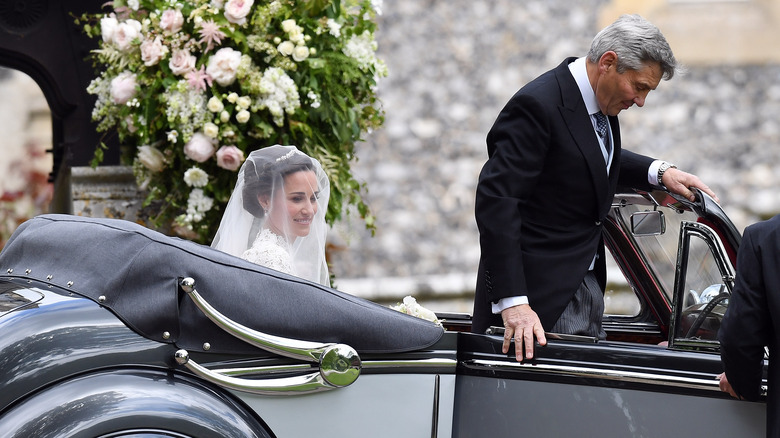 Samir Hussein/Getty Images
Though Pippa Middleton and James Matthews' wedding wasn't technically a royal event, it might as well have been. Like Princess Catherine and Prince William's big day, people lined the streets to get a glimpse of the bride as she made her way to the church, and they were treated to quite the sight as Pippa arrived in style. Joined by her father, Michael Middleton, Pippa rolled up to St. Mark's Church — just a stone's throw away from the Middleton family's Bucklebury estate — in a 1951 Jaguar. The open-top car was a risky move thanks to the day's weather. The heavens opened with rain just moments before the bride made her way to the church, but as if the universe knew what a big moment it was for Pippa and James, the weather cleared and she made the grand entrance worthy of a royal.
Meanwhile, some locals were able to get a little bit closer to the all the action. As royal watcher Elizabeth Mary Reeves shared with the BBC, she was one of the residents who received a wristband that gave them access to the church property the day of the nuptials. Commenting on Pippa's wedding look, Reeves told the BBC of the bride's arrival, "She stood and waved and looked just lovely. As all brides do, they glow, no matter how expensive their dress is. She looked absolutely beautiful."
Here's what went down during the actual ceremony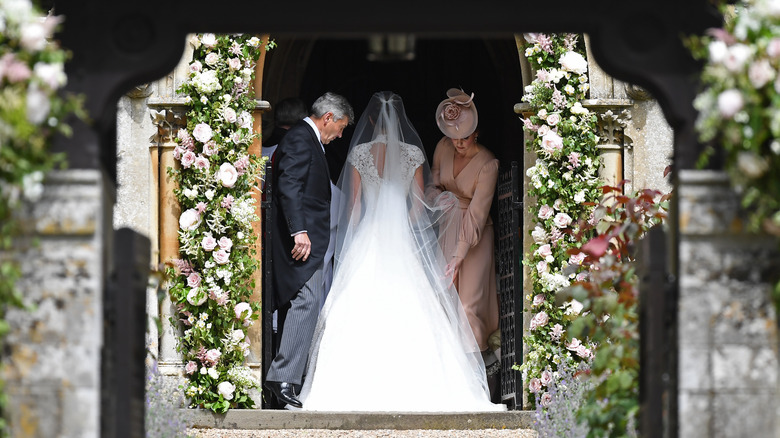 Wpa Pool/Getty Images
Anyone who watched Prince William and Princess Catherine's wedding knows that it seemed to go forever, but that wasn't the case for Pippa Middleton and James Matthews. As far as high society weddings go, their ceremony was a short and sweet 45 minutes, and the actual events of the nuptials were intentional and meaningful to the couple.
After arriving at St. Mark's Church, the bride walked into the venue adorned with candles and beautiful floral arrangements. The Winchester Cathedral Choir was there to provide incredible hymnals, and they performed "I Vow To Thee, My Country," "Be Thou My Vision," and "Tell Out, My Soul," specifically. Pippa and James' family members then took turns delivering passages. Topping off the list, Catherine offered a prayer as her contribution to the ceremony.
It was certainly a family affair if there ever was one, with Catherine overseeing the young bridesmaids and page boys, and Spencer serving as the best man and usher – he stood at the church door and greeted all the guests as they arrived. Despite all the eyes on the event, everyone seemed to be cool, calm, and collected.
Little Prince George and Princess Charlotte had special roles on the big day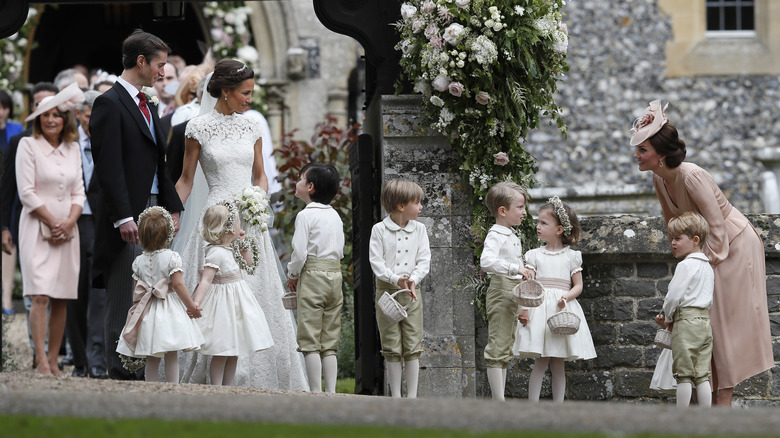 Wpa Pool/Getty Images
It wouldn't have been a royal-adjacent wedding without young bridesmaids and page boys, and Pippa Middleton had two very special little ones involved in her wedding day — her nephew and niece, Prince George and Princess Charlotte. Ahead of the ceremony, Princess Catherine was said to be a bit concerned with their roles on Pippa's wedding day.
"[Kate] said that they were all really looking forward to her sister's wedding at the weekend, but she was a bit worried about how her children might behave," attendee Andrew Bates later told journalists at a Buckingham Palace garden party, per People. And while Catherine was a bit anxious, it seemed as though George and Charlotte's involvement went off without a hitch. Catherine paid close attention to the little ones as they waited outside the church, at one point signaling to them to lower their voices as the ceremony got underway. The two little royals looked absolutely adorable, and they were joined by Lily French, Avia Horner, Countess Philippa Hoyos, William Ward, Casmir Tatos, and Edward Sebire. If there is one tradition that we should all take from royal weddings, it's the incorporation of little kids in the ceremony — these kiddos are just adorable.
Pippa Middleton had this specific request for guests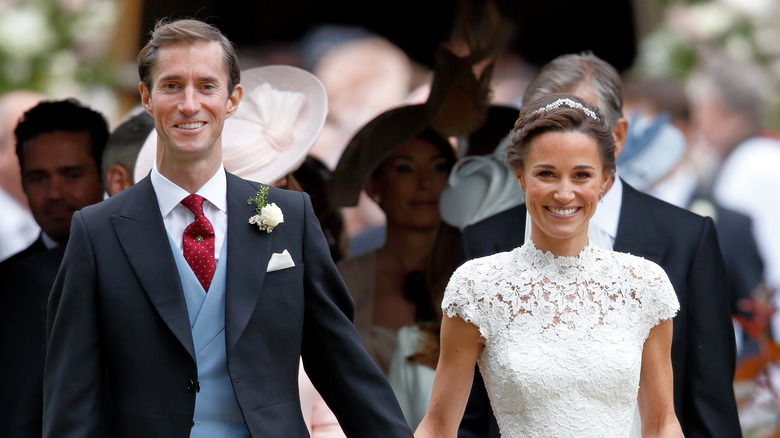 Max Mumby/indigo/Getty Images
When it comes to any high-profile wedding, the visuals are crucial. While Prince William and Princess Catherine's big day had the attention of the entire world, Pippa Middleton and husband James Matthews' nuptials were almost just as closely watched by royal fans, and there were specifications that the bride had that truly ran the gamut.
Once the wedding ceremony had concluded, wedding guests were invited to toast to the happy couple as they left St. Mark's Church. Like many newlyweds, Pippa and James went off on their own immediately following the ceremony before joining everyone at the reception, while guests proceeded to make their way to the Middleton family estate in Bucklebury for the reception. While you may be thinking that it was a smart financial move to host the rest of the nuptials at the family home, this was pretty much a royal wedding — no expense was spared. Before the wedding, a separate construction was wrapped up on the property, resulting in a 350 guest-capacity greenhouse. Before they could even step foot onto the grounds for the post-ceremony celebration, guests were required to sport a different ensemble than they did at the church, which apparently was a directive from Pippa herself. When we say that this was pretty much a royal wedding without the titles, we mean it.
Pippa Middleton and James Matthews' wedding continued at the reception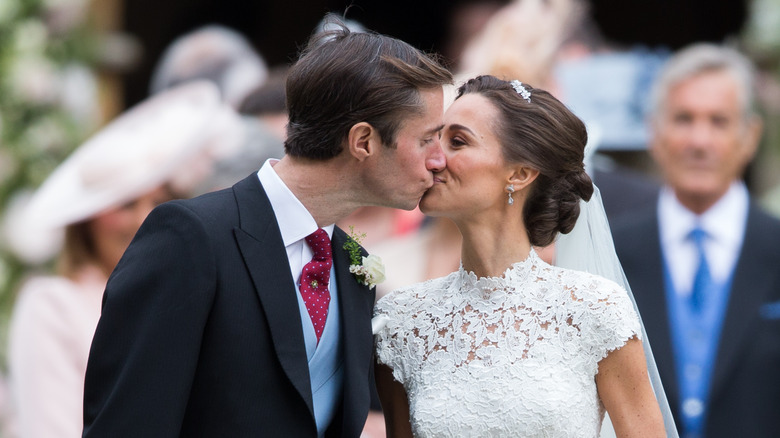 Pool/samir Hussein/Getty Images
Once the outfit changes were done and the reception got under way, it was time to kick up the party a notch. Pippa Middleton and James Matthews arrived at the newly constructed greenhouse on the Middleton family property, with the bride having changed into another striking look. Guests, meanwhile, had enjoyed the champagne toast and taken in some impressive hors d'oeuvre, with the served food including foie gras, haggis, prawns, and steak. 
As the wedding carried on into the evening, some royal watchers were quick to comment on Pippa's second look. Her Pronovias v-neck white gown was a far cry from her traditional wedding dress from the ceremony, and she took her hair down and wore it in a much more casual look while mingling with guests. The move was very similar to Princess Catherine's own decision from her 2011 nuptials, where she changed into a simple, A-line gown and wore her hair in a cascading down style for the reception.
And while locals and photographers alike were present earlier in the day, Pippa and James were adamant that no details about the reception would become public knowledge ahead of time. In fact, they were incredibly strict about reception procedures and wanted to make sure that not one photograph of the night's festivities was released.
Guests had to follow specific guidelines when they got to the venue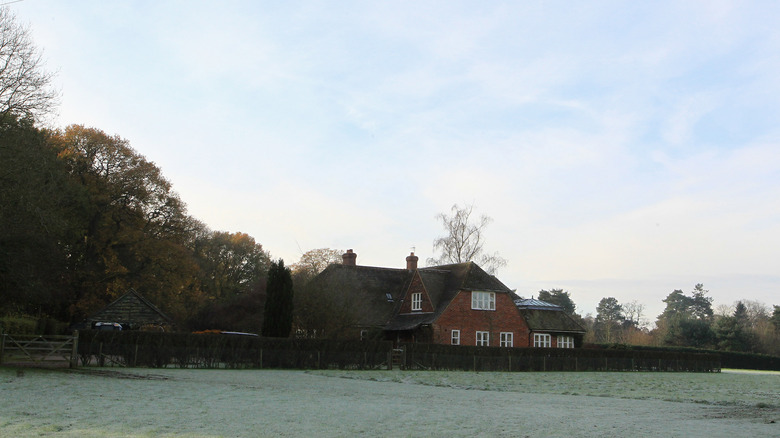 Danny Martindale/Getty Images
In addition to the outfit change and zero photo protocol that Pippa Middleton and James Matthews requested for their reception, wedding guests had to follow even more rules when it came to the evening's comings and goings. After they left St. Mark's Church and headed to Michael and Carole Middleton's Bucklebury estate, attendees had to go through security to just step foot on the property. As The Telegraph noted, attendees not only had to match their picture they sent in ahead of the event, but provide a password. We don't know what would've happened if these two caveats weren't met, but we can only imagine that some burly security guards would've taken care of the party crashers.
As part of the reception, Pippa and James wanted to take in a flypast by a Spitfire plane — for what purpose we're not entirely sure — and in order to do so, they instructed all guests to exit the greenhouse. Attendees then had to stand underneath a canopy to take in the Spitfire's performance, as the rain that plagued the morning of the wedding was back with a vengeance. After about 15 minutes, the rain came pouring down and everyone was quickly ushered back inside.
Here's the info on the impressive menu served at the wedding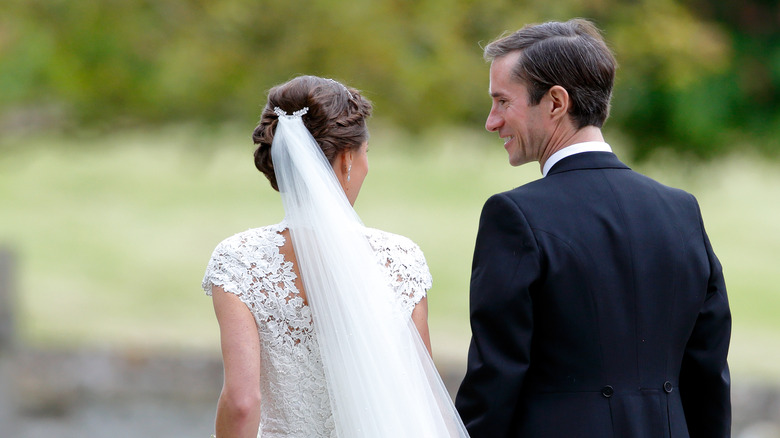 Max Mumby/indigo/Getty Images
When it comes to any wedding, the food and drink needs to be spot on to ensure a great evening. As far as Pippa Middleton and James Matthews were concerned, no expense was too much to make sure the food and beverages were exceptional. Starting with the drinks on hand, guests could enjoy a top of the line whisky bar throughout the evening, and bottles of 2020 Blanc de Noir Millington from Nyetimber winery were flowing. The drinks were mostly served to guests via silver service, and Pippa herself chose the waitstaff (many of whom were actors and models, if you can believe it).
Moving on to the food, as aforementioned guests got to enjoy some delicious appetizers while awaiting the highly anticipated main event. Sitting down for the meal, the lucky reception goers were treated to a five-course dinner, packed to the brim with Scottish ingredients as a tribute to James' heritage. The courses included Scottish lamb, haggis, whisky, and what we can only assume were a lot of bagpipes. Topping off an already impressive display were 17 pounds of beluga caviar. Now this is a bit of an odd detail, as the caviar in question was given to the bride and groom by an unknown donor from Russia. According to the Mirror, the heaping pile of quality tier caviar was said to cost about $50,000, which is more than the budget that most people set for their entire wedding day.
Did Meghan Markle attend the wedding?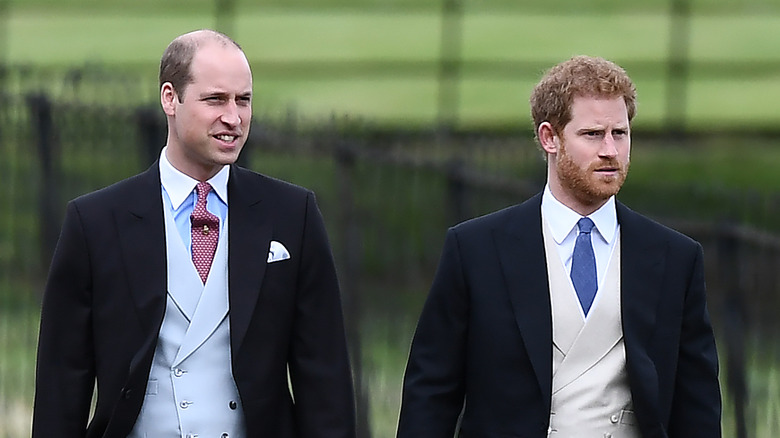 Wpa Pool/Getty Images
If you're savvy with royal timelines, then you know that Prince Harry and Meghan Markle were dating when Pippa Middleton and James Matthews got married. Harry was photographed entering the church for the big day alongside Prince William, as Princess Catherine was rounding up the little children to head in for the ceremony. But was Meghan in attendance? She wasn't photographed at St. Mark's, leading some to assume that she wasn't going to show. However, once the ceremony had come to an end, Harry headed out to London "to get Meghan to bring her to the reception later," a source told ET amid the festivities.
Meghan was staying at Kensington Palace ahead of the wedding, and even treated herself to a luxe facial and spa day before stepping out alongside Harry at Pippa and James' reception. Once the ceremony was over and Harry and Meghan were reunited, they enjoyed the evening's celebrations alongside the A-list guests, giving the press and photographers quite a run for their money as everyone was trying to capture the elusive couple.
But why didn't Meghan attend the ceremony? As a source dished to E! News, Harry and Meghan simply didn't want the attention to be diverted from the happy newlyweds, as media focus on their relationship was so intense at the time. "Right now Harry and Meghan are leaning towards not wanting to attract extra attention, especially on a day that's not about them," the source explained.