Prince Harry And Meghan's Engagement Photographer Thought His Commission Was A Prank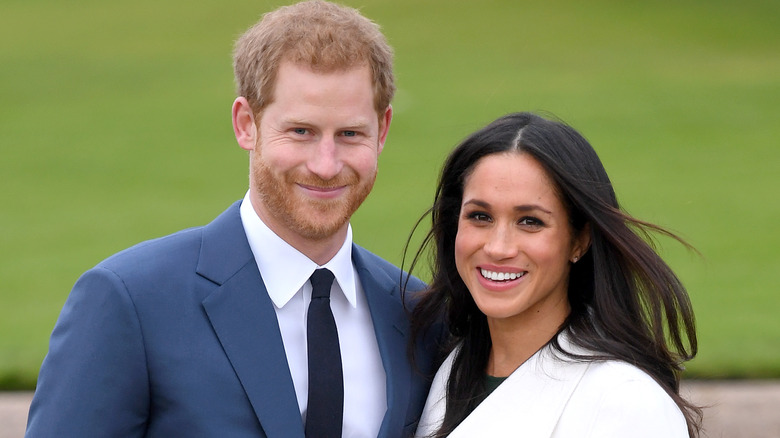 Karwai Tang/Getty Images
Prince Harry and Meghan Markle are one of the biggest power couples in the world. The Duke and Duchess of Sussex have undoubtedly proven that they are a force and even stronger as a team. From the time they took their relationship public, the public's infatuation with them has been extremely high. And, Harry being a member of the royal family, photos of the happy couple became a very hot commodity. Really, they still are. 
Long before Harry and Meghan stepped down as senior members of the royal family and moved to the United States, they played by palace rules. That meant doing some traditional things, like conducting an engagement interview for the world to watch. Something else the couple has done is have a photographer on hand to capture some of the most memorable moments of their lives. From their engagement to their wedding, Harry and Meghan have shared much of their personal lives with the public, and there's one person who's been behind many of the iconic photographs you've seen: photographer Alexi Lubomirski. Apparently, Lubomirski was quite shocked when he received a phone call with an unbelievable job offer.
Alexi Lubomirski took an iconic photo of Harry & Meghan after they got engaged
Talk about career goals! When Alexi Lubomirski got a call from the palace, he seriously thought it was a prank. "When I got off the phone, I said, 'I think Kensington Palace just called me?' Two days later I was sitting in front of [Harry and Meghan] talking concepts," he explained to People magazine in May 2023. Lubomirski had a lot of personal things going on at the time — his mother had a brain tumor and was having what would be a successful surgery — but the world sometimes works in mysterious ways. 
Lubomirski was then off to the races, using his creativity to get the perfect shot of a newly engaged Harry and Meghan — and he did just that. After Harry and Meghan announced their engagement to the world, they posed for photos at Frogmore House, Windsor, according to BBC News. For one photo in particular, Lubomirski says that he drew on an image of Audrey Hepburn and her husband Mel Ferrer in which Hepburn was wrapped in Ferrer's overcoat. "It just popped in my head because I saw his overcoat and I said, 'Can you put that on?' And then everything just starts folding together," he told People. 
The result? A romantic snap of Meghan nuzzled up to her husband-to-be, enveloped in his coat, with her engagement ring on full display. It's still one of the most recognizable photos of the Duke and Duchess today.
Alexi Lubomirski had some anxiety about shooting the royal wedding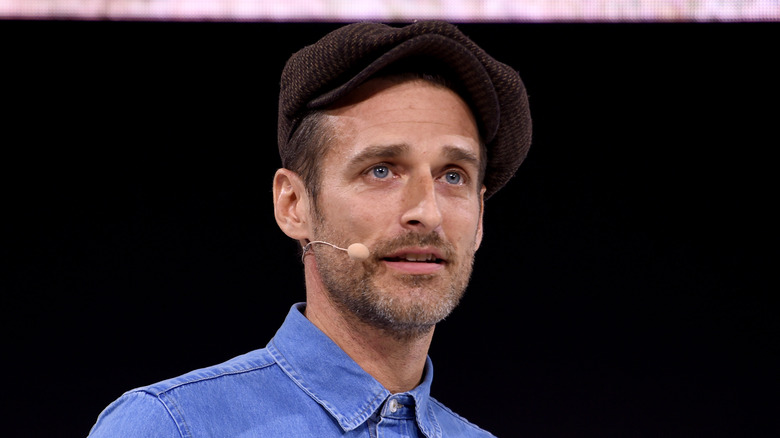 Stuart C. Wilson/Getty Images
Prince Harry and Meghan Markle's engagement photos were just the beginning for Alexi Lubomirski. When he got the opportunity to shoot the royal wedding, well, that's when the real anxiety set in. "That was a blur," the photographer told People. "I got about two hours of sleep the night before, thinking to myself, 'Okay, do I have everything? How am I going to get everyone in place? How am I going to make the Queen smile?'" Everything, of course, went swimmingly. 
In November 2019, Lubomirski shared a candid snap that he took of the newly married couple at Windsor Castle, where he says he had just minutes to capture a moment. "This is an outtake from the Rose garden where we were given 3 minutes to take some informal pictures of the happy couple after the wedding reception," he wrote on Instagram. Happy memories!" In the snap, Meghan is bent over slightly, laughing, while Harry looks off into the distance. The moment, of course, is magical.
Lubomirski has photographed a number of celebrities from Julia Roberts to Eva Longoria, according to his website. He's even released a few books, including his most recent, "The Sittings." On the inside pages, Lubomirski has included some shots that he took of the Duke and Duchess of Sussex.