Treat Williams, Hallmark's Christmas House Star, Dead At 71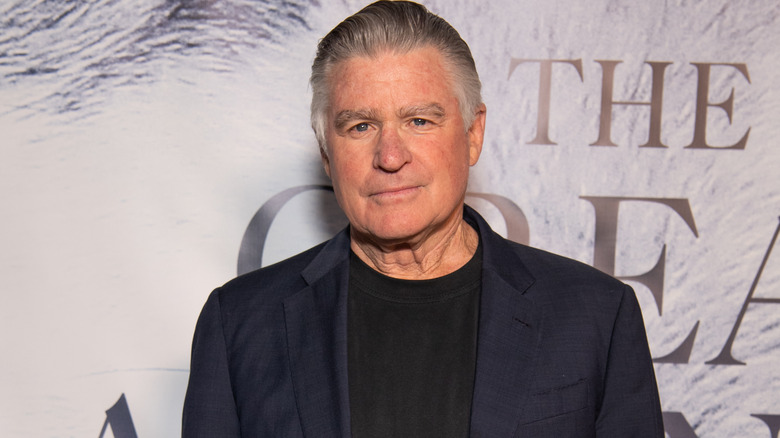 Emma Mcintyre/Getty Images
The entertainment world — and the Hallmark universe, in particular — was left reeling on the night of June 12 by the tragic news of Treat Williams' death. The actor's agent confirmed to People he was involved in a fatal accident when the motorcycle he was riding was struck by a turning car. Williams had enjoyed a decades-long career that included a starring turn in the movie version of "Hair," as well as popular series such as "Everwood," "Blue Bloods," and "Chicago Fire." He even made a short appearance in "Star Wars V: The Empire Strikes Back."
In recent years, Williams had become a fixture on the Hallmark Channel, with appearances in "Beyond the Blackboard," "Chasing a Dream," and the underrated Hallmark Christmas movie "The Christmas House," the first of the network's specials to feature a same-sex couple. Williams and Sharon Lawrence starred as a retired couple who enlist their sons' help to turn their home into an impressive holiday display (per IMDb). He reprised his role in the sequel, "The Christmas House II." 
Now, Twitter is lighting up in his memory with tributes from friends and fans. Actor Michael McKean tweeted simply, "Treat Williams. Devastating. A very good man." Melissa Gilbert of "Little House on the Prairie" fame agreed: "One of the very best."
Treat Williams was living his best Hallmark life
Born Richard Treat Williams in 1951, the actor was raised in Connecticut and took an interest in acting as a teen. Though he played football as a college freshman, he dropped it when he realized theater was his passion. His first big break was as Danny Zuko in Broadway's "Grease"; it was the first of his numerous stage and screen appearances, which earned him three Golden Globe and two Screen Actors Guild Awards nominations.
Despite his successes in New York and L.A., Williams remained a New England boy to the end. He and wife Pam lived in Vermont, where they raised their son and daughter. There, he could enjoy the down-to-earth life he loved: holding barbecues with family and flying his private plane. "There was something incredibly special about it to me, and the people here are incredibly honest, real, and good-humored. There's also always something new to discover somewhere on a dirt road that you've never traveled on before," he told Vermont Magazine in 2021. Heartbreakingly, Williams had just posted two Hallmark-worthy tweets just hours before his death. He had been mowing his expansive property, and mused, "Wish I could bottle the scent."
Of course, The Hallmark Channel posted its condolences on Twitter shortly after the tragic news broke: "We are heartbroken over the passing of beloved @Rtreatwilliams star of Chesapeake Shores, The Christmas House and so much more. We will forever cherish him in our hearts, and extend our condolences to Treat's family, friends, and loved ones."