Adele Never Plans On Reaching EGOT Status, And There's A Funny Reason Why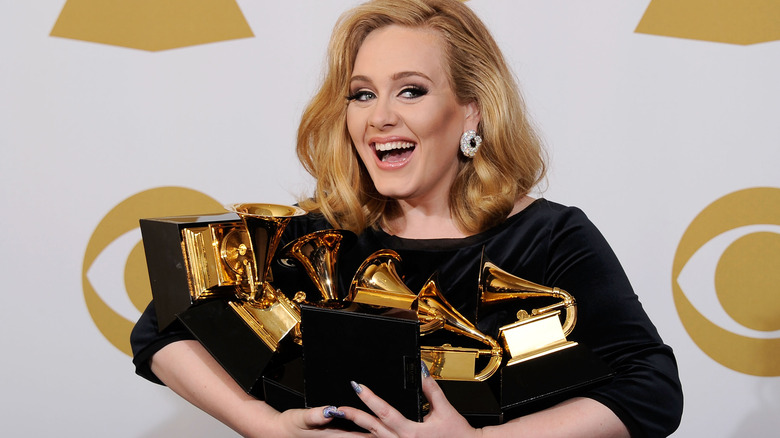 Kevork Djansezian/Getty Images
Every time Adele is nominated for Grammy awards, it's almost guaranteed that at the end of the night, she will walk out of the prestigious award show with an armful of trophies, with a couple of them threatening to tumble onto the floor. The "Easy On Me" singer happens to be one of the all-time most decorated artists in the music industry, having bagged 16 Grammys, 12 Brits, and 18 Billboard Music Awards, among others. She's also a recipient of a Golden Globe and an Oscar thanks to her song "Skyfall," the accompanying track to the 2013 James Bond film of the same name.
To further cement her legend status, Adele brought home an Emmy in 2022, with her CBS special "One Night Only" winning the outstanding variety special (pre-recorded) award at the Creative Arts Emmy Awards. The hitmaker wasn't around to collect her trophy at the time, but she took to Instagram to share her excitement: "Bloody hell I'm pleased as punch! ... Trust me to officially have an EGO ... I'm so so honored to receive this. Big up to everyone involved."
With this feat, Adele is just one Tony Award away from joining the EGOT circle, a small group of artists — 17, to be exact — who have the four major American entertainment awards under their belts: the Emmy, Grammy, Oscar, and Tony. John Legend, Jennifer Hudson, Whoopi Goldberg, Audrey Hepburn, and Mel Brooks are some of the people who have brandished the EGOT honor, but Adele doesn't think she'll join their elite clique. As much as it would be an honor, she's not counting on becoming an EGOT winner soon — or maybe ever — because of the very fact that she has a massive disdain for musicals. Ha! Bet you didn't see that coming.
Adele isn't a big fan of musicals
In an appearance on "Carpool Karaoke," host James Corden pointed out that the multi-award-winning artist currently has an "EGO," which Adele responded to by saying that she's "always had that" anyway. But fans can't expect her to join the EGOT big leagues, because "I would never write a musical or anything like that because I f***ing hate musicals," she confessed. "I f***ing hate musicals. ... I don't think I've ever said how much I f***ing hate musicals." 
And while she understands why musicals have so much fanfare, they're simply not her cup of tea. "I just don't need to hear everything in f***ing song all the time," she explained. "I also think the EGO suits me better."
This isn't the first time that the "Hello" crooner has expressed her aversion to musicals. Speaking with BroadwayWorld in 2022, she admitted that she's not well-acquainted enough with musicals to develop a liking for them. "I can't lie, guys, I'm not a massive Broadway fan," she shared. "I know, I know. I'm talking about musicals, though, because I've been seeing a couple of plays, but I don't think I've seen enough." All right, fair enough!
But she's not closing the door on joining Broadway someday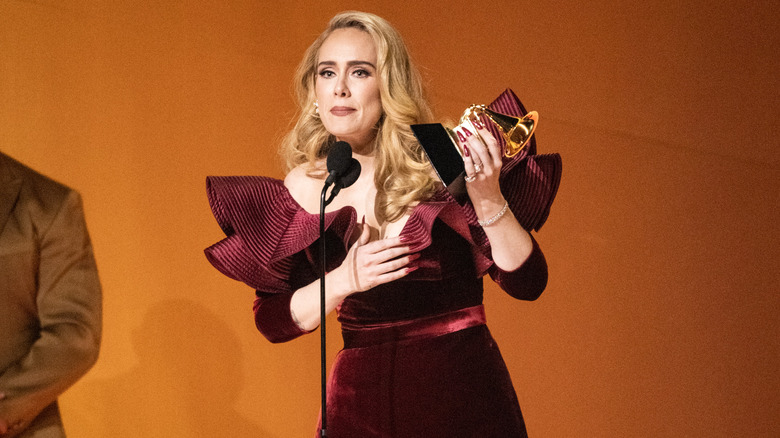 Timothy Norris/Getty Images
Just because Adele is not the biggest musical fan doesn't mean you will never spot her on Broadway. In the BroadwayWorld interview, she dished that she's open to exploring a career on stage years down the line. "I was wondering, do I just move the show from Vegas to Broadway and win the Tony?" she said. "I actually prefer the sound of an EGO than an EGOT. EGO is fun. But never say never. If I move to New York, I get bored, I'll be on that stage in a hot second."
She even has a role in mind — a character she believes she would be phenomenal at: Mama Rose. "I saw ['Gypsy'] in London, and I did love the role of the mum in it," she explained. "She has a song when she was like, 'I wanted to do all of this,' and she's jealous of her own daughter, and she's really caught up about it. At one bit, she was just a b***h in it, which I could nail."
But don't hold your breath. Even if Adele does join Broadway in the future, it wouldn't be for another couple of decades. Speaking about that same role in an interview with Vanity Fair, she said she would do it "like when I'm 50." You can trust her to continue releasing bangers for as long as she lives, though. "I want to sing these songs when I'm 70 f***in' years old," she said. "To have a song, any song—let alone I've had four or five that have resonated with people that much—that's why I make music."