Wraparound Sunglasses Are Back - Here's How To Wear Them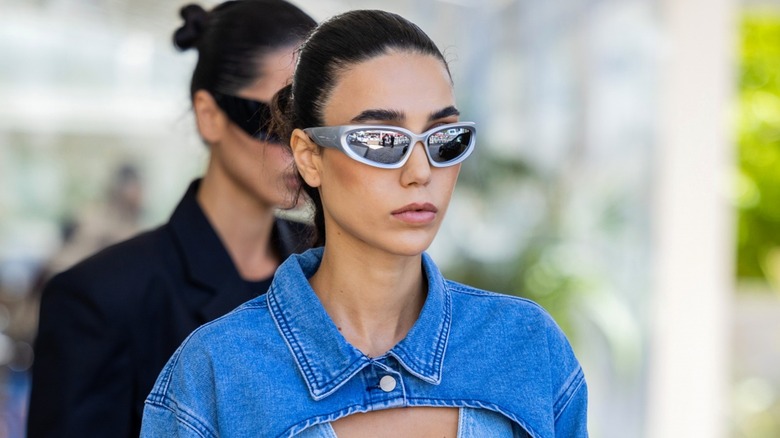 Christian Vierig/Getty Images
Sunglasses might be the greatest unsung hero of accessories. They not only elevate your entire look in a matter of seconds, but they are also a functioning fashion accessory that protects your eyes from harmful UV rays.
Yes, you really do need to wear sunglasses if it's sunny out; otherwise, you're at a higher risk for sun-related eye conditions such as glaucoma and cataracts. With the sun's rays getting stronger, it's vital to keep your eyes protected, though you can look fashionable while doing so.
We all know what was once popular always comes back around, and, this time, it's literally wrapping around. Yes, wraparound sunglasses are back. If you're unsure what they are, think of the super-sporty sunglasses you usually come across at your local gas station. While that may not sound appealing or fashionable, wraparound sunglasses certainly can be if you choose a trendy pair and know how to wear them.
Retro futurism meets sporty
Many know wraparound sunglasses as sunglasses usually worn by athletes, mostly cyclists and runners. You may ask yourself why. Well, their wraparound shape fits around the face like a literal glove, and one can't help but feel as if the sunglasses are a part of their face. Other than the comfortable fit, the curved shape provides additional protection to the skin around the eyes. Also, high-quality wraparound shades mostly have polarized lenses that provide sufficient UV protection — they're not just for show.
As far as wraparound sunglasses being a fashionable asset, these shades have more to offer than one might think, according to Heather Stewart-Feldman, global eCommerce assortment and storytelling curator at EssilorLuxottica. "The sporty trend has opened its doors to those not only seeking practical high-performance eyewear but also those attracted to the active-inspired, protective silhouettes boasting high fashion aesthetics," she shared in a conversation with Byrdie. With retro futurism coming back on the fashion scene, wraparound sunglasses are the futuristic summer eyewear trend that can come in handy when you need to elevate your outfits.
Make wraparound sunglasses work for your aesthetic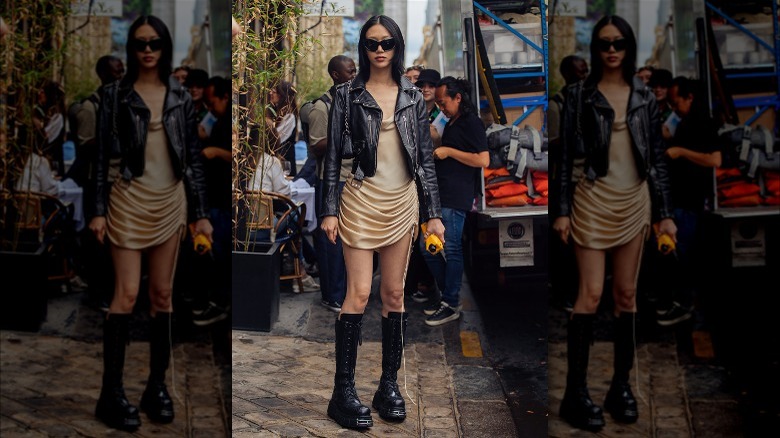 Melodie Jeng/Getty Images
While the instinctive reaction may be to pair wraparound sunnies with a sporty 'fit, the modern versions are much more versatile and send a message. "They're lightweight but tough, anti-pretty, and genuinely protective, shielding you from the increasingly apocalyptic world beyond the lens," Katy Lubin, vice president for brand and communication at Lyst, said of the appeal of wraparounds to The New York Times.
If you're unsure how to wear them, get a pair in a neutral shade such as black or gray to ensure they pair effortlessly with your favorite clothing pieces. Other than that, simply have fun and don't be afraid to incorporate them into your own aesthetic, whatever that may be. According to Heather Stewart-Feldman of EssilorLuxottica, this shouldn't be difficult. "They are the perfect streetwear counterpart; stylish, technical, architectural, retro, bold, comfy, and unisex, allowing you to achieve a relaxed yet sophisticated look," she described the trending style to Byrdie.
Wraparounds will work best if you have an oblong face shape, but feel free to experiment with different sizes and shapes to find your perfect pair. For color aficionados, use the fact that wraparounds come with colored lenses to your advantage, and get them in your favorite shade. Pair them with dresses and skirts to bring a playful element to your classier outfits. When rocking jeans and a tee, wraparound sunglasses will be the fashionable add-on that ties the look together.