Ivanka Trump Channels Kate Middleton's Past Sparkling Look With Colorful Twist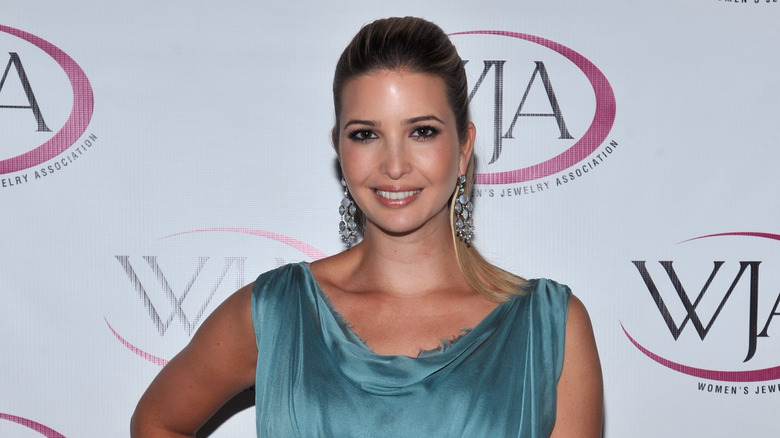 Henry S. Dziekan III/Getty Images
Kate Middleton's sparkling gold look for the London premiere of the Bond film "No Time to Die" in September 2021 turned heads on the red carpet, and for good reason. The glittering gold dress from English designer Jenny Packham featured twisted detailing in the front and a deep neckline. The look quickly became a fashion favorite. 
Turns out Ivanka Trump channeled Middleton's "Lotus Lady" lady look – albeit with a colorful twist — for her daughter Arabella's bat mitzvah last weekend. In a post on her official Instagram, Trump shared several photos from the event, most of which featured her with her husband Jared Kushner and their three children: Arabella, Joseph, and Theodore. In the shared photographs, Trump can be seen sporting the same sparkling gown Middleton rocked in 2021 but in a turquoise hue, complemented by nude lipstick and her blonde hair worn in loose waves. She wrote in the post, "With an abundance of love and immense pride, Jared and I celebrated our daughter Arabella's Bat Mitzvah this past weekend. We reflect on the weekend with full hearts and an abundance of joy and gratitude." 
Trump isn't the only one who has channeled Middleton's look this year. Writer and television personality Martha Stewart dazzled in the same glittering number on May 18 at the 2023 Sports Illustrated Swimsuit party in New York City. 
Ivanka Trump wore a turquoise version of Kate's James Bond-inspired gown
Speaking about the inspiration behind Kate Middleton's dress, which was created as part of a collection in collaboration with EON Productions to celebrate 60 years of the legendary James Bond, designer Jenny Packham once told People, "From Ursula Andress walking out of the ocean in her white bikini with a knife strapped to her hip to Caterina Murino in 'Casino Royale' draped in sultry pomegranate satin, the fashions of the Bond women are unique and timeless." While Middleton's gold dress was based on the Bond film "Goldfinger," Trump's greenish-blue twist on the look (which is available for purchase for around $5,000, according to Insider) was dazzling in its own right. 
Ivanka Trump, who went on to talk about her daughter's kind heart and generous nature in the social media post, further shared, "We couldn't be prouder of the extraordinary young woman she has become. Her kindness, creativity, humor, empathy and passion have filled our lives with so much joy and inspiration. May her Bat Mitzvah be the beginning of a beautiful and fulfilling chapter in her life." Arabella was all smiles in the photos, equally radiant on her big day in a sparkly gold and silver dress.