The A-List Celeb Mila Kunis And Ashton Kutcher Have Both Kissed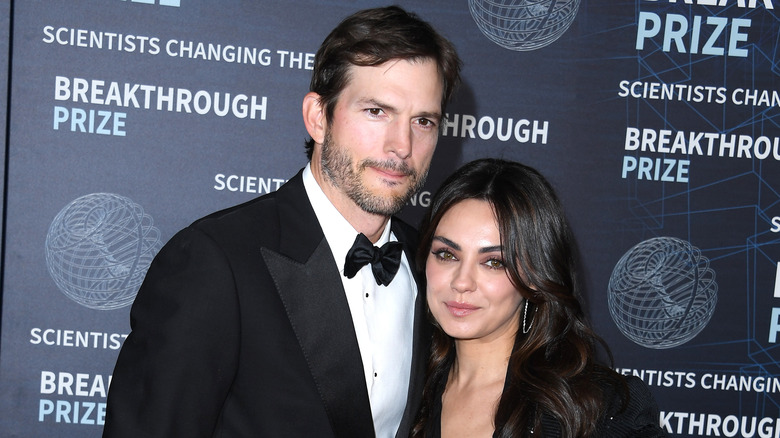 Steve Granitz/Getty Images
Hollywood is a close-knit network of exes, relatives, and former collaborators. Zoë Kravitz is the daughter of Lenny Kravitz, who dated Nicole Kidman, her "Big Little Lies" costar. In 2018's "Aquaman," Kidman played Jason Momoa's mom; he dated Lisa Bonet, Lenny Kravitz's ex-wife, and Zoë's real-life mother. We can barely keep up. If anything, the celebrity dating app, Raya, has made this messy web even more complicated — It's like swiping through Tinder or Bumble in a small town. Plus, you all have to go to work together the next day. Yikes.
If you're in the entertainment industry, It's more or less inevitable that you'll share exes with your friends (or even your current partner). Cameron Diaz and Kate Hudson both had flings with Alex Rodriguez and Justin Timberlake. Jennifer Aniston and Courtney Cox (who also played fictional friends on "Friends") dated Adam Duritz in the '90s. But here's where it gets interesting: Hollywood it-couple, Mila Kunis and Ashton Kutcher, who tied the knot in 2015, shared on-screen kisses with the same A-list celebrity. Allegedly, one of them is a better kisser — here's what we know about the situation.
Mila Kunis and Ashton Kutcher both kissed Natalie Portman on screen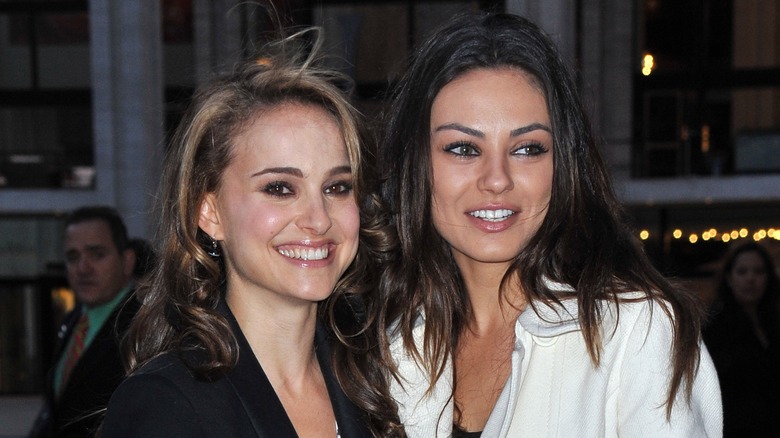 Everett Collection/Shutterstock
Natalie Portman starred in the 2011 romantic comedy, "No Strings Attached," alongside Ashton Kutcher, and the year before, she headlined "Black Swan," also sharing an onscreen kiss with Mila Kunis. Speaking with Andy Cohen on "Watch What Happens Live" (per YouTube), Portman joked that Mila Kunis was "obviously" the better kisser of the two.
In a Reddit Ask Me Anything, Kunis agreed that she and Portman had something special, writing, "And how was it making out with Natalie? I mean... when you have a kissing scene in a film it's not something you think about as a kissing thing. You have all these crew around," continuing, "But she's a lovely kisser, very polite." Although the plot of "Black Swan" may have focused on Portman's complicated rivalry with Kunis, the actors were able to maintain their friendship off-screen.
What's more, Portman bonded with her future husband, cinematographer Benjamin Millepied, on set. "He parked backward on the street ... he parked the wrong direction, and I was like, ok," Portman told Andy Cohen. It was just about love at first sight (or rather, first park). Now, Kunis and Kutcher are happily married with two children. As far as we know, they don't have any other kisses in common.
Mila Kunis and Ashton Kutcher played a couple before they dated in real life
Long before they found themselves in a real-life romance, Mila Kunis and Ashton Kutcher played high school sweethearts on "That '70s Show." When Season 1 aired in 1998, Kunis was 14 and Kutcher was 19. For Kutcher, it was a brother-sister type bond, nothing more. Kunis, however, harbored a crush. "I was like, 'Oh, he's so cute, it's the Calvin Klein model!'" she revealed to People, adding, "Then I was like, 'I have to kiss him?' I was so nervous and uncomfortable. I had the biggest crush on him." Notably, this was also Kunis' first-ever kiss.
Years after the show ended, the former on-screen partners reconnected at the Golden Globes. The attraction was immediate, and they agreed to date casually. "I'd just done this movie called 'No Strings Attached,' and she just did a movie called 'Friends with Benefits' and we legitimately lived out our movies, which was virtually the same movie," Kutcher told Howard Stern in a 2017 interview.
Despite their best efforts (and much like their respective movie characters), the pair eventually fell in love. In 2023, they returned to play their "That '70s Show" characters on "That '90s Show." This time around, their onscreen romance was a bit less awkward — they do have a decade of experience, after all.