Katherine Heigl Drew On Real-Life Tragedy To Get In Character For Denny's Death On Grey's Anatomy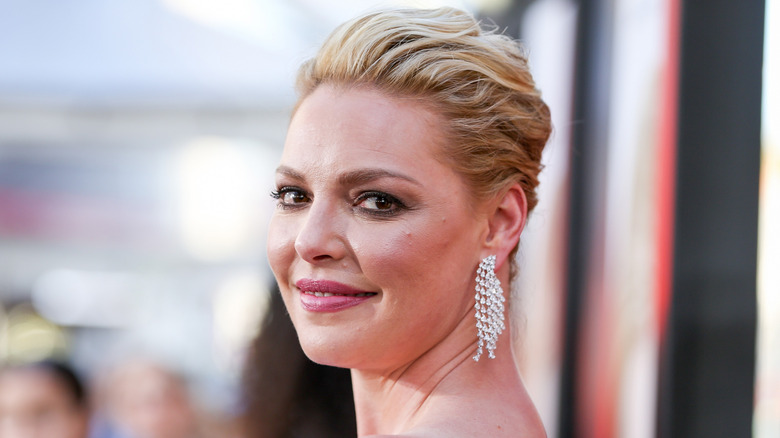 Rich Fury/Getty Images
Fans who have watched "Grey's Anatomy" for many years know that there have been some incredibly heartbreaking moments in the show's history. The show has offered such tragic scenes as the deaths of lead characters George O'Malley (T.R. Knight) and Derek Shepherd (Patrick Dempsey): The deaths of Lexie Grey (Chyler Leigh) and Mark Sloan (Eric Dane) were also traumatic for some viewers to watch. Shocking moments like Cristina Yang's (Sandra Oh) exit, the death of Jackson and April's son, Samuel, and a live shooter in the hospital have also rocked fans to their cores. Meanwhile, watching Izzie Stevens (Katherine Heigl) deal with the death of her love, Denny Duquette (Jeffrey Dean Morgan), may be at the top of the list for some fans. Sadly, Heigl had to tap into the death of her brother to find the emotion to convey the scene.
When the show was still in its infancy, Izzie and Denny's doomed romance dominated the storyline. During Season 2 of the medical drama, Denny was admitted to the hospital as a heart transplant patient. He and Izzie immediately hit it off and fell in love during his hospital stay. Finally, after Denny was able to have surgery, Izzie was there by his side. The two planned their lives together, but a complication led to Denny's devastating death. For her part, Heigl said she wanted to make sure that the death hit fans hard, so she drew on her own personal tragedy for inspiration.
Katherine Heigl relived the death of her brother for the scene
Although "Grey's Anatomy" viewers watched Denny make it through his heart transplant, the story didn't have a happy ending. In an episode where the hospital staff threw a special prom-like event for Richard Webber's ill niece, Izzie was seen getting dolled up to impress Denny. Before heading to the prom, Izzie stopped by Denny's hospital room to show off her dress. However, she found Denny dead in his bed. The scene was incredibly emotional, and Katherine Heigl admitted to her former co-star Ellen Pompeo during a June 2023 interview for Variety, that she reflected on the real-life death of her brother to convey the emotion behind the storyline.
"I wanted it to feel the way it was written on the page," Heigl stated. "I don't do that whole 'go into the dark place and listen to the music that's gonna tear my soul apart' thing. And the worst was that I really went there," she continued. "I was 7 when my brother died but we were in the hospital for a week. And I don't enjoy thinking about that much or that week in the hospital or him in that bed, but I chose to do that for that scene." The actor admitted she probably wouldn't go back to that dark place again, "I think I would try harder to just act it."
For her part, Pompeo praised Heigl's work in the scene, crediting scenes like that for making the series "iconic."
Katherine Heigl opens up about leaving 'Grey's Anatomy' in 2010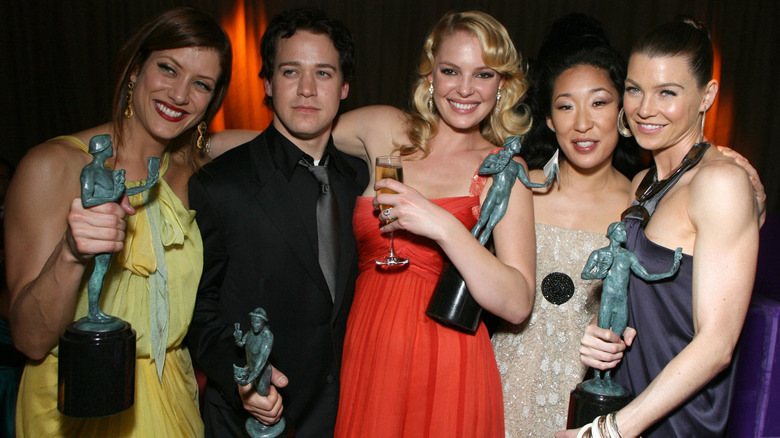 E. Charbonneau/Getty Images
Despite gaining critical acclaim for her work on "Grey's Anatomy," Katherine Heigl opted to leave the hit series in 2010. The actor dealt with rumors of bad blood between her and the show's creator, Shonda Rhimes. "If I could have found a way to work within it, that could have also worked for me. But I only saw it as this one thing: I was up here at a level of intensity that was not healthy for me. And I just kind of fled in a panic," Heigl told Bevy Smith during a SiriusXM interview in 2022. Heigl went on to admit that at the time she felt she had no other choice but to exit the show. "I was breaking, it was breaking me, and I was young," she stated.
However, looking back, the "Firefly Lane" star admitted that she would do things differently. Instead of being quick to leave the show, she says she would have tried to stick it out and find a solution to her issues with production. "I look back at it and sometimes I go, 'God, I wish I had just calmed down a moment. Taken a breath, thought it through, had some conversations.'"
Meanwhile, fans did eventually find out that Izzie became a mother and even reunited with her lost love Alex Karev after leaving Seattle.