Body Language Expert: Trump's Discomfort At Birthday Serenade Signals His True Fears - Exclusive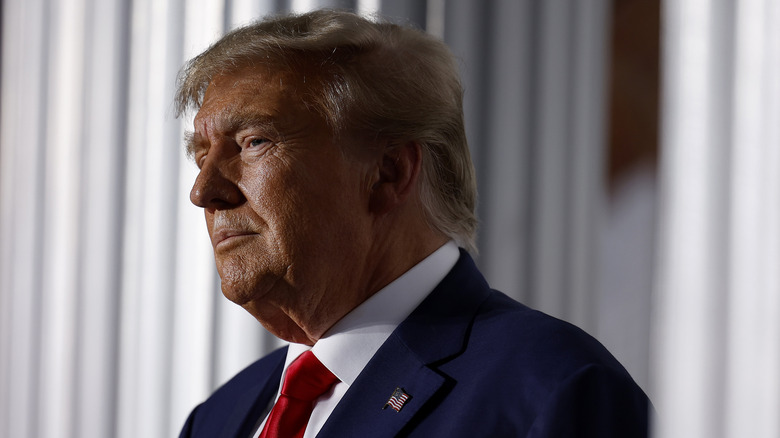 Chip Somodevilla/Getty Images
Former president Donald Trump was in Miami the week of his 77th birthday. Not for a birthday celebration, but instead for arraignment the day before his birthday at a Miami courthouse for the 37 federal charges related to his alleged mishandling of classified documents and obstruction of justice in connection with the documents he'd stored at Mar-a-Lago (this is what we know about the FBI raid of Trump's Mar-a-Lago residence so far). He pleaded not guilty to all charges. This was actually the second time in three months that Trump pleaded not guilty, as the first time was in New York over falsifying business records in relation to the payoff of Stormy Daniels before the 2016 election.
But even though he was in Miami for legal issues, people didn't forget that it was Trump's birthday. On his way out of town, Trump stopped at Versailles, a famous Cuban restaurant, and patrons there broke out into a round of "Happy Birthday" for Trump. And while Trump referred to the singers as a "great group of people," he also looked like he couldn't wait for them to stop singing. Jess Ponce III, body language expert, communication coach, and author of "A.W.E.S.O.M.E." told The List what he thought Trump's discomfort meant at the impromptu song session and how it shows the fear Trump's hiding over what might happen next with the federal charges.
Donald Trump didn't seem to appreciate being sung to for his birthday
Jess Ponce III, body language expert, communication coach, and author of "A.W.E.S.O.M.E." told The List that Donald Trump had been in the midst of speaking when the restaurant patrons started singing "Happy Birthday," and "he stops mid-sentence ... and clinches his teeth. He literally stops, and provides a clear sign of discontent and uneasiness, yet is trying his best to be in the moment and gracious." And Ponce said that it was likely he didn't want to be sung to but couldn't do anything about it, as "his facial expressions indicate that for a moment he thought about asking them to stop. He didn't, because he was well aware that cameras were on him, but not in the way he wanted them to be."
Coming on the day of his appearance in court, Ponce thinks Trump's reaction was actually a signal of his underlying fear about what might be coming for him with the federal charges. "Understandably, this is not the day to celebrate, and his reaction, I think, provides greater insight into his actual state of mind. He's worried — and is doing his best to stay in campaign mode."
There's also the fact that a public acknowledgment of his birthday reminds people of Trump's age. "After all, his turning another year older goes against his talking points on President Biden's age and ability to govern," Ponce said. "They're not that far [apart] in years."