The Life And Death Of Queen Camilla's Brother, Mark Shand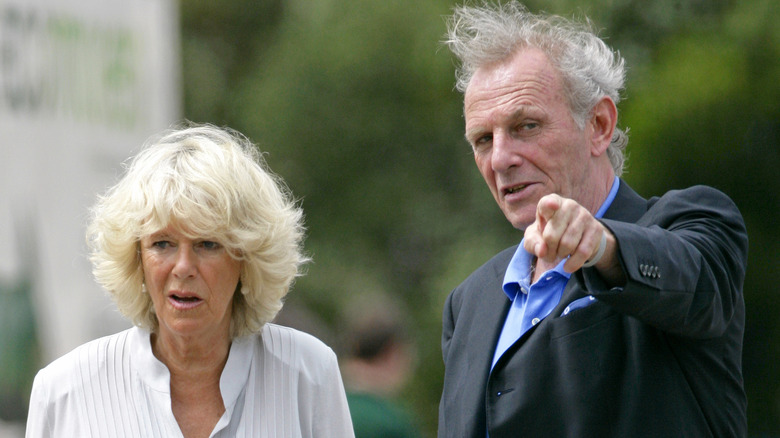 Max Mumby/indigo/Getty Images
We may receive a commission on purchases made from links.
Of all the royals that have garnered international attention throughout their time in and out of the firm, few rival Camilla, Queen Consort. Originally on the high society scene thanks to her brief romance with a young King Charles III and later her marriage to Andrew Parker Bowles, Camilla quickly became public enemy no. 1 thanks to her extramarital affair with the king. Not only did her own marriage come tumbling down, but so did Charles and Diana Spencer's, which, given Diana's popularity among the British people, did not sit well.
So much effort has gone into rehabilitating Camilla's image in the years that have passed, and she's spoken about her own family on more than one occasion and how their support helped her weather the storm. "It was horrid. It was a deeply unpleasant time and I wouldn't want to put my worst enemy through it," Camilla once told The Mail on Sunday's You magazine about the most troubling time in her life. "I couldn't have survived it without my family."
And her family, through thick and thin, was by her side. Camilla was and remains close to her sister, Annabel Elliot, and the two have been seen enjoying each other's company and attending royal engagements together. Sadly, their brother, Mark Shand, died at the young age of 62 in April 2014. This is a look at his life and the accident that cut it short.
Mark had a warm childhood and a supportive mother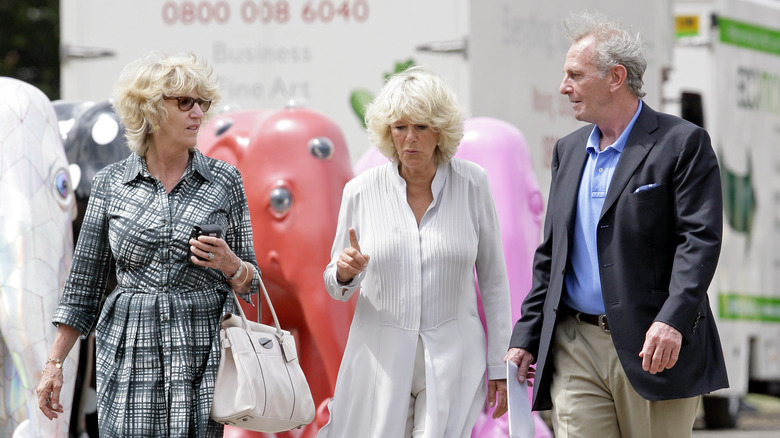 Max Mumby/indigo/Getty Images
Before his sister with the queen consort of England, Mark Shand, Annabel Elliot, and Camilla, Queen Consort, enjoyed a relatively normal childhood. Though their parents, Major Bruce Shand and Rosalind Cubitt, were prominent members of London's high society given Bruce's heightened military career, the three children were treated to a warm upbringing and close relationships with both their mother and father (a rarity among aristocratic families of days gone by). Camilla was the eldest of the three, born to her parents in 1947. Annabel followed in 1949, and Mark rounded out the family of five as the baby of the bunch, born in 1951. Bruce, for his part, indulged his children in incredible storytelling throughout their early years, with Camilla once saying that they would crowd around him "each night [as he] transported us into different worlds."
As for Rosalind, Mark and his siblings had an incredibly close relationship with their mother, thanks in part to her exclusion of nannies from her kids' lives. "We had this enchanted childhood. Unlike a lot of our generation, we had this incredibly warm, easy relationship with our parents," Camilla said of her and her siblings' lives together. "We didn't have nannies. All our friends growing up would immediately be drawn to my mother. She was completely straightforward and one of the warmest, kindest people."
Camilla admitted that her brother was spoiled as a child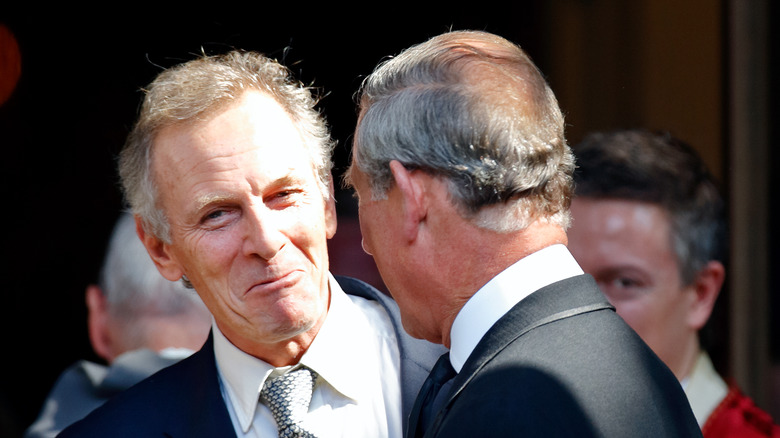 Max Mumby/indigo/Getty Images
Everyone knows that the baby of the family can get away with anything, and that was the case for Mark Shand. With two older sisters in Annabel Elliot and Camilla, Queen Consort, Mark was not only prone to tantrums, but according to his sister, he was able to squeak by without much trouble.
"I never took the lead very much, we just did things together," Camilla told Now To Love, before revealing that Mark was the one out of the three of them who made his presence known. "My brother had a very bad temper and was quite spoiled sometimes, but it was very evenly shared out."
While his youngest child syndrome seemed to play out in real time — if his older sister's recollection is to be believed (and we can hear the youngest children everywhere groaning) — Camilla did reveal that she, Annabel, and Mark regularly enjoyed each other's company and found joy outside playing together. "I had the idyllic childhood right in the country, sitting on the South Downs with my brother and my sister and our pets and our ponies. I think it was a very simple childhood," she revealed. "The awful thing is, I suppose I thought life was always going to be like that ... It certainly gave us all a very good grounding, because we could start off with a smile on our face. As far as I remember it was perfect."
Mark snitched on his sister on more than one occasion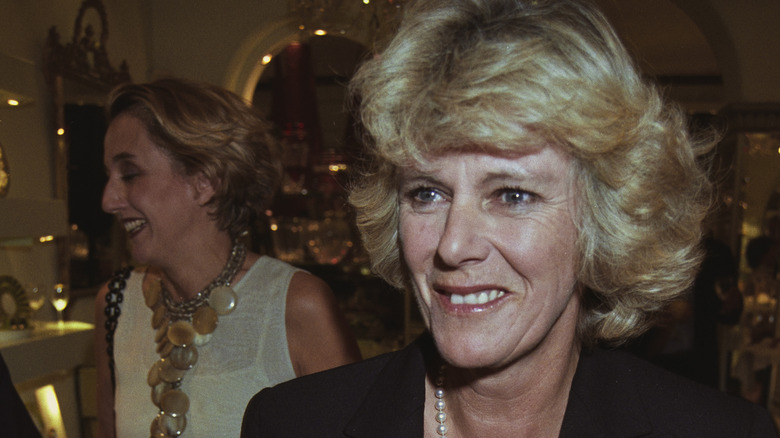 David M. Benett/Getty Images
Any older sister will tell their younger siblings that snitches get stitches, but Mark Shand didn't seem all that concerned when he was a kid. Not only was his childhood fairly charmed, but his role as the prankster among his family was well established.
"The odd thing for that sort of family is they were brought up in a completely unsnobbish way. That's where Camilla has the edge," Jane Churchill, a friend of the family, told Vanity Fair of Mark's upbringing alongside his famous sister. "It's no different to her to talk to a duke or a dustman. And Mark was the same." Meanwhile, another friend of the family recalled of the youngest Shand kid, "Mark was always the joker in the pack, the one who was getting up to trouble. His mother adored him. His sisters adored him."
As for snitching on his older sister, Mark was an integral piece in a feud that has lasted a lifetime between his sisters. During the ITV documentary "Camilla's Country Life," Camilla and her sister, Annabel Elliot, conversed with each other at their family home, Hall Place, and dished about what really happened to Annabel's childhood teddy bear. "Mark just brought up the teddy bear, hiding my teddy bear," Annabel remembered about her younger brother spilling the beans. "[Camilla] only owned up to me about a month before I got married that actually she'd buried it."
Mark and his sisters felt 'helpless' when their mother died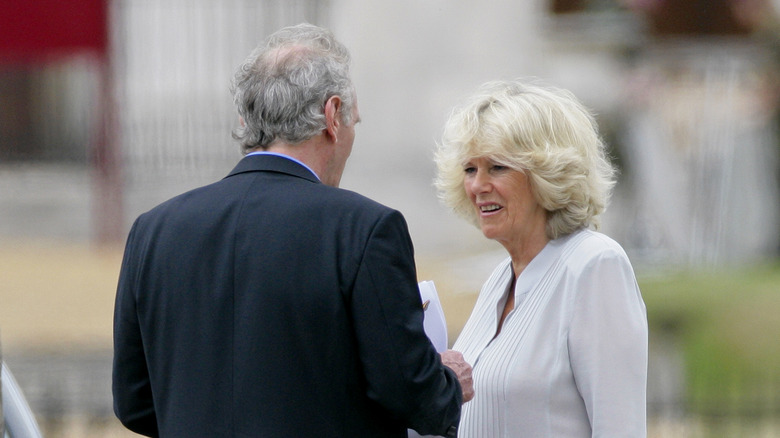 Max Mumby/indigo/Getty Images
Witnessing any ill fortune fall on a family member is incredibly painful, and when Rosaline Shand was diagnosed with osteoporosis in her mid-60s, Camilla, Queen Consort, Annabel Elliot, and Mark Shand had to witness her life come to a tragic end. After a tragic battle, she died in 1994, and Camilla later reflected on the brutal experience in an interview with Now To Love.
"Nobody in those days knew anything about osteoporosis. So when she suddenly used to scream, which she did if somebody touched her, we thought, 'Why is she making such a fuss about this? It can't be that painful,'" Camilla revealed of Rosalind's illness. "She was a strong woman, capable of anything, but she shrank and she shrank and she started bending over like a croquet hoop. It affects your stomach and lungs, so her breathing became very bad. She couldn't eat much food and was in agony the whole time."
Sharing that she, Annabel, and Mark felt as though they were "at such a loss" as to what to do, the royal revealed of their joint experience, "It was terrible, because we felt so helpless. ... She used to go to the doctor who would say, 'There, there, you're old and frail, all old people get the dowager's hump, that's what happens!' She gave up in the end."
Camilla's brother had a rocky academic path and settled on a peculiar career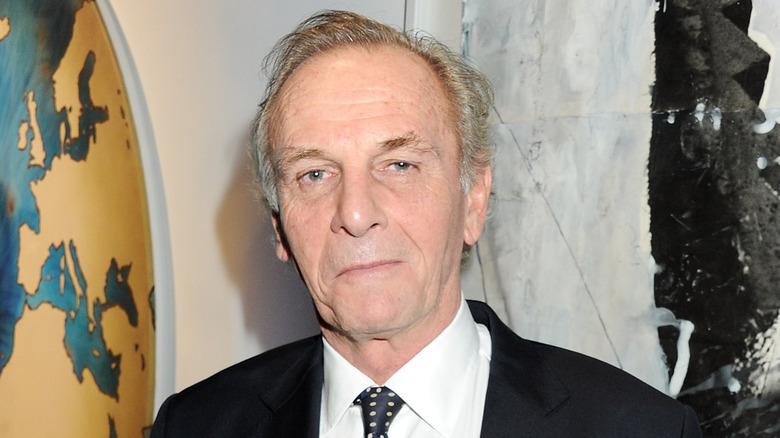 Dave M. Benett/Getty Images
Mark Shand had a particular path set ahead of him, full of educational pursuits and prescribed career paths. But he proved that such a life wasn't for him, and he got expelled in high school for smoking weed. Moving from Dorset to London, Mark worked as a jeweler, but his father, Major Bruce Shand, stepped in. He thought his son's life wasn't going to help him grow, so he handed Mark a little bit of cash and told Mark to use his youthful years traveling. It was a perfect suggestion, as Mark found his true calling amid his adventures.
Joined by friend William Waldorf Astor III, Mark was given about $120 and a plane ticket. He set off to work as a sheep farmer in Australia. In order to get to the land down under, Mark had to stop in Delhi, India, on his way, and just so happened to cross paths with Lord Mountbatten's grandson. Ditching his Australia plans for a time, Mark stayed in India and joined the last viceroy of India on an epic tour of the country, hitting up the Taj Mahal and dining with Maharani Ayesha and Prince Jagat. Eventually making it to Australia, "riding horses and getting thousands of sheep ready to be sheared" (according to Astor, who spoke to Vanity Fair about their adventures), Mark and his friend traveled around Turkey, Nepal, and Afghanistan for the next four months.
Mark felt pressure to live up to his father's expectations from an early age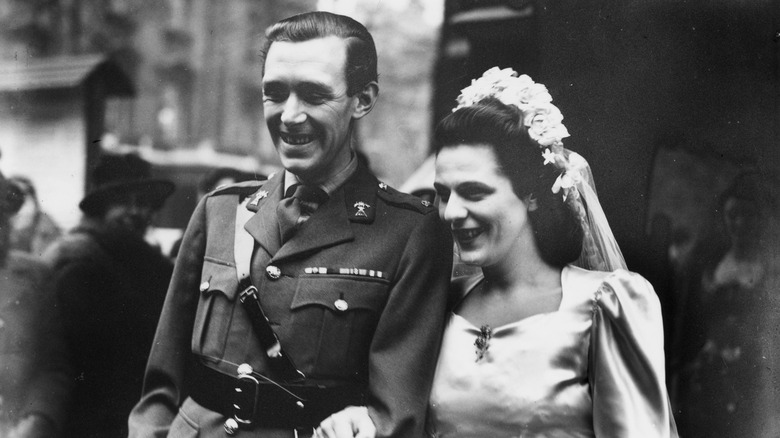 Keystone/Getty Images
While many have focused on Camilla, Queen Consort, and her role within her family, the royal infrastructure, and beyond, Mark Shand certainly had a path paved in front of him from an early age. His father, Major Bruce Shand, was impressive on a number of fronts: He was a graduate from the Sandhurst military school, was a surviving prisoner of war due to his years of service during World War II, spent his military career with the 12th Royal Lancers, and was given the Military Cross for bravery not once, but twice. Mark's pedigree was undoubtedly impressive, and the youngest Shand kid definitely felt the pressure to follow in similar footsteps.
"Mark's father was one of the guys on whom 'The Great Escape' was based," writer Gita Mehta told Vanity Fair of Mark's upbringing and the reputation that superseded his father. "Major Shand was the archetypal English gentleman with decorations, good manners, impeccable dress. That was quite a hallmark for Mark to live up to."
Perhaps saving Mark from failure was the understanding that he would one day inherit wealth and land from his uncle, Harry, the fourth Baron Ashcombe. Harry owned an exceptional amount of property, including the Pimlico estate, which stretched over 27 acres and featured 480 houses on the grounds. Harry, however, made a bad business deal, and Mark was left with nothing to inherit.
Mark never assimilated to office life and instead embarked on a wild career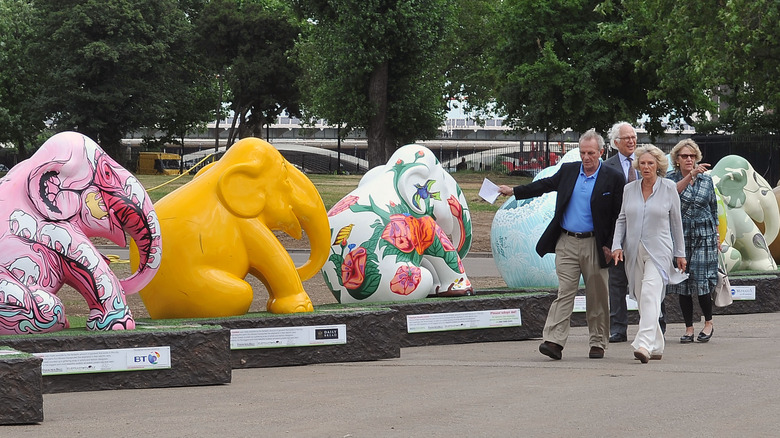 Pool/Getty Images
With his uncle having squandered his inheritance in a bad deal and his academic path truncated, Mark Shand had to come up with a game plan — so like most of us, he got a job. His first spot of employment was working for Sotheby's as a porter, and Duncan McLaren, who ran the company's international sector at the time, reflected on Mark's approach to the job.
"Mark was allocated to come and work for me. He didn't come in very often. And he never was going to be contained by four walls," McLaren told Vanity Fair of the young man who simply wasn't fit for office life. "I came upstairs one day and there he was chopping cocaine on my desk. And the senior director came in and asked, 'Mark, what are you doing?' 'Oh, I'm separating talcum powder.' The man believed him and walked out."
If engaging in some questionable activity on the job wasn't enough, Mark was eventually let go — no surprise there — after risking the well-being of some incredibly expensive historical items. As it turned out, Mark and another porter used 14th-century Japanese samurai swords and armor to challenge one another to a duel in Sotheby's packing room. As you can expect, they were caught and told to never return.
Camilla's brother gained quite the reputation as a ladies' man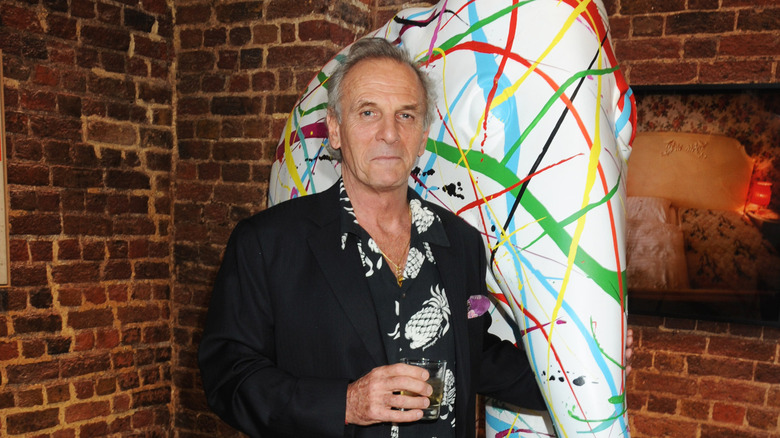 Dave M. Benett/Getty Images
As his sister's reputation was growing within high society (and eventually, beyond), Mark Shand started curating his own impressionable name. As he began establishing himself as part of London's social scene, he quickly crossed paths with some very impressive women, including Bianca Jagger, supermodel Marie Helvin, and Caroline Kennedy — yes, John F. Kennedy's daughter. Quickly developing a reputation as quite the ladies' man, Mark became known for his impressive looks, unbridled charm, and playboy persona. 
Of course, he wouldn't be tied down for years. Helvin reflected on their relationship and how he tormented her from day one. "He was impulsive, emotional and open hearted. He had the most beautiful body I'd ever seen. I lusted after him from the moment we met," she once said, sharing that there were whole weekends where they wouldn't leave the bed. 
Recalling a trip to the Shand family home, Helvin revealed that she was expected to sleep in the bedroom that once belonged to Camilla, Queen Consort. Clearly in love, however, Mark would creep around the house until he located his then-girlfriend so they could spend the night together. Their dalliance was not meant to be, and Helvin even shot down Mark's proposal of marriage — that just so happened to be while they were in Venice riding in a gondola — but clearly, Mark had a thing for romance.
Mark had an interesting reaction to Camilla's affair with King Charles III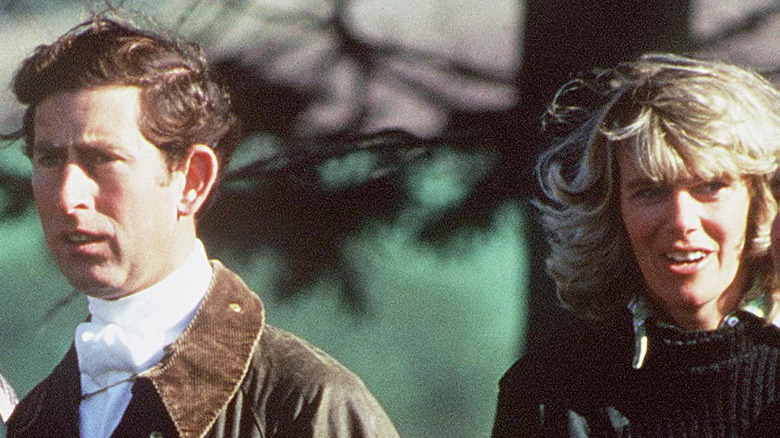 Tim Graham/Getty Images
While their early romance in the 1970s was short-lived, King Charles III and Camilla, Queen Consort, maintained their friendship. While the timeline is hazy, they seemingly started their romantic affair in 1986, and once the news broke, Camilla was seen as the other woman. As for Camilla's family, they had her back throughout the duration of the public devolvement that followed, and Mark Shand had an interesting reaction to his sister's royal involvement.
At that point in his own life, Mark was known not only for being a ladies' man, but also as someone who simply couldn't stay in one place. He had indulged in his travels at that point, and spent a good chunk of time abroad while also maintaining his spot in London's gossip columns. Given his own reputation, Mark, who had always shared a close relationship with his sister, appeared as though he was not in a position to judge Camilla and her ongoing affair. When prompted time and time again to comment on the matter, he didn't, and up until his death, he never shared his own take on Camilla and Charles' affair.
In fact, some would argue that Mark took some of the heat off of Camilla. He positioned himself as the "black sheep" of the Shand family, and once said of his upbringing in comparison to his sister's, "I was the youngest and probably spoilt if I'm totally honest."
Mark found his true calling in conservationism and writing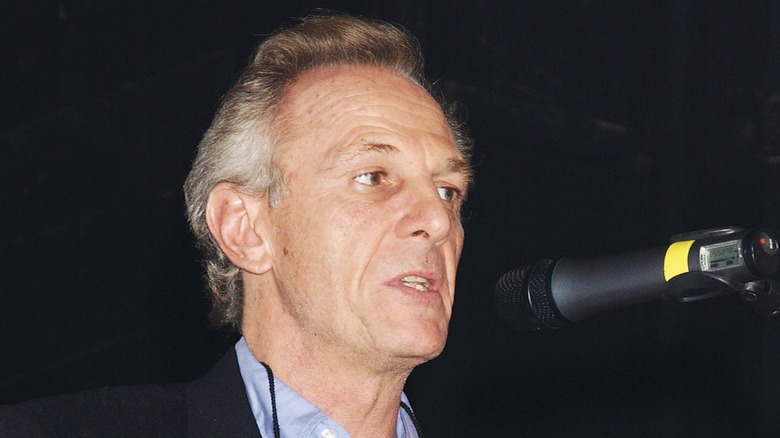 Dave M. Benett/Getty Images
Though Mark Shand was a man about town and clearly a ladies' guy who couldn't be tied down, he found his true purpose in conservationism and writing. Having spent the bulk of his youth traveling across Asia, Australia, and beyond, Mark wrote his first book, "Skulduggery," in 1987. He documented his time in New Guinea, and found an audience for his work before embarking on his next adventure. By 1991, Mark was back to his writing ways and penned "Travels on My Elephant," a particularly close-to-his-heart story that documented his travels.
As it turned out, Mark's true calling was in conservation efforts, and he found a distinct purpose working with elephants. He eventually rescued an elephant that he named Tara, and they embarked on a 600-mile trek across India, all of which he documented in the book. "He was looking for something," friend William Astor told Vanity Fair of Mark's life with Tara. "And it wasn't until he met an elephant that he found it, and redeemed himself."
The book eventually became a huge hit for Mark, and he even took home the British Travel Writer of the Year Award. He followed up "Travels on My Elephant" with his third book, "Queen of the Elephants," which was just as commercially and critically successful. "Travels on My Elephant" was eventually rereleased in 2012.
Mark was a married man, but his marriage wasn't without its issues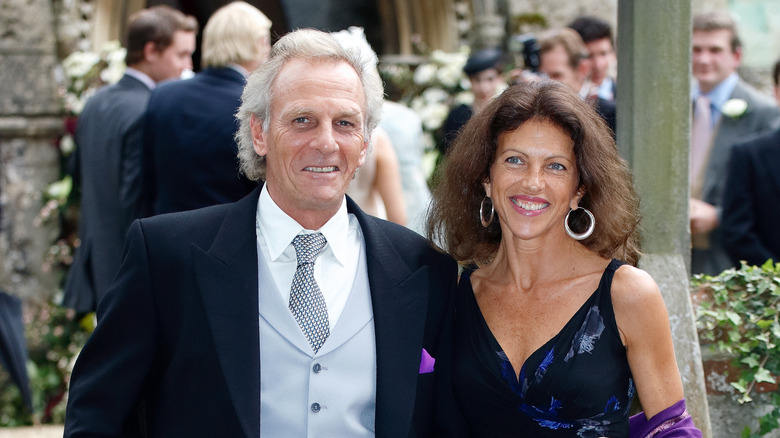 Max Mumby/indigo/Getty Images
Mark Shand got married to Clio Goldsmith in 1990. Their wedding was a showstopper, and they ended up going on a honeymoon that lasted four months. Four years later, the two welcomed their daughter, Ayesha Shand, and they purchased a home and set about their life as a family of three. Sadly, it quickly fell apart.
"We bought a house at the bottom of a valley in Wiltshire," Clio told Vanity Fair of her marriage to Mark at that time. "Very dark, very miserable, very isolated. Mark set off traveling, and I was alone with this baby. I had had a terrible birth, so I had to be operated on. And I was very traumatized. One day I decided I've got to react. He'd been months away, so I wrote him a note that said, 'Gone to live in Rome with Ayesha. If you want to join us, here's the plane ticket.'"
Mark took the hint from his wife, and the three tried to make it work for the next seven years, making Italy their home. Even then, Clio claimed that her husband's heart simply wasn't in it. "I couldn't live with Mark in that indifferent way. It was too painful," she said. "He got very very obsessed by his charity, Elephant Family. Which was fantastic for him ... but our marriage just broke to pieces." They eventually divorced in 2009.
The night of Mark's death was something out of a horror film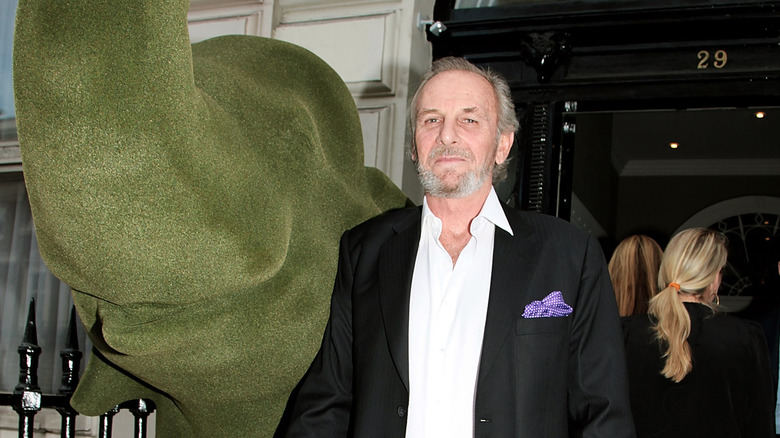 Dave M. Benett/Getty Images
Amid his work, Mark Shand created his aforementioned charity, Elephant Family, geared towards conservationist efforts. He had done quite a job at securing the charity's purpose and funding, and on April 22, 2014, Elephant Family was the beneficiary of a Sotheby's charity auction. The event went off without a hitch and was an enormous financial success for Mark, and to no one's surprise, he went out into the city of London to celebrate with his friends.
On the evening in question, Mark was joined by his charity's CEO, Ruth Powys, and the nonprofit's creative director, Alexandra Bowes-Lyon. After heading to J. G. Melon to enjoy a meal, Mark and Bowes-Lyon left the restaurant to smoke a cigarette outside; they wrapped up, and he gestured to Bowes-Lyon to re-enter the building. What occurred next was something of a blur: Mark seemingly tripped over his own feet and fell backwards, reaching out to Bowes-Lyon as he did so. His head was the first thing to hit the pavement, and he was unconscious immediately. Though the paramedics were called and arrived on the scene just eight minutes later, Mark was already dead due to the freak accident.
Camilla, Queen Consort, was in Scotland at the time when she was told the news. Annabel Elliot, meanwhile, was with her brother at the hospital. She later recalled the doctor telling her, "Your brother is 99 1/2 percent brain dead."
Camilla was front and center at her brother's funeral, honoring his life cut short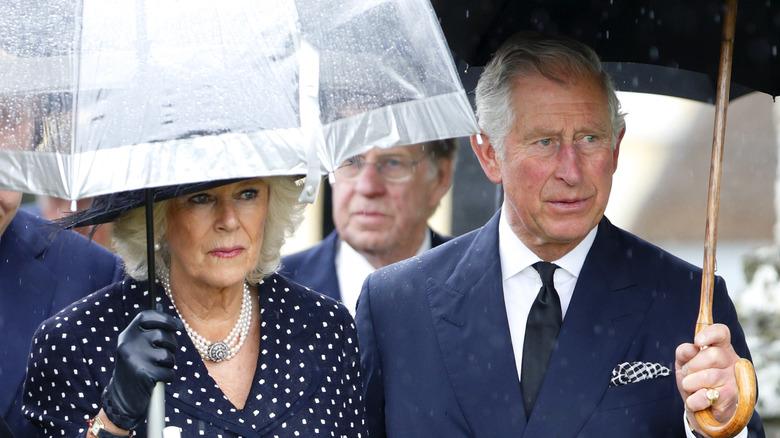 Max Mumby/indigo/Getty Images
Mark Shand was at the height of his nonprofit's success when his life was tragically cut short. In a statement released shortly after his death, Camilla, Queen Consort, and King Charles III wrote that they were "utterly devastated by this sudden and tragic loss." "Mark Shand was a man of extraordinary vitality, a tireless campaigner and conservationist whose incredible work through The Elephant Family and beyond remained his focus right up until his death," the statement continued.
Mark's funeral was held at Stourpaine's Holy Trinity Church shortly thereafter, and Camilla and Annabel Elliot were joined by his daughter, Ayesha — who was just 19 at the time — as well as Camilla's children. The queen consort was seen crying at the funeral, coming to terms with the loss of her younger brother as the result of a tragic accident. His casket included not just flowers to mark his passing, but also a personal card from Camilla which read on the front, "Darling Mark. With happy memories and all my love."