The Hollywood Icon Lindsay Lohan Turns To When She Needs Life Advice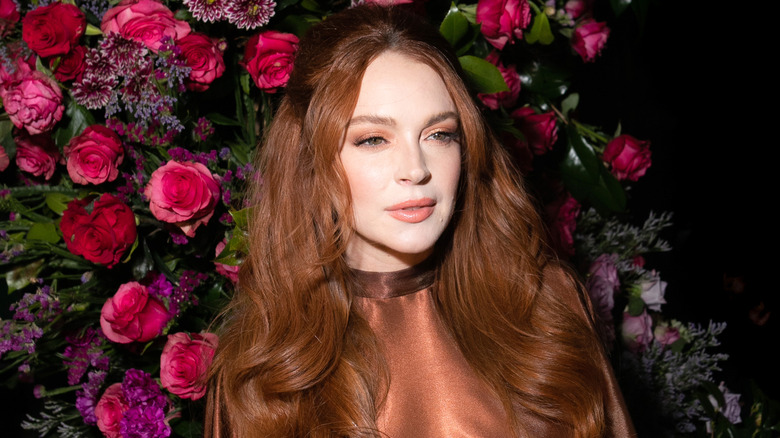 James Devaney/Getty Images
Lindsay Lohan has had her fair share of ups and downs through the years. The star's journey to fame began when she was only three years old after joining Ford Modeling agency. She went on to appear in nearly 60 commercials with big names like Gap, Pizza Hut, and Jell-O. After gaining so much success at a young age, she moved on to make her show biz debut by playing Alli Fowler in "Another World." Her big break came when she was just ten years old when she was cast in "The Parent Trap." The director, Nancy Meyers, handpicked Lohan out of hundreds.
Decades later, Lohan is still incredibly grateful for the film and holds the fun times on set close to her heart. But her scene-stealing performances didn't end there. In 2003, she gave a memorable performance as Anna Coleman in "Freaky Friday." And in 2004, she played the iconic Cady Heron in "Mean Girls." All of this fame didn't come without its problems. Lohan struggled with substance abuse and was in and out of rehab trying to get on top of it. 
However, Lohan took a hiatus from acting, turned things around, and made a comeback after a stunning transformation. And she has since shared some advice from friends that has kept her going, including from the "Godfather," Al Pacino, who she's been pals with since 2014. As you can imagine, Pacino has offered many pearls of wisdom to Lohan.
Al Pacino gave Lindsay Lohan some great advice about work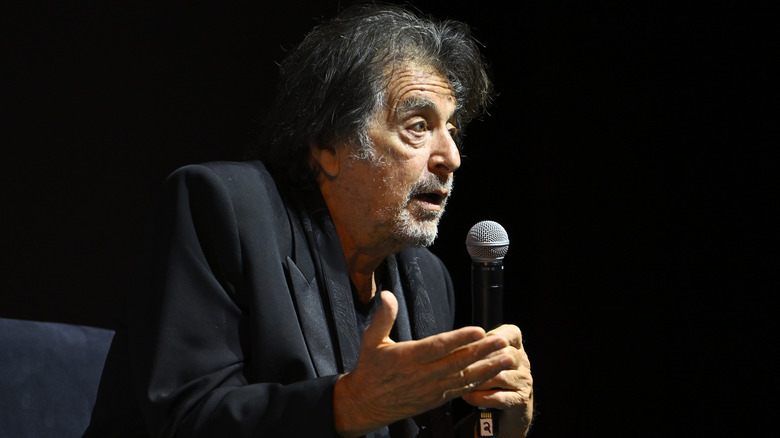 Roy Rochlin/Getty Images
The unlikely pair struck a friendship when Lindsay Lohan made her West End debut with "Speed-the-Plow," a play written by Al Pacino's friend, David Mamet. The two met backstage, and the first bit of advice that Pacino offered the "Falling for Christmas" star revolved around pre and post-show rituals. With those notes, Lohan realized that Pacino's experience made him an excellent companion for advice. In an interview with Cosmopolitan, she said, "I actually have asked him for a lot of advice for a lot of things, especially work-wise and just life-wise, just because he's a great person to talk to."
Due to busy schedules, they stayed in touch virtually, so when they finally had an unplanned encounter IRL, things got a little awkward. Lohan was enjoying a dinner out with family when she noticed a waiter blocking a paparazzi's prying flash, and when she went to thank the waiter, he told her that he was doing it for Pacino.
Lohan told Cosmopolitan she felt nervous meeting the "Scarface" star in person, but she made her way over and asked him for a photograph to remember the moment. She also shared the most valuable advice she received from Pacino, "'Focus on your craft when it comes to your work.'" she added. "And I think that's really important. Don't let other outside things blur your vision."
The actor also sought advice from others celebs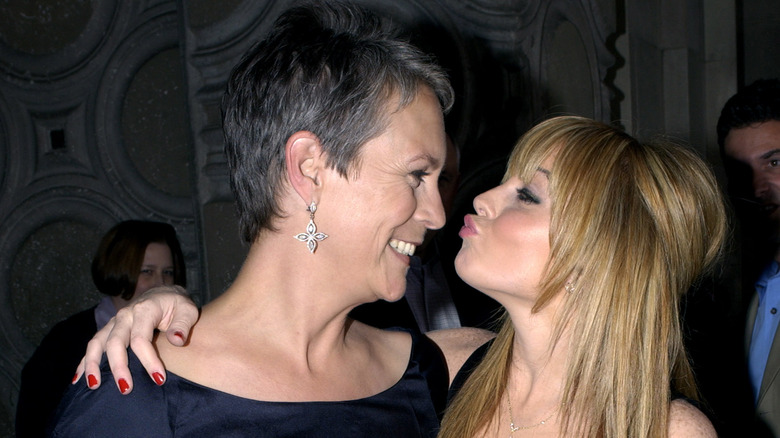 Albert L. Ortega/Getty Images
Lindsay Lohan took to Instagram to tell fans she was expecting her first child with her husband, Bader Shammas. Like every first-time parent, she was quite nervous, so she sought advice from a parental figure, her "Freaky Friday" mother, Jaime Lee Curtis. She shared Curtis' words with Allure, "I spoke to Jamie Lee Curtis recently and she was like, 'You just bring the baby with you and everything will be fine.'" It's unsurprising that Lohan asked Curtis for advice despite having worked with her over two decades ago. Lohan's father Michael told Radar Online that Curtis was "like a second mother" to his daughter.
Lohan has dealt with adversities from a young age. After her parents divorced, the responsibility for taking care of her siblings fell onto her, and like most children of divorce, both parents wanted her on their side. Lohan's relationship with her father remained tumultuous in adulthood because he abused family members throughout her childhood. She even cut off contact with him because she believed he fed the tabloids with false stories. 
However, Oprah's advice changed things for her. On the "After Show," Lohan said (via Oprah Daily), "I think Oprah really gave me a different perspective on life and that really changed me." She added. "I was just tired of taking care of everyone and being present for everyone. I just wanted to be there for myself and be okay with being alone. We forget that it's okay to be alone."