Why It Took 10 Years To Finalize Maria Shriver And Arnold Schwarzenegger's Divorce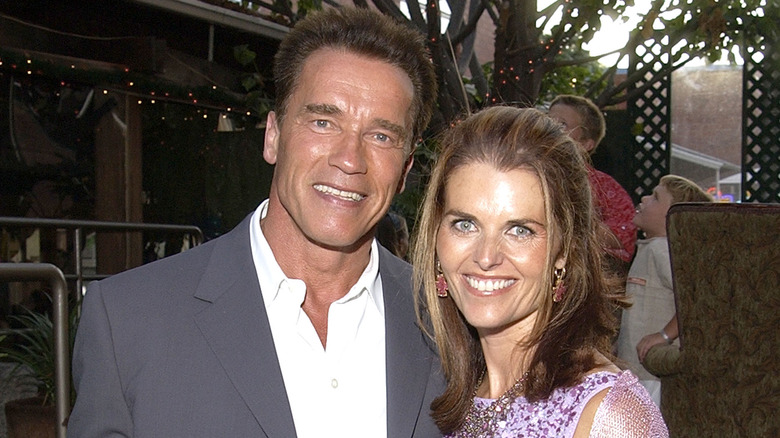 Ray Mickshaw/Getty Images
Arnold Schwarzenegger and Maria Shriver were once one of the most recognizable couples in the world due to their affiliation with both Hollywood and the Kennedy family. The pair began dating in 1977 and eventually tied the knot in 1986. Shriver and Schwarzenegger welcomed four children together; Katherine, Christina, Patrick, and Christopher.
The couple grew their family and their fame as Schwarzenegger won the race to become the 38th governor of California in 2003. The "Terminator" star went on to serve two terms as governor; they seemed like the perfect match until scandal rocked them. In 2011 their relationship took a surprising turn when the two announced their split. "This has been a time of great personal and professional transition for each of us. After a great deal of thought, reflection, discussion, and prayer, we came to this decision together. We are continuing to parent our four children together. They are the light and the center of both of our lives," the couple said in a joint statement (via People).
Just days after announcing the separation Schwarzenegger admitted to fathering a child outside of his marriage. The actor admitted that he and the family's longtime housekeeper Mildred Baena shared a son together, Joseph Baena. Two months later, Shriver filed for divorce, a settlement that took 10 years to come to a close.
It took a decade for Arnold and Maria to split their assets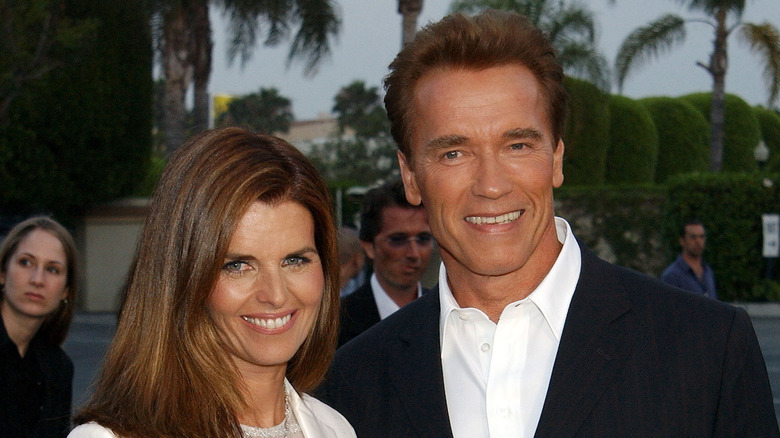 Gregg Deguire/Getty Images
Despite filing for divorce in 2011, Arnold Schwarzenegger and Maria Shriver's marriage didn't officially end until 10 years later in 2021. The pair's divorce was finalized a decade after their split, and the huge delay in their settlement came from an array of issues. For example, they did not have a prenuptial agreement when they married in 1986 and they struggled to settle their property agreement, although there was reportedly no rush to finalize the divorce. However, TMZ reported that the exes eventually agreed to split their $400 million estate evenly.
Following the couple's split, Schwarzenegger and Shriver remained close and have been seen attending events with their children on several occasions. This is likely why the pair could endure a 10-year period between splitting and finalizing their divorce as they focused on having an amicable relationship after the scandal. In May 2023, Schwarzenegger spoke out about his ex-wife, revealing that he still has a lot of love for her. "She and I are really good friends and very close, and we are very proud of the way we raised our kids," he told The Hollywood Reporter. "Even though we had this drama, we did Easter together, Mother's Day together, the Christmases together, all birthdays — everything together," he added.
Meanwhile, Schwarzenegger says that he's worked hard to move past the scandal and the drama that he created for his family.
Arnold Schwarzenegger holds himself accountable for his mistakes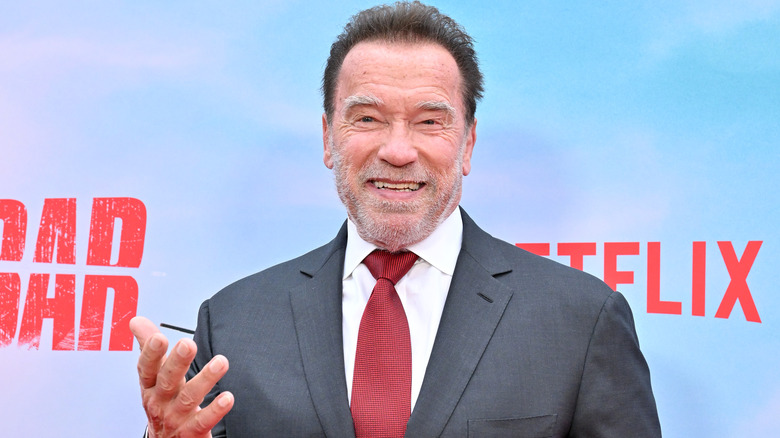 Axelle/bauer-griffin/Getty Images
In June 2023, Arnold Schwarzenegger dove deeper into his marriage and affair in his Netflix documentary. The actor recalled confessing his affair to Maria Shriver during a therapy session and admitted that the pain he caused his family is something that he still struggles with to this day. "I think that I have caused enough pain for my family because of my f***k up. Everyone had to suffer. Maria had to suffer. The kids had to suffer. Joseph. His mother. Everyone . . . I am going to have to live with it the rest of my life," he said (via Us Weekly.)
Years prior to his documentary, Schwarzenegger admitted to Men's Journal that he has worked hard to put the pain of the past behind him. "I can beat myself up as much as I want — it's not gonna change the situation," he said, adding that he tries his best to move forward and heal to be the best he can be in his current situation. It's clear that the actor isn't letting his past dictate his future happiness and relationships with his family members, despite the mistakes he's made.
Although Schwarzenegger and Shriver spent a decade working through their divorce, the pair have remained a family for the sake of their children and grandchildren, which is an accomplishment in itself.