The Controversial Cost Of Chelsea Clinton's 2010 Wedding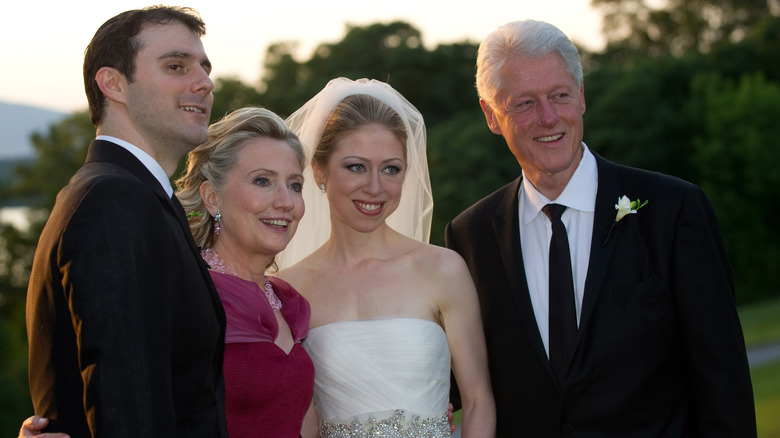 Wireimage/Getty Images
Presidential children are often at the root of their own scandals and the adored daughter of Bill and Hillary Clinton is no exception. Chelsea Clinton moved into the White House when she was just 12 years old. Her family was the subject of public scrutiny, especially due to her father's now-infamous affair with White House intern, Monica Lewinsky.
Fast forward to life outside the Oval Office, and Chelsea was the target of her own messy controversy that surrounded her 2010 wedding. Chelsea and investment banker Marc Mezvinsky became a target after people began to question how she was able to afford such a lavish wedding in her family's post-White House era. Sources close to the Clinton's slammed Chelsea for spending entirely too much money on her nuptials. It is estimated that her ceremony topped $2 million. This partially caused the Clinton family to scale back on how much of the wedding details they chose to share with the public. 
There were allegations that Chelsea Clinton used her family's foundation to sponsor the wedding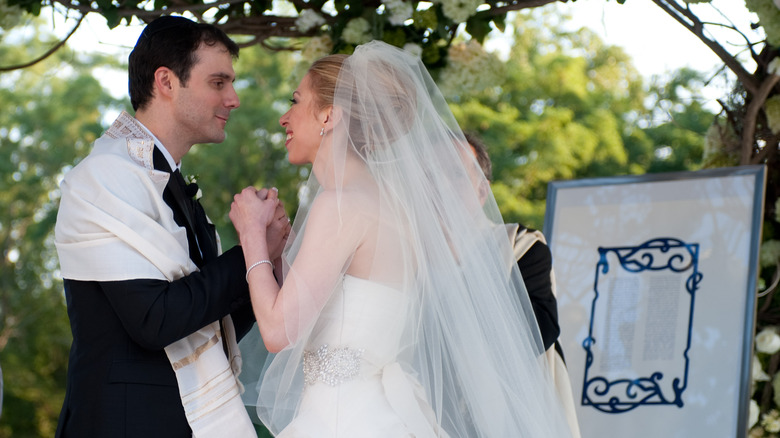 Handout/Getty Images
Author Chelsea Clinton is said to have dished out millions for her July 31, 2010 wedding. This included an estimated $750,000 on the catering and another $250,000 for the floral arrangements. An additional $40,000 was rumored to go towards music and entertainment, while $35,000 was designated for photography and $30,000 for security services. With these being just a handful of the expenses for the big day, questions begin to pop up regarding who was paying.
In a leaked January 2012 email that surfaced in November 2016, former Bill Clinton aide Doug Band complained about Chelsea's overspending, even alleging that she'd used funds from her family's Clinton Foundation. The organization's 11 nonprofit organizations focus on four main issues: expanding opportunities for girls and women, addressing climate change, global health and wellbeing, and economic development. However, Band claimed Chelsea pocketed some of the funds for her own gain.
"The investigation into her getting paid for campaigning, using foundation resources for her wedding and life for a decade," Band wrote in part of the email to John Podesta, who now serves as Hillary Clinton's campaign chairman (via New York Post). In the explosive exchange, Band also claimed that he received intel about Chelsea allegedly telling one of George W. Bush's daughters that she was interested in moving funds from the Clinton Global Initiative to the Clinton Foundation.
Bill Clinton denied that the organization covered the wedding tab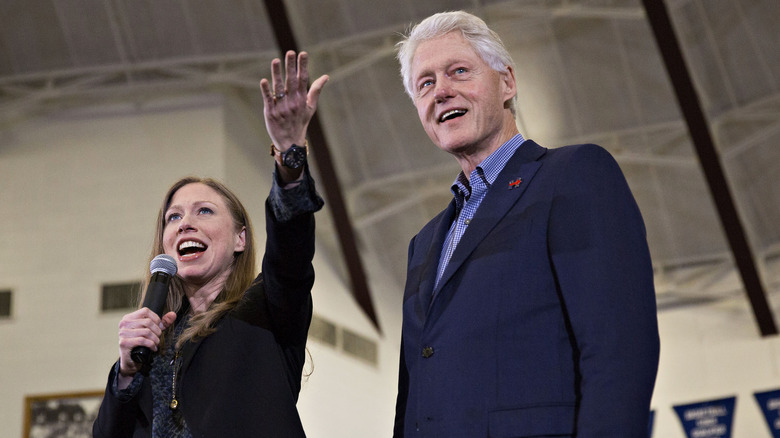 Bloomberg/Getty Images
The Clintons did not immediately address claims that their only daughter used foundation money to sponsor her wedding. However, in 2018, former President Bill Clinton finally spoke about the claims against Chelsea Clinton. In a tweet that went out from his official Twitter account on January 13, 2018, Clinton denied using any money from his charity work to pay for the ceremony.
"No Clinton Foundation funds — dedicated to Haiti or otherwise — were used to pay for Chelsea's wedding. It's not only untrue, it's a personal insult to me, to Hillary, and to Chelsea and Marc," the statement read. Chelsea herself nor her now-husband Marc Mezvinsky have ever addressed the emails, though they have seemingly haunted Hillary Clinton during her pursuit of the presidential seat.
Chelsea and Mezvinsky have gone on to have three children, Charlotte, Aidan and Jasper. The 43-year-old also serves as the Adjunct Assistant Professor of Health Policy and Management at Columbia University's Mailman School of Public Health. She still sits as Vice Chair of the Clinton Foundation and is a stark health and human rights advocate. Regardless of the controversy her wedding stirred up, it never derailed her success.