The One Marital Dispute John F. Kennedy Jr. And Carolyn Bessette Never Put To Rest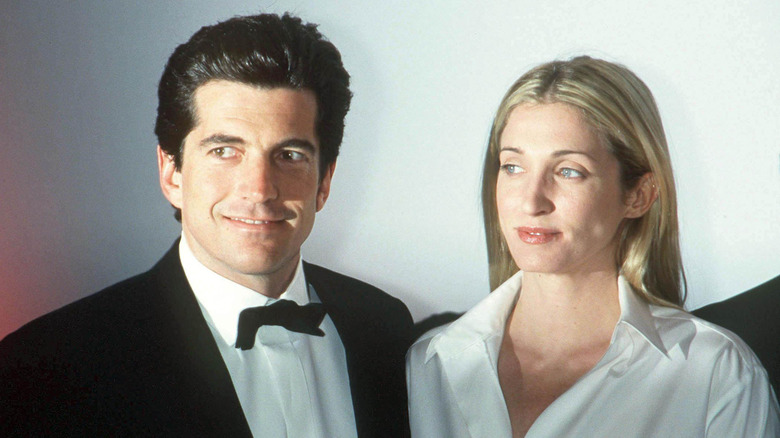 Arnaldo Magnani/Getty Images
Just weeks after John F. Kennedy was elected the 35th President of the United States of America in 1960, he and Jackie O. welcomed their son John F. Kennedy Jr. The infant was quite literally born into the limelight. From the moment he had his first breath, Kennedy was making headlines. Throughout his life, he was a mainstay in the news and magazine columns. By 1988 Kennedy, who carried on his family legacy of good looks, was given the title of "Sexiest Man Alive" by People. Once he was a young bachelor, Kennedy continued to stir even more public interest.
Spotted on dates with A-list celebrities like Madonna, Julia Roberts, and Cindy Crawford, he hardly kept a low profile. Accustomed to publicity and well-acquainted with the world's most famous celebrities, Kennedy had an unparalleled experience of extreme public attention. And, he fell in love with and married a woman who absolutely loathed it — Carolyn Bessette. Throughout their relationship, there was one thing that the couple couldn't stop arguing about.
Carolyn Bessette struggled with John F. Kennedy Jr.'s fame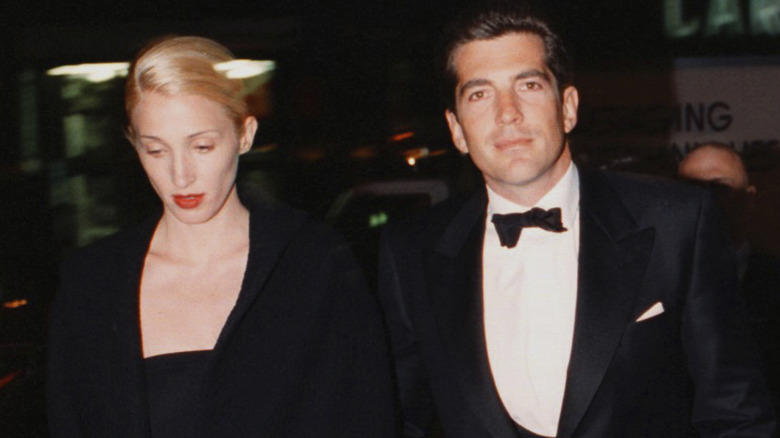 Rj Capak/ Getty Images
Unlike Kennedy, Bessette came from an average American background. When the two met, she was working diligently as a publicist for Calvin Klein. Bessette was wildly unprepared for the life that Kennedy led in the public eye, and it became clear that this caused many relationship issues early on. Just six months before the couple was married, paparazzi caught them in an intense shouting match that included violent pushing and shoving. One of Bessette's closest friends told Vanity Fair that Bessette had difficulty keeping up with Kennedy's bolstering social life.
It was too overwhelming for her. "She didn't want to go out. She would ditch John's friends, not show up for dinner, refuse to go to people's houses or events. She burned a lot of bridges," said the inside source. Per InStyle, "The Kennedy Heirs" by J. Randy Taraborrelli reported that Bessette's desire to stay hidden and private became a repeated debate in the marriage. According to Taraborrelli, Bessette avoided visiting Kennedy's extended family in Hyannis Port, and this caused particular friction in their love life. Ultimately, the two never had the chance to resolve this disagreement.
Carolyn Bessette remained misunderstood until the couple's tragic death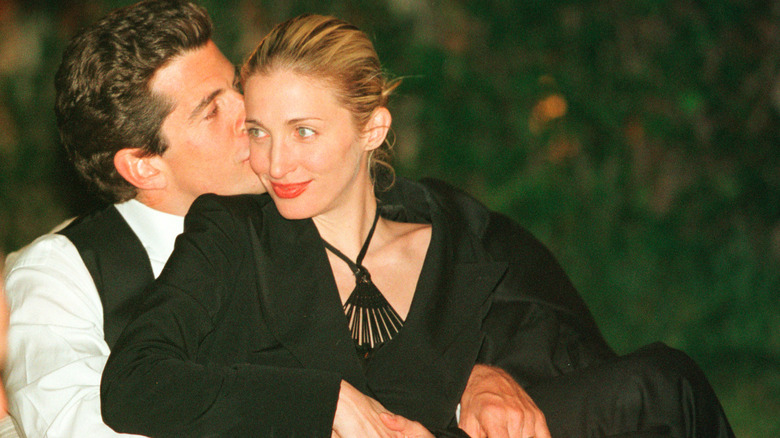 Tyler Mallory/ Getty Images
Sadly, Bessette was often painted as an ill-tempered, ungrateful wife. Although, this doesn't seem to be an accurate or complete picture of the couple's married life. The executive editor of Kennedy's magazine George, Richard Bradley, told InStyle, "We all knew John had a temper, but the public didn't. It looked like Carolyn had brought out the worst in America's Prince, that she was changing him, and a lot of people held that against her."
That said, Bessette did, in fact, have a robust and stubborn stance when it came to conflict. However, this was said to be the exact reason Kennedy fell head over heels for her. In another article by InStyle, Kennedy's friend Steven M. Gillon told the reporter, "Carolyn, more than anyone who John had been with, would stand up to him, and confront him." Unfortunately, the two's tumultuous reputation was never resolved before the public eye. On July 16, 1999, yet another tragedy surrounding the Kennedy family emerged, and news broke that the couple was killed in a plane crash.