The Strange Alteration Jackie Kennedy Made To Almost All Her Shoes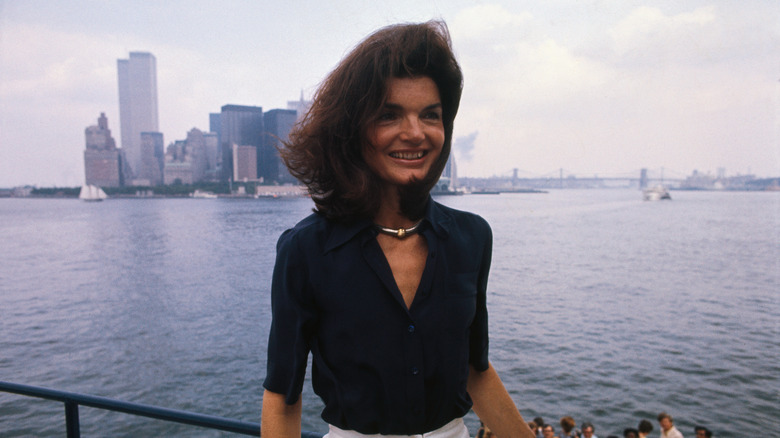 Bettmann/Getty Images
With her buttoned-up skirt sets, white gloves, and upper-crust East Coast background, Jaqueline Kennedy Onassis, aka Jackie O, was considered by many to be the epitome of chic, laidback, ladylike style (and often still is). Kennedy — who was born Jaqueline Lee Bouvier — revolved around elite Manhattan social circles long before meeting, and eventually marrying, JFK. In 1947, she was declared debutante of the year by New York Journal-American gossip columnist Igor Cassini, per The Washington Post. 
At the time, Cassini enthused that she had "poise, [was] soft-spoken and intelligent, everything the leading debutante should be." The viral old-money aesthetic may be a relatively-new TikTok phenomenon, but Jackie O made it popular decades ago. Not only was the former first lady a total trendsetter, but she was also a passionate preservationist. Years after the death of her first husband, Jackie O pioneered efforts to save Manhattan's historic Grand Central Terminal and St. Bartholomew's Church. 
Likewise, she left a sizable portion of her incredible fortune to charity. Although the fashion icon has been portrayed many times onscreen by elite actors like Katie Holmes, Natalie Portman, and Ginnifer Goodwin, Hollywood has yet to capture one little-known fact about her: The alteration she made to nearly all her fabulous shoes.
Jackie Kennedy had lifts installed in half of her shoes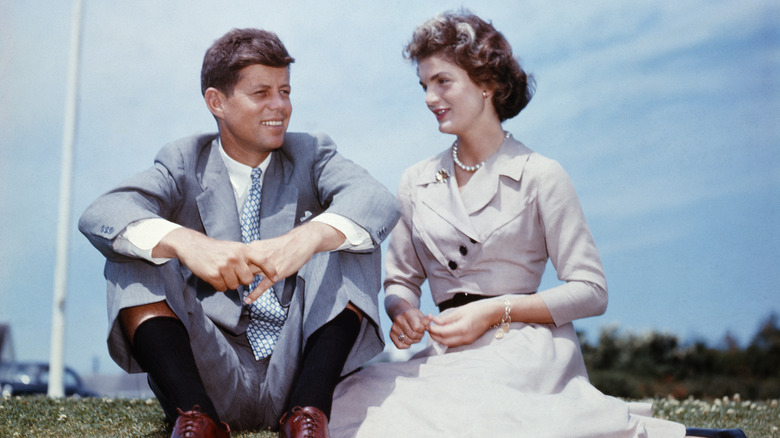 Bettmann/Getty Images
According to Kathy McKeon, the first lady's former assistant, one of Jackie Kennedy's legs was slightly longer than the other. To make up for the difference, she had a small platform installed in one shoe out of every pair. As McKeon wrote in her memoir, "Jackie's Girl: My Life with the Kennedy Family," "The bedroom walk-in closet was jam-packed with Madam's everyday clothing, all arranged according to color," but, "more intriguing to me was the quarter-inch lift affixed to one heel on each pair of shoes, apparently meant to compensate for one leg being slightly shorter than the other," (via PopSugar). 
So, despite what you may have been told throughout your life, you can blend fashion with function. Jackie O wasn't the only one in the family with this unique condition, funnily enough. Allegedly, President JFK himself also had a slight discrepancy between his legs, something which caused him severe back pain and led to the president wearing corrective shoes of his own. So, if you're noticing a persistent ache in your spine, talk to your doctor about shoe inserts — it may be just the correction you need.
The former first lady's iconic style is easy to recreate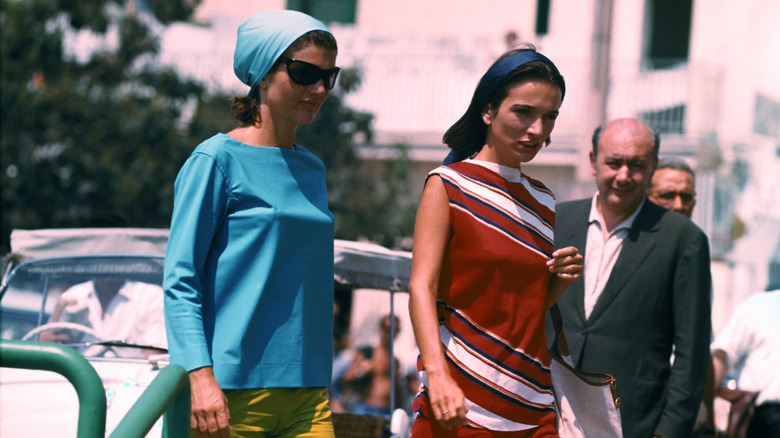 Bettmann/Getty Images
With the exception of her pillbox hats, much of Jackie Kennedy's style remains completely timeless. To recreate her effortless streetwear aesthetic, you just need a few basics. As creator Clare Sullivan shared on TikTok, pair a neutral bottom (wide-legged sand-colored trousers or white cigarette pants) with a black button-down top or a fitted black tee. 
Like Jackie O herself, drape a cardigan over your shoulders and tie it all together with some giant geometric sunglasses and a hair scarf. Of course, a string of pearls or gold-accented jewelry won't hurt either. The former first lady also liked to have a little fun with her style. Color-block with primaries, pairing yellow capri pants with a long-sleeved blue shirt to give off East Coast summer vibes. 
On more formal occasions, Jackie O was known for wearing skirt suits. Of these, her pink Chanel suit is perhaps the most famous. "It's crazy when clothes become symbols, and when you see something so recognizable and iconic. It tells a whole story, just the dress, itself. And then, of course, with the blood on it ... [it] has the sort of history of America in it," Natalie Portman pointed out to USA Today while promoting "Jackie" in 2016.