Y&R's Brytni Sarpy Loves What Karma Has Done For Elena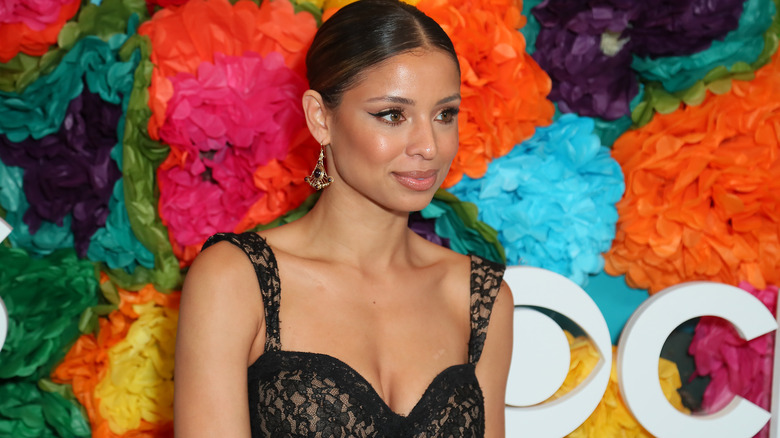 Leon Bennett/Getty Images
Brytni Sarpy has become quite a successful soap opera star and fan favorite ever since she got the part of Valerie Spencer, niece of the legendary Luke Spencer (Anthony Geary) on "General Hospital" in 2015. In 2019, she left "GH" to portray Elena Dawson on "The Young and the Restless," and has been going strong ever since. Devon Hamilton (Bryton James) and Nate Hasting's (Sean Dominic) feud was made only worse when Devon's girlfriend Elena cheated on him with Nate. Nate and Elena would subsequently enter into a relationship. However, recently Nate had an affair with Victoria Newman (Amelia Heinle), and it was the end for Nate and Elena.
Elena had followed Nate on a supposed business trip with Victoria, and confronted him. She even threw a glass of water at him, enraged by his betrayal after he admitted to sleeping with Victoria. Elena was also manipulated into having the troubled J.T. Hellstrom (Thad Luckinbill) on her podcast by the mysterious Audra Charles (Zuleyka Silver), who knew that J.T.'s appearance would make things difficult for Victoria. Elena was furious because Nate tried to convince her that she was being paranoid about him working so closely with his boss, Victoria. He claimed to still be the man she fell in love with, but after their altercation, Elena was finally done with Nate.
Sarpy recently spoke about the fallout between the two characters.
What goes around, comes around
"The Young and the Restless" star Brytni Sarpy talked with Soap Opera News about playing Elena Dawson. She doesn't consider the character a villain, but rather someone who's done some misdeeds, noting that a clear motivation is helpful to the audience. "I think that's always my point in these stories –- to discover the most human elements of my character's choices, because life is not black and white, it's multifaceted," she stated.
Regarding what went down between Elena, Devon, and now Nate, she pointed out the irony that the man Elena cheated with in turn cheated on her, saying, "In the first breakup with Devon, there was a lot of crying. And now with her breakup with Nate, there's an understanding that she's made it to the other end of her karma." Elena recently confided to Nick Newman (Joshua Morrow) about Nate's affair, and Sarpy remarked, "I appreciate in her scenes with Nick, that she doesn't feel sorry for herself this time around, and she can (almost) laugh about it, that really solidifies character growth." She continued by praising Morrow's acting and considers him a "legend" on the show.
Looking ahead for future story possibilities, Sarpy cited the fact that Elena's a doctor, so an addiction storyline would be well within the realm of possibility, explaining, "I think it could be a really interesting storyline to see more layers of her and see her make a very wrong decision and struggle through it."