Elizabeth Taylor's Death Sparked A Custody Battle Over One Of Her Furry Friends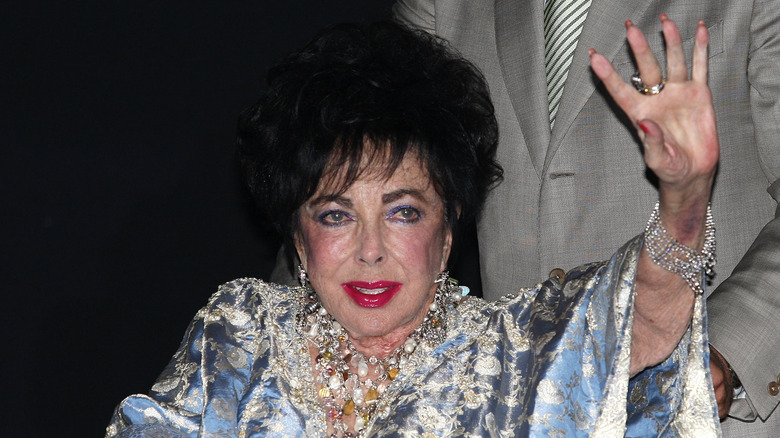 Frederick M. Brown/Getty Images
The glamor and pomp of 20th century Hollywood is unrivaled, and the entertainers immortalized. One of the most brilliant minds and voices to emerge from the sea of talent is Elizabeth Taylor. Very few people have ever attained Taylor's level of fame and wealth. After being cast as Cleopatra in 1963 and receiving a record $1 million salary, the dark-haired beauty became the highest-paid actress in Hollywood. However, Taylor wasn't just known widely for her extravagant purchases, multiple marriages, and massive collection of priceless jewels, but also for her love for her pets.
Taylor's affinity for dogs was no secret and she regularly kept herself surrounded by the furry cuties. Her family owned a famed, beloved golden retriever named Monty when she was born, so there's no question why she was incredibly attached to canines. Taylor was even gifted a descendant of Pal, the dog who co-starred alongside her in the 1943 film, "Lassie Come Home."
If it's one thing the actor didn't mess around with, it was her pooches, and she took on a custody battle during her divorce from Larry Fortensky to keep her dog. It wouldn't be the last time one of her furry friends would end up in a whirlwind custody battle.
There was a lot of dispute over who should get Daisy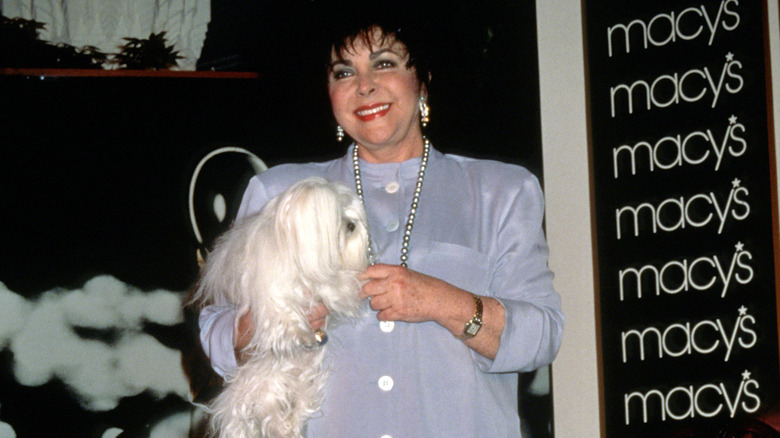 Images Press/Getty Images
According to the Daily Mail, when Elizabeth Taylor died in 2011 at age 79, she left behind her beloved animals, both of whom were Maltese pups named Delilah and Daisy. These puppies soon found themselves at the center of a heated custody battle between Taylor's son, Christopher Wilding, her former manager, Jason Winters, and even the breeder Taylor purchased the puppies from, Carole Blackburn-Harvey.
A year after Taylor passed away, her son took Daisy away to live with him. This didn't sit right with Winters who, according to celebrity news sources, complained to his friends that the late actor would've wanted him to take the pooch instead because of how much he loved and cared for it. 
Meanwhile, British resident Blackburn-Harvey wasn't thrilled with the fiasco and told Express that the dogs were ultimately hers at the end of the day and should be returned to her if there was too much disagreement about their custody arrangements. The breeder also lamented that the whereabouts of Daisy's sister were unknown. "I don't know where Delilah is. They were supposed to be kept together and looked after for the rest of their lives."
The whole brouhaha came and went pretty quickly, and it's unclear where Taylor's pets ended up today. Hopefully, they are still enjoying the lifestyle their famous human mommy intended for them.
Elizabeth was also heavily involved in other passions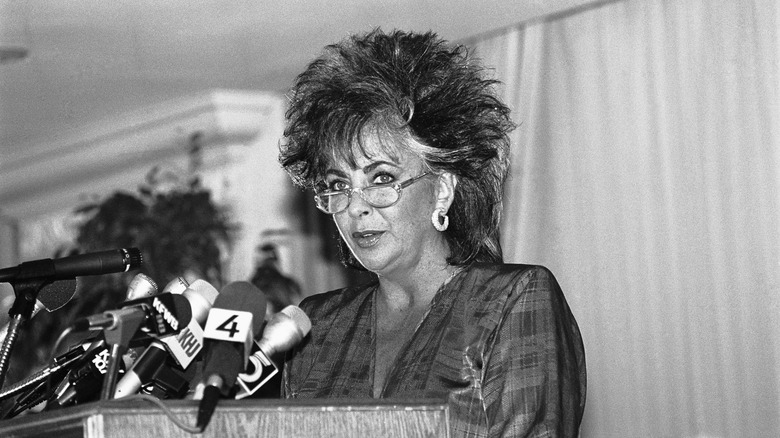 Bettmann/Getty Images
Elizabeth Taylor's love for her dogs transcended this world. She even almost missed receiving her title of Dame Commander of the Order of the British Empire from the Queen of England in 1999 because her dog, Sugar, wasn't allowed to attend the ceremony. 
While dogs and diamonds were certainly Elizabeth Taylor's best friends, the late actor made a name for herself outside of just acting in hit movies and walking adorable fur babies. The "Cleopatra" star was an avid crusader for people living with HIV/AIDS, which is very impressive when you consider how unpopular that kind of support was at the time. In an era where people who suffered from the disease were treated like outcasts and social pariahs, it was a huge feat to have a mega-star like Taylor in your corner. In 1985, the Academy Award-winning actor helped found the American Foundation for AIDS Research as well as the Elizabeth Taylor AIDS Foundation a few years later in 1991.