Kourtney Kardashian's Blink-182 Throwback In Pregnancy Announcement Is Peak Kravis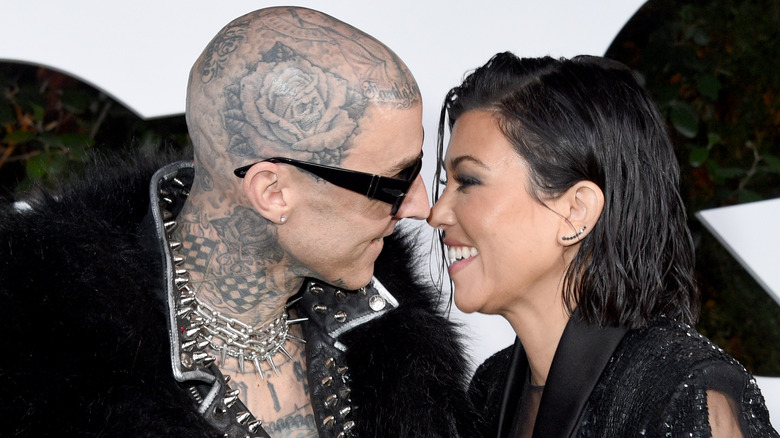 Gregg Deguire/Getty Images
It's common for special guests to make unexpected appearances at big concerts, but fans who came to see the June 16 Blink-182 concert in L.A. got a shock they won't soon forget. In the midst of the crowd was Kourtney Kardashian, whose romance with band drummer Travis Barker culminated in a romantic beach proposal, and not one, but three wedding ceremonies. (Kardashian and Barker's third wedding in Italy in May 2022 was the big family-and-friends affair following a practice run in Las Vegas and a legal courthouse binding in California.)
But "The Kardashians" star wasn't there merely as a cheering audience member. In the middle of a number, Kardashian held up a huge hand-lettered sign reading, "Travis I'm Pregnant." The show stopped on the spot as Barker came off-stage to hug his wife. 
It was a much-hoped-for piece of news. The popular reality star had previously revealed she and Barker were trying to have a baby together. Knowing her age made it unlikely she'd conceive spontaneously (she's now 44), Kardashian was under the care of a fertility specialist and preparing for an IVF procedure. The fertility drugs brought on depression and menopause symptoms severe enough to prompt her to stop. "We would love a baby more than anything, but I really believe in what God has in store with us," she said on camera (via USA Today). "If that's a baby, I believe that will happen." And happen, it did.
Blink-182 fans appreciated the in-joke
Kourtney Kardashian has transformed her look many times over the years, but she's undoubtedly thrilled to don maternity gear once again after many months of trying. Her unexpected announcement at her husband's concert was both heartwarming and appropriate. Blink-182 fans immediately recognized her sign as being a call-out to the band's video for "All the Small Things." As seen here on YouTube, the video features the group performing in front of a horde of shrieking fans, many of whom are holding up signs. At 2:29, a young woman is seen waving a poster board reading "Travis I'm Pregnant." (Kardashian posted the shot to her Instagram Stories, just in case there was any doubt.)
The expectant parents aren't the only ones thrilled by the news. Barker's daughter Alabama posted her own Story, using her handle photo as an image. "Kourtney is pregnant," she captioned, with emojis of a big-eyed smile and hearts. "lil bama on the way." In her second account, she added, "Baby #7." Big sis Kim Kardashian posted clips of the music video sign and Kourtney's homage, also with emojis indicating joy and love. 
This will be Kourtney's fourth child; she has two sons and a daughter by her ex, Scott Disick. Barker is dad to 19-year-old Landon and 17-year-old Alabama by Shanna Moakler and stepdad to Moakler's daughter Atiana. As of this writing, no details have yet been released about the due date or gender of the newest addition to the Kravis clan.