The Wardrobe Malfunction That Nearly Caused Mark Consuelos To Host Live! Alone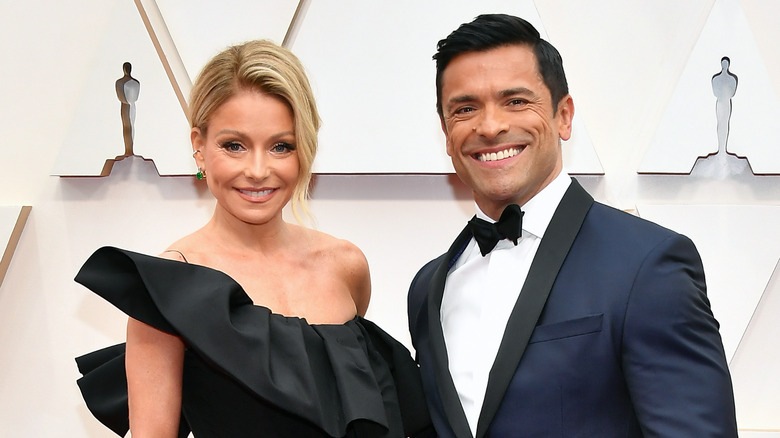 Amy Sussman/Getty Images
Due to the fast-paced environment of live television, anything can happen, and sometimes it's unavoidable to experience mishaps on TV. From technical glitches to slip-ups in speech and wardrobe malfunction, these moments not only provide entertainment but also teach valuable lessons about adaptability and resilience. Thankfully, what Kelly Ripa experienced on the set of "Live" with Mark Consuelos happened even before the cameras started rolling.
During an episode of the ABC morning show "Live with Kelly and Mark," Ripa found herself facing a wardrobe malfunction. Ripa has been doing the live broadcast since 2001 and the industry has seen her grow from soap opera darling to talk show royalty. She's now way more experienced to handle the unexpected challenge with poise.
After dealing with the wardrobe malfunction, Ripa swiftly addressed the issue with her trademark humor, telling husband and co-host Consuelos (per Page Six), "I had a small wardrobe emergency backstage! It was very exciting." She added, "I almost did not walk out here!" Consuelos was already thinking about starting the show without his wife, recalling he got "drunk with power," and had the ability to do as he pleased in Ripa's absence. And this wasn't the first time Ripa experienced an issue wearing the pink dress. In April 2023, she also had an issue involving the same dress during the latter portion of a "Live!" episode.
Ripa experienced a wardrobe malfunction with the same exact pink dress
The specifics of Kelly Ripa's "wardrobe emergency" on the May 2023 episode remains a mystery, however, Ripa encountered an issue while wearing the same pink Cefinn Daria Silk Blend Midi Dress a month prior. 
The first incident happened on the April 18 episode of the morning show, where Ripa was dancing with husband Mark Consuelos. The couple was learning how to jive with "Dancing With the Stars" Val Chmerkovskiy and Jenna Johnson. As they were having a good time dancing and following the steps from the dancing pros, Ripa felt like her dress ripped. After spinning, she said while holding the ribbon of her untied dress, "Did the entire back of my dress rip open?"
Showcasing her professionalism, she quipped, "Okay, fine. It's just a breakaway dress." Good thing her husband has her back and assisted her while she fixed her dress. This incident happened on the second day her husband was officially brought in as the show's host. She mentioned that hosting "Live!" with her husband was a dream come true, but her dream surely does not include experiencing fashion hiccups during the show.
A bittersweet farewell for Ripa
While Kelly Ripa was elated to have her husband Mark Consuelos as co-host for "Live!," she probably wasn't thrilled to bid goodbye to her long-time co-host. For the last six years, Ripa has been hosting the morning show with Ryan Seacrest. In an Instagram post, Seacrest announced his decision to leave "Live With Kelly and Ryan." Seacrest explained that he wanted to focus more on his other projects such as "American Idol," radio show KIIS-FM radio show "On Air with Ryan Seacrest," and "Dick Clark's New Year's Rockin' Eve." He also wanted to allot more time to his charity, called Ryan Seacrest Foundation Studios.
Just a few days after Seacrest's announcement, it was reported that he will be replaced by Ripa's husband Mark Consuelos. According to Daily Mail, ABC was optimistic that the glamorous married couple Ripa and Consuelos will bring in more viewers. Before officially replacing Seacrest, Consuelos had been called in as a guest host several times over the last few years. During his appearances, people have talked about the show more on Twitter. The last episode with Seacrest on the show was on April 14 and Consuelos officially replaced him on April 17.