Grayson Chrisley's True Feelings About Parents Todd And Julie's Prison Sentence Are Heartbreaking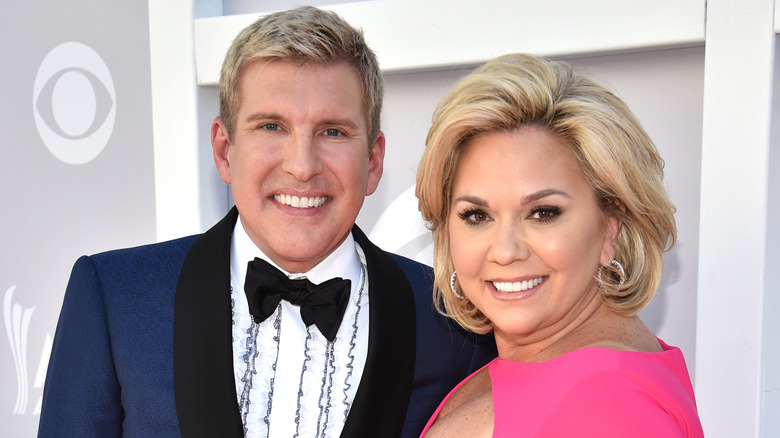 Kevin Mazur/acma2017/Getty Images
If you're not caught up on the Chrisley family drama, their youngest son, Grayson Chrisley, would seem like your average teenager. A high school student living in the suburbs of Nashville, Tennessee, his Instagram feed suggests he spends most of his time on the baseball field and at the gym. However, on the weekends, Grayson typically visits his parents, Todd and Julie Chrisley, in federal prison. 
While appearing on his sister, Savannah Chrisley's, podcast, "Unlocked," Grayson shared what this experience has been like for him thus far, and as one would expect, it's been far from easy. From what we gathered, he's been mourning the loss of normalcy. Grayson admitted that he had always expected to spend his teen years with his parents by his side. However, he's had to accept that this will never be possible. 
In a heartbreaking statement, he remarked, "To me, it's worse than them dying because they're here, but they're not here. So it's just time that is being wasted."
Why Grayson Chrisley's parents are in prison
Grayson Chrisley's life has always been a bit unconventional. His family's reality TV show, "Chrisley Knows Best," first aired on the USA Network in 2014 when he was just eight years old. For nine years, viewers tuned in weekly to catch up on the latest events from his family's glamorous and wealthy Southern lives. The lively bunch always had a consistent stream of entertaining day-to-day drama, but by Season 10, Grayson's parents walked into some drama too serious for the camera crew to continue filming.
In 2019, Todd and Julie Chrisley were criminally indicted on several charges. And, in November 2022, CNN reported that the reality stars had been given prison sentences for bank fraud, tax evasion, and conspiring to defraud the IRS. On January 17, 2023, Grayson's mom and dad were admitted to federal prison. Todd has been sentenced to a 12-year term of confinement at the Federal Prison Camp Pensacola, while Julie received a seven-year sentence at a separate federal facility in Lexington, Kentucky. 
Grayson Chrisley struggles to ignore criticism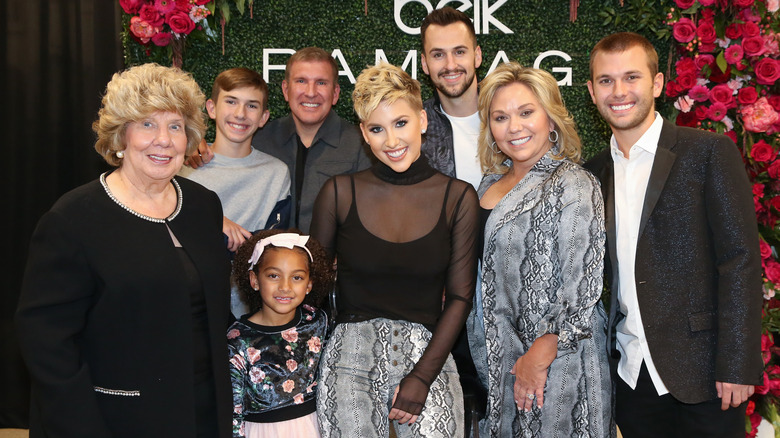 Terry Wyatt/Getty Images
Anyone would have difficulty adjusting to the harsh reality of their parents being in prison, and Grayson Chrisley is no exception. During a 2022 episode of their podcast "Chrisley Confessions," Todd and Julie Chrisley shared that Grayson is particularly sensitive to the world around him. According to Todd, Grayson "has the most tender heart." As a result, it's been difficult for him to deal with the criticism that came from his parents' criminal charges. 
Todd added, "It does hurt his feelings." Before being taken to prison, Todd reminded Grayson not to let other people's opinions affect his self-worth. And, in Episode 17 of her own podcast, "Unlocked," Savannah Chrisley confirmed that the negative publicity has unfortunately continued to bother Grayson. "He's trying to process my parents and the situation that they're in and how that's not the image that he wants to have of them," she said.