Everything We Know About Rihanna's Friendship With Britney Spears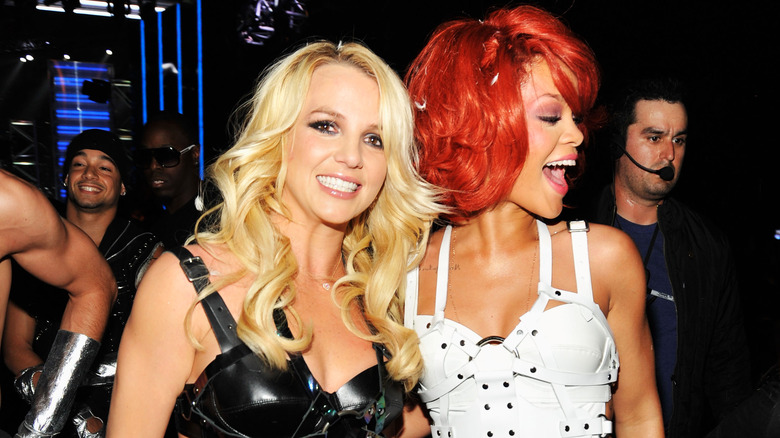 Kevin Mazur/ Getty Images
Creating unnecessary competition and drama between women is one of the oldest and most uninteresting tropes that the media loves to produce. The public obsesses over any morsel of Selena Gomez and Hailey Bieber drama and lights up at any chance to suspect Ariana Grande might have beef with one of Pete Davidson's new girlfriends. These are just two recent examples from an endless list of female celebrities whom the news has pitted against one another regardless of whether there was any justification for it. 
Despite this dubious encouragement, talented and successful women can co-exist and even lift one another up in friendship. Society has made some progress over the past decade in this respect, with celebrities today outright standing up against this narrative. But two ladies who have rejected feigned rivalries since the early aughts are Rihanna and Britney Spears. For decades, they have led the music industry as two of its most influential and talented women. And, to the tabloids' immense disappointment, their friendship is an inspiring example of solidarity and support.
When Rihanna and Britney Spears' friendship began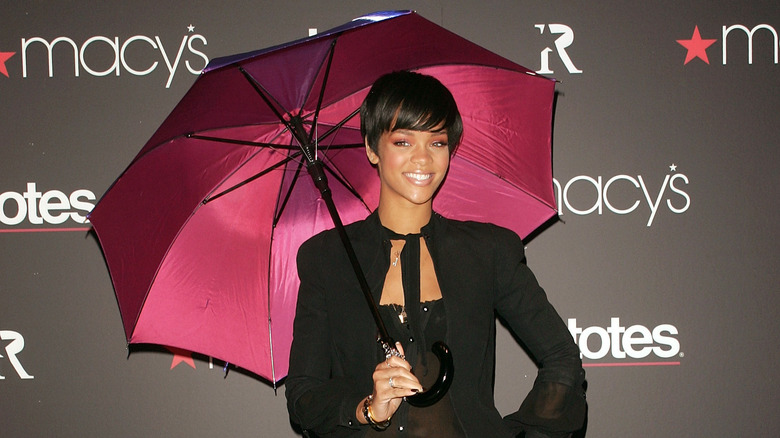 Jim Spellman/ Getty Images
Being seven years Rihanna's senior, Britney Spears got quite the jump start to her career in the entertainment industry. Like several other celebrities (Justin Timberlake, Ryan Gosling, and more), Spears began her journey to fame on the TV series "The All-New Mickey Mouse Club" at the young age of 11. By the time Rihanna dropped her first song, "Pon de Replay," in 2005, at just 17, Spears had already released several albums and was considered one of the most famous pop stars in the world. 
Once Rihanna hit the spotlight, the two women quickly collided in the world of A-listers.One of the first times that their paths crossed was with the creation of Rihanna's record-breaking song, "Umbrella." In an interview with MTV, producer Tricky Stewart revealed they had initially offered the song to Spears. But she didn't feel it was the right fit for her album and passed it along. As a result, it eventually found its way to Rihanna.
In 2011, Rihanna tweeted, "Who do you guys MOST wanna see me collaborate with on a song?" The answer from fans was a resounding "Britney Spears." That same year Rihanna and Spears released an "S&M" remix and performed together at the 2011 Billboard Music Awards. With Spears' help, the remix became Rihanna's 10th No.1 hit.
Rihanna and Britney Spears' ongoing support for each other
Following this epic and powerful partnership on the "S&M" remix, the two legendary pop stars have remained supportive friends. In an Instagram post from July 2020, Spears shared a video of herself dancing to "Never Ending" by Rihanna. In the caption, she praised her artistry: "Rihanna ...... your music makes me FEEL like I've never felt before !!!! "Never Ending" is my favorite song off of the ANTI album ..... I feel like I'm flying with this song ...... thank you!!!"
Their long-time connection grew even stronger when Rihanna announced her first pregnancy and Spears' conservatorship ended. An insider reportedly shared with Closer magazine (via The Mirror), "Britney's a big fan, so as soon as the news broke that Rihanna was expecting, she sent her a huge gift basket." Furthermore, the feelings of appreciation and admiration are mutual. The insider confirmed, "RiRi got in touch to thank her and they've been messaging since then. ... They're bonding all over again and are making plans to eventually get together."