Out Of Lip Balm? Try These 5 Natural Alternatives Instead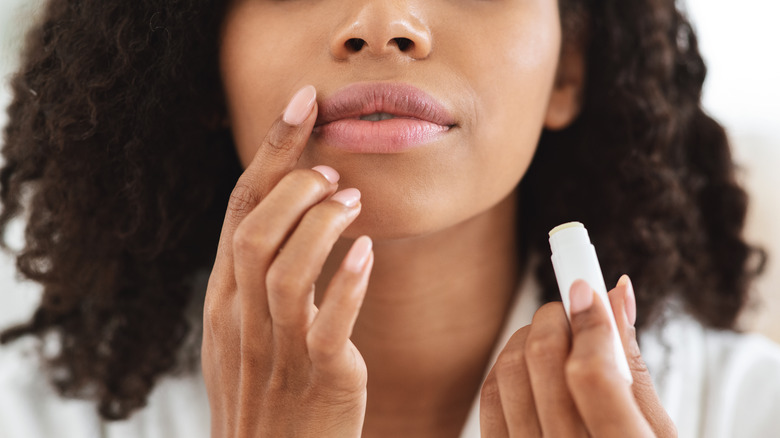 Prostock-studio/Shutterstock
If you're constantly digging around in your bag for a lip balm only to find that you've managed to lose your 10th tube, you'll be glad to hear that there is an alternative to buying lip balm after lip balm, and that's making your own. Though you may never have considered making your own lip balm, there's an even easier alternative — using essential oils. Cheaper than forking out on a new lip balm each time your latest one has rolled under your bed or gotten lost in the depths of your largest bag, essential oils can work just as well in terms of keeping your lips moisturized and soft.
Speaking to Byrdie, Adina Grigore, founder of Brooklyn-based natural skincare brand S.W. Basics revealed that essential oils can definitely have a soothing, chapped-lips-healing effect. "Pure essential oils contain dynamic components that work with your body and your body's chemistry for synergistic, healing results," Grigore shared.
So, what are some of the best essential oils for your lips to look out for?
These essential oils will both smell and do good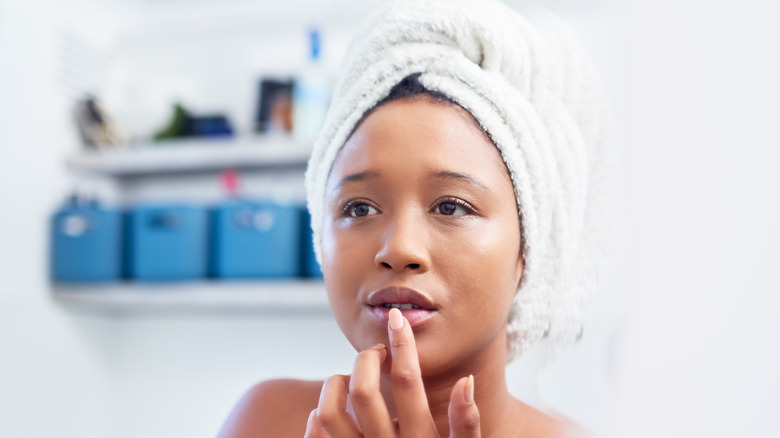 Hiraman/Getty Images
Before you jump in, don't make a common essential oils mistake by forgetting to dilute your oils before use. Always remember that all essential oils should be diluted, otherwise you could cause irritation to your skin. Mixing in a carrier oil like jojoba or coconut oil is an easy way to dilute your oil.
The first essential oil you can use on your lips is rose geranium oil. Grigore told Byrdie that this oil "aids in healing dry, aggravated, and cracked skin, which may also be the reason it's commonly found in lotions and lip balms." If your lips are especially dry during fall and winter, you might want to invest in some rose geranium oil.
Carrot seed oil is also great for your lips due to its naturally antifungal properties, which could help prevent yeast infections around your lips (note that for anything serious you should always consult a doctor). In addition to being antifungal, carrot seed oil contains antioxidant and anti-inflammatory properties that could rejuvenate your dry, chapped lips and leave them looking soft and plump.
Replace your lip balm with these oils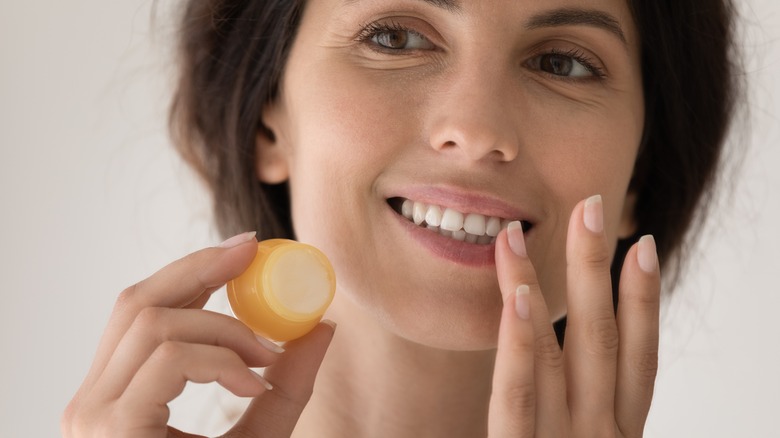 Fizkes/Shutterstock
A true do-it-all essential oil, camellia oil is anti-inflammatory, meaning it will reduce the rough texture on your lips and leave them feeling soothed. Much like carrot oil, it is also full of antioxidants. Plus, as dermatologist, Dr. Shari Sperling told Byrdie, camellia oil stimulates collagen production, leaving your lips not only feeling softer but also looking fuller. Lavender oil is another essential oil with a whole host of benefits. Confirmed to have an anti-inflammatory effect that's ideal for extra dry lips, its antioxidant and antimicrobial properties will leave your lips looking fresher than ever. A lot of lip balms contain lavender due to its calming scent as well as the above benefits.
Almonds have a high amount of healthy fats, so it makes sense that sweet almond oil would offer a lot of the same benefits. Despite this, almond oil is lightweight enough to not feel greasy on your lips. Not only does this oil have vitamin E, which will keep your lips moisturized, but sweet almond oil also acts as a barrier against UV rays and other damaging properties once on your lips.
The above oils will leave your lips feeling softer than ever — just remember to dilute your chosen essential oils before use.