Why Madonna's Daughter Lourdes Leon Believes She's Cursed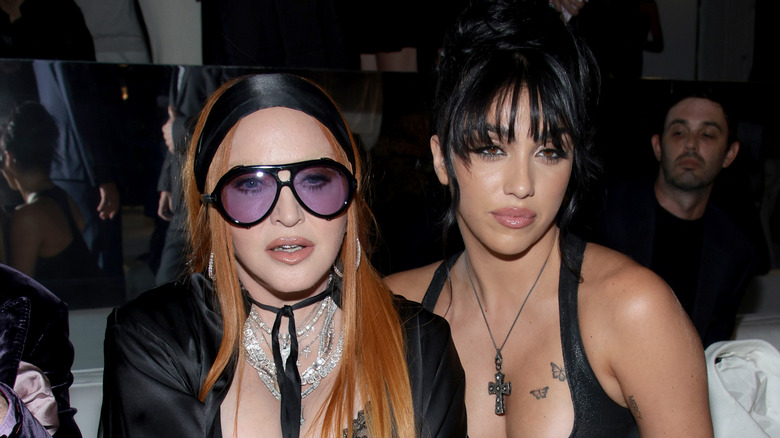 Dimitrios Kambouris/Getty Images
Madonna's daughter Lourdes Leon has spent the past few years following in her mother's footsteps, though she has found a way to make her unique lane. The 26-year-old is currently a fashion connoisseur, walking in the Gypsy Sport fashion show during 2018's New York Fashion Week. Since then, Leon has worked with Marc Jacobs, Rihanna's Fenty x Fenty, Vogue, and more. However, it isn't just the runway that has her attention. Leon is also a musician, performing under the name Lolahol. With so much talent and opportunity coming her way, Leon somehow believes an aura of misfortune is hovering over her.
Coming from a mother who has been praised for embracing her fluid sexuality, Leon says her own dating and sexual preferences are nothing more than a nuisance. As a hetero-identifying woman who only dates men, Leon says that poses a serious issue for her, even believing her love for the fellas is a curse.
Lourdes Leon believes men are a distraction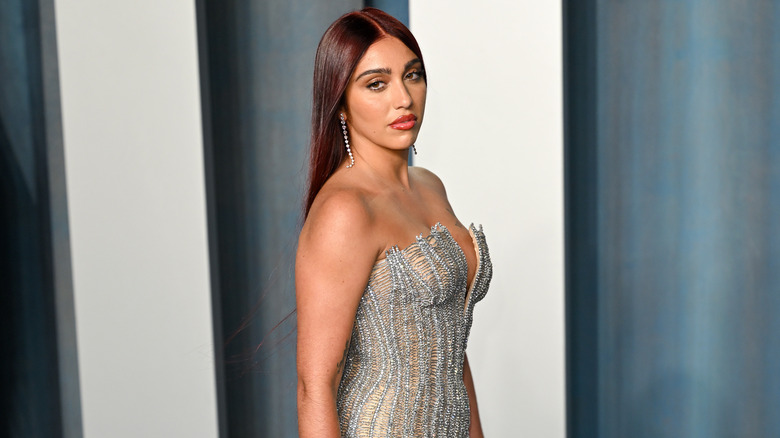 Karwai Tang/Getty Images
Working as a performer and designer, model Lourdes Leon knows the importance of remaining focused. However, she has admitted that males have held her attention incorrectly in the past. The influencer sat down with The Face, where she dished on what it really means to be cursed for liking men during a chat with her friend and interviewer, Eartheater. When the fellow musician asked Leon what her biggest sin was, she replied that it was her love for guys.
"It's such a curse. If you can avoid it, men or boys in general, I would because what a distraction," Leon admitted. "I would definitely say just, like, avoid boys at all costs if you want to be focused on something."
Back in 2014, Leon had good reason to distance herself from boys. She and former boyfriend, Timothée Chalamet, made headlines after a messy breakup. The young couple split after he was allegedly caught kissing another girl. In 2021, she told Entertainment Tonight that despite their romance going south, she still respected the actor.
Lourdes Leon wishes she could break the curse by liking the same sex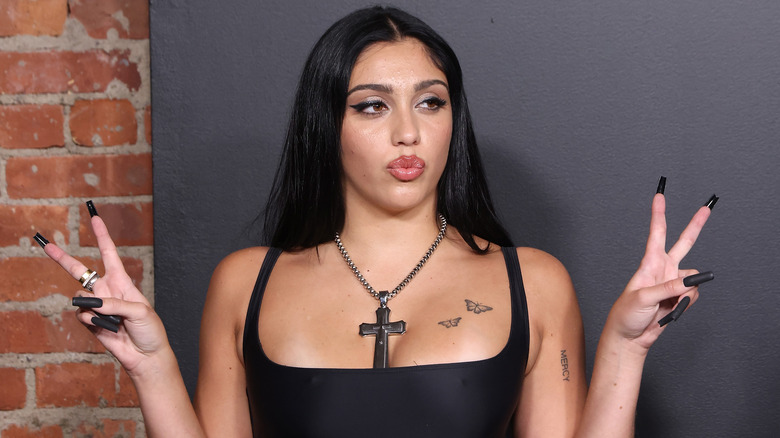 Taylor Hill/Getty Images
Madonna's eldest daughter may feel that she is cursed, but she only sees one way to remove herself from it. During her chat with Eartheater for The Face, Lourdes Leon admitted that she wished she was attracted to women the same way she is drawn to men. When her pal asked Leon if she'd consider talking to women since guys seemed to bring drama to her life, the transparent entertainer confessed that there was no chance for lady love.
"I don't like girls. I'm painfully straight. It's terrible. I wish it wasn't so, but unfortunately, these are the cards I've been dealt. I am cursed, plagued with liking these men," Leon confessed.
Males may be a sore spot for Leon, but she still managed to find love in 2017 with skateboarder and photographer Jonathan Puglia. However, it's unknown if the two are still together, considering Leon's comments about men in her The Face interview, and the fact that she keeps much of her personal life private. Her social media does not sport any remnants of the relationship, so fans are only left to speculate whether Puglia is partly to blame for Leon's "curse."