Lisa Rinna First Coined Her Signature Hairstyle In The Aftermath Of A Breakup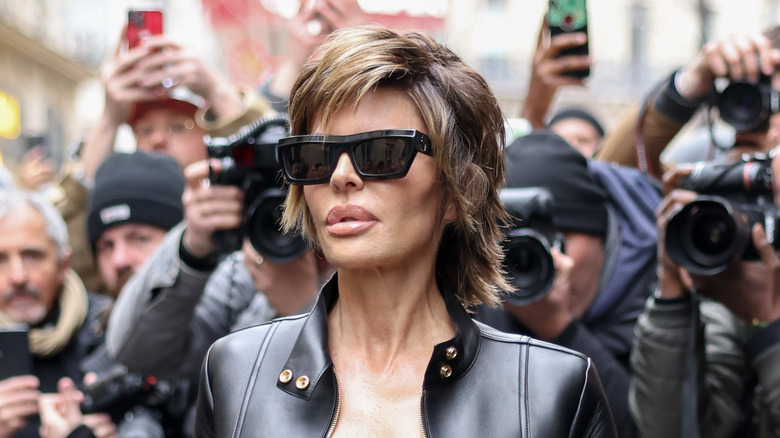 Arnold Jerocki/Getty Images
Many people try to reinvent themselves after a breakup to build their confidence or garner a new sense of independence. "Real Housewives of Beverly Hills" icon Lisa Rinna is no different. In a May 2023 interview with ES Magazine, she described how her now-signature pixie cut was the direct result of a breakup — and of seeing a classmate at an opportune time.
"I was taking an acting class, and I had just broken up with a boyfriend," Rinna told ES. "Someone sitting next to me had just cut their hair off, and I thought: 'Oh my God, that's the coolest thing I've ever seen.' I asked who cut her hair, and she came to my apartment. It was just one of those moments after a breakup where you change your look, and I guess I never really went back. It just worked."
There are a lot of fabulous long pixie cut hairstyles you can try to upgrade your look if you want to follow in Rinna's footsteps. However, Rinna has been trying to branch out with new hairstyles, too.
Rinna isn't afraid to try out new looks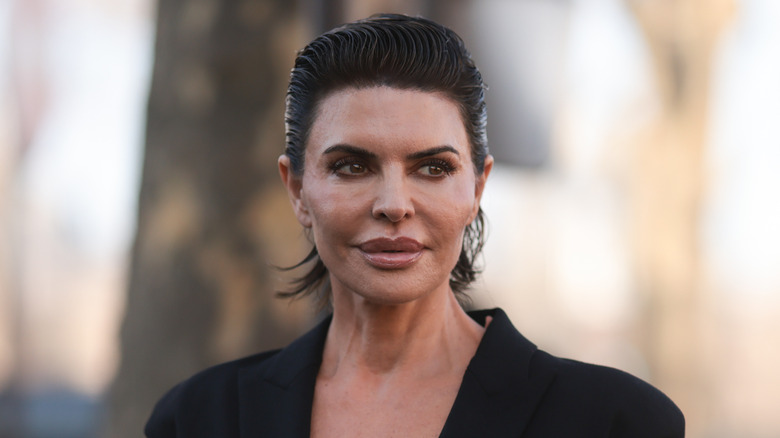 Jeremy Moeller/Getty Images
On a "Watch What Happens Live with Andy Cohen" aftershow from 2019, Lisa Rinna said she was working with hair stylist Sally Hershberger to grow her hair out. She said, "I am on a path to evolving the hair, but we are having to talk Harry Hamlin into it." Hamlin is Rinna's husband, and the duo have been married since 1997. Rinna explained to "Watch What Happens Live" host Andy Cohen that Hamlin loves her short hair, and when Cohen joked that in older photos of the couple, their hair is the exact same, Rinna quipped, "Well, guess what? Narcissists are attracted to each other!" with a boisterous laugh.
A few days after the interview was shared, Hershberger spoke to Page Six about Rinna's hair journey and how she encouraged her to try and grow it out after seeing Rinna in a long wig. Rinna likes to wear wigs to try new hairstyles, and she says the wigs give her confidence. She told People in 2022 that wigs are a way to play new characters after being away from acting for a while and express herself in different ways.
Not every wig or hairstyle Rinna tries is a winner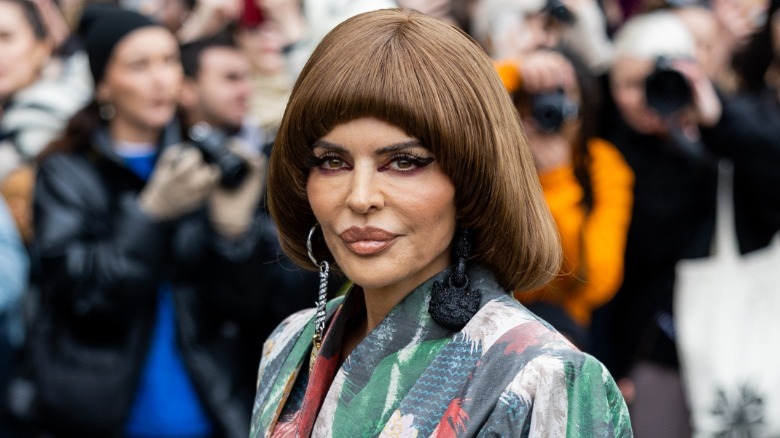 Christian Vierig/Getty
When famous people take bold fashion risks, there is always the danger of becoming a meme. Lisa Rinna is no stranger to being the butt of internet jokes — for example, a drawing of her M&M self from a 2008 Oscars ad resurfaced in 2022 and sparked a series of unhinged memes and TikToks. In March 2023, one of her new hairstyles — or what seems to be a wig — set off a new meme. For a Vivienne Westwood fashion show in Paris, Rinna's hair was styled in a rather large bowl cut. Pop culture references immediately came flying.
In the comments of Rinna's Instagram post about the event, people compared the bowl cut to Willy Wonka, Lord Farquaad from "Shrek," and Will Byers from "Stranger Things," among others. The Queens of Bravo Twitter account hopped on the joke too — they shared side-by-side photos of Rinna and actor Noah Schnapp as Byers with the caption, "BREAKING: Lisa Rinna has taken over the role as Will Byers for the final season of Stranger Things! Congrats!"
Despite the memes and jokes about this particular look, Rinna is incredibly stylish. You can shop for some of Rinna's looks from "Real Housewives of Beverly Hills" with help from Worn On TV.