The Strangest Gifts King Charles And Queen Camilla Have Received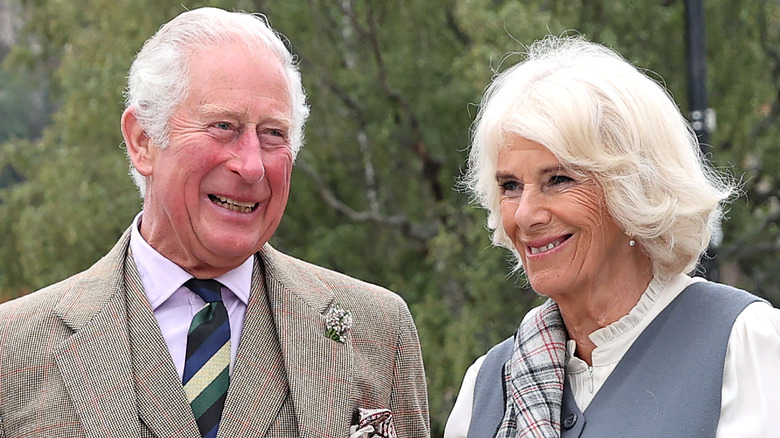 Chris Jackson/Getty Images
Being a member of the British royal family means many things. You get to live in palaces, visit multiple countries around the globe, and you also get showered with gifts from public admirers and other monarchs alike. King Charles III and Camilla, Queen Consort, get presented with things all the time ... but it isn't always lavish diamonds and expensive wine. There have been some truly bizarre exchanges in the past that would make anyone scratch their heads and wonder, is this really what you give the couple that has everything? After all, with multiple palaces, a bulging bank balance, and a vault full of expensive jewels already in their possession, the king and queen of England aren't exactly easy to buy for.
The scope of royal gifts is so odd and bizarre that it's nigh on impossible to include everything in one article. After all, Charles has been royal for his entire lifespan of 74 years, while Camilla has been by his side since the 90s. There's almost nothing this high-profile couple hasn't been gifted, from herbs and spices to toy camels, dog toys, and beyond. Thankfully, the palace does give us a little glimpse into what the royals receive by publishing a list each year, which gives us an almighty insight into just how crowded Charles and Camilla's garages must really be! Spoiler alert: they will never be short of olive oil ...
Hot Nuts
Max Mumby/indigo/Getty Images
King Charles III has a complicated relationship with the media that stems back decades. When he faced his most difficult time during his divorce from Princess Diana, he was mercilessly hounded by the press. However, Charles, like the rest of the monarchy, knows that allowing the press in every now and then is beneficial. In 2018, just prior to his 70th birthday, Charles and Camilla attended a party at Spencer House in London that celebrated 70 inspirational people. Reporters came prepared, presenting the future king with a helium balloon marked with "70" and, interestingly, something called Hot Nuts, a spray that stops squirrels from eating nuts from bird tables.
According to the Mirror, Charles' eldest son, Prince William, told reporters previously that Charles liked to feed the squirrels at his Scottish estate. Charles, who has been known to be rather rude to the press at times, seemed to love this small gesture and was incredibly tickled by the whole thing, asking them while laughing, "Where do you find these terrible things?" Perhaps somewhat encouraged by this sweet gift, Charles was inclined to stop and answer their questions, making a few comments on turning 70. Among other things, he said, "Many happy returns are not quite the same as you get older." When asked by reporters what she had bought her beau for his special day, Camilla declined to comment ... maybe it couldn't measure up to Hot Nuts!
12 baskets of pomegranates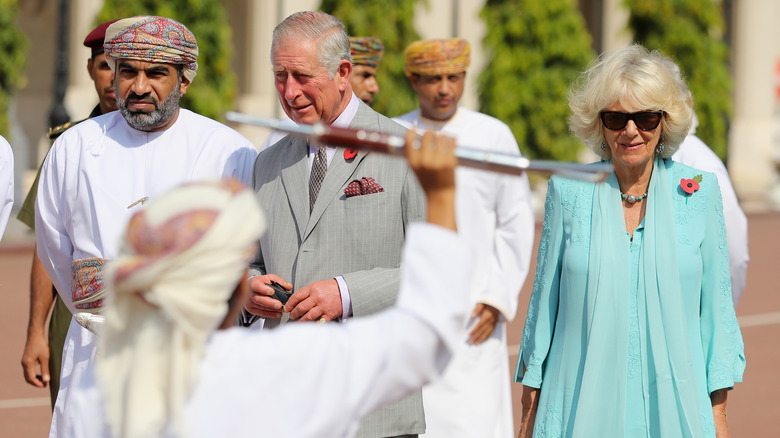 Chris Jackson/Getty Images
How does one member of royalty pay respect to another member of royalty? It really varies from country to country. In 2016, King Charles III and Camilla, Queen Consort, visited Oman, where they were gifted with something far more delicious than the usual bumf: not one, not two, but 12 delicious baskets of pomegranates. Diamonds may be a girl's best friend, but you can't bite into one! The generous gift giver was HM Qaboos bin Said al Said, Sultan of Oman. This wasn't the only gift the couple got from the region, either.
As it turns out, the people of Oman were more than welcoming, with one individual presenting them with a sword as well. These gestures represent the good relationship Britain has had with Oman for years. Back in 1982, the sultan visited Charles' mother, Queen Elizabeth II, where he was posed for a picture alongside Elizabeth and her husband, Prince Philip. This visit was likely to return the favor of the queen's State visit to Oman a few years prior in 1972. Elizabeth would venture to the area again in 2010, where she attended horse racing events and paid her respects to the sultan. While Qaboos bin Said died a few years ago, the new Sultan, Haitham bin Tarik, sent a delegateto the coronation of Charles and Camilla in 2023. He likely brought a special gift for them as well, but this hasn't been made public yet.
A Boris Johnson dog toy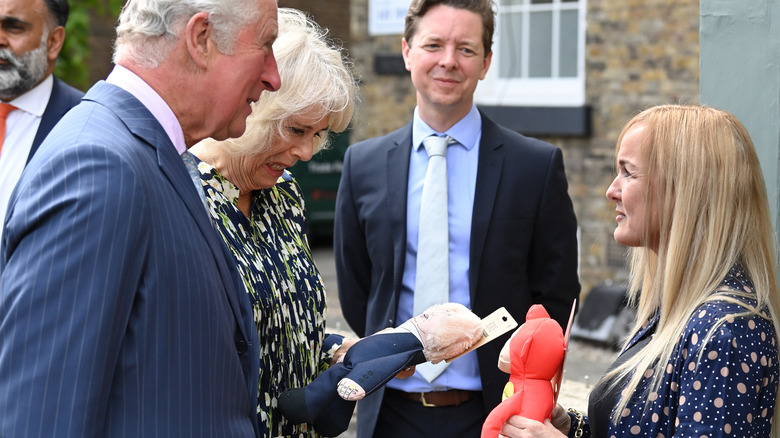 Karwai Tang/Getty Images
It's a common misconception that the British monarchy has any hand in choosing a new prime minister. While it's true that the sovereign used to have the power to dismiss a prime minister and pick a new one, that's not the case anymore. It's all down to political parties to decide, although it is tradition to have the monarch formally ask the prime minister to form a government, something Queen Elizabeth II did with former PM Boris Johnson in 2019. Neither the monarch nor Johnson knew that he was about to lead England through a global pandemic. Johnson became a polarizing figure over the next couple of years, eventually choosing to resign in 2022 amid allegations he broke his own lockdown rules by throwing parties at his Downing Street residence.
Suffice to say, when thinking of a gift to give royalty, not many people would opt to hand over a Boris Johnson dog toy ... but that's exactly what happened one fine day in Clapham, London. While out and about visiting local stores, a member of the public handed Camilla the pet toy shaped to look like the former prime minister. Clearly taken aback by it, Camilla appeared to recoil at the sight of it but continued to hold it as she walked down the high street. Monarchs keep their lips tightly shut when it comes to government affairs, never supporting one party or one figure over another lest they seem biased. We'll never know what Camilla really thought of the funny token, but it's fun to guess!
Sexy underwear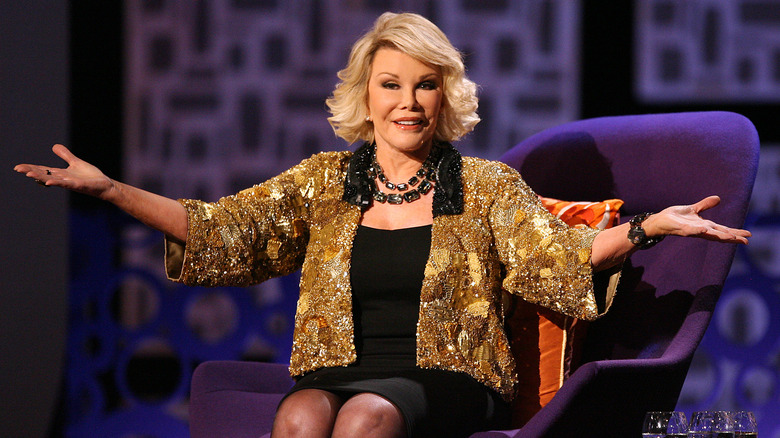 Jason Laveris/Getty Images
Although they originally met and fell in love in the seventies, the stars wouldn't align for King Charles III and Camilla, Queen Consort for decades. While they famously reconnected during Charles' marriage to Princess Diana, they wouldn't tie the knot until 2005, some three decades after they were first involved romantically. The second marriage of a future king was all but unheard of, so the public had mixed feelings about it. It wasn't a wild and over-the-top affair like Charles' first wedding was, but a demure event at Windsor Castle (that still included 800 guests!) Charles reportedly put a total ban on gifts after receiving over 6,000 items from well-wishers for his 1981 nuptials that ended up being given away or burnt.
However, while most guests respected the no-gift rule, comedian Joan Rivers just couldn't help herself. Rivers sent something to Camilla that most people would never consider sending to a future monarch: sexy underwear. Apparently, Camilla wasn't mad about it, Rivers explained (via the Mirror): "She thought it was hilarious and said, 'Well send the things' ... She's a very earthy, funny woman – you can swear in front of her. The people of Britain are going to love her once they really get to know her." It's likely that the couple received one or two cheeky gifts from close friends and family, but we'll likely never know what they were given Charles' appreciation for privacy.
A paper crown from Burger King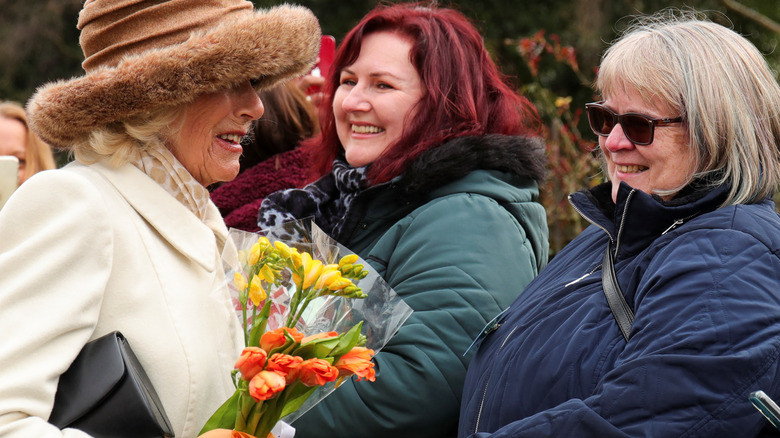 Wpa Pool/Getty Images
The Crown jewels are so priceless thanks to their historic meaning that it's impossible to put a true value on them, although experts have tried, coming up with figures in the billions. The British royal family doesn't just have one crown to choose from, but multiple crowns, although in 2023 Camilla added one more to her collection. It wasn't stacked high with diamonds and precious gems, but made out of cardboard and made by none other than Burger King. The interesting gift was presented to the queen consort while she made her way down Colchester High Street greeting members of the public. One of the younger members of the crown graciously handed over the fast-food freebie ... thankfully, Camilla took it in good jest.
In a clip seen on TikTok, Camilla takes the crown from the well-wisher and says (via Yahoo!): "Oh, lovely – that's very nice ... from Burger King. Well, thank you very much." Needless to say, the paper headpiece will likely never grace Camilla's royal head, but at least it goes to show that Camilla can take a joke just as well as the next member of the House of Windsor. As for the TikTok video, it was viewed over half a million times, with one user commenting, "Charles is now canonically the Burger King." While it may not be the greatest present that Camilla has ever received, it gave enough to the internet to make the entire situation worthwhile.
Two bags of paprika and a ceramic model of a boot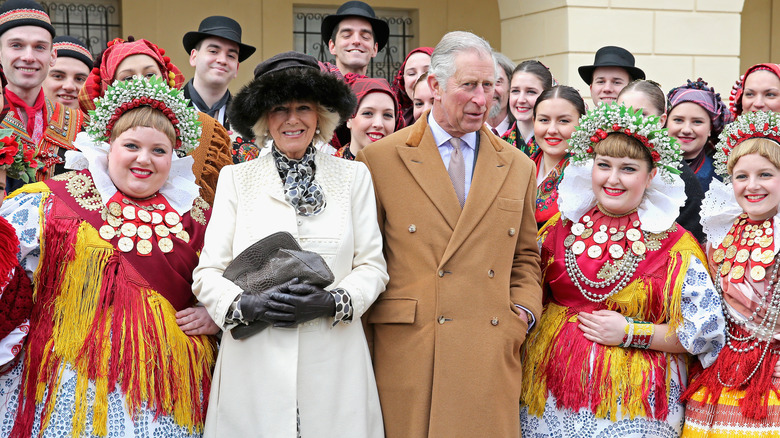 Chris Jackson/Getty Images
Going on royal tours is something that King Charles III has been doing his entire life. The former prince of Wales has been everywhere, from Canada to Malta and beyond. He's even embarked on more than 20 official tours of the US while his mother, the late Queen Elizabeth II, only completed five. With that in mind, it's not a stretch to assume that Charles has received many, many tokens from foreign heads of state and members of the public over the years ... so what do you give to the royals that have everything? Two bags of paprika and a ceramic model of a boot, according to the public of Croatia, Serbia, Montenegro, and Kosovo.
Exactly why they were given paprika and a boot figurine is unknown, but according to past royal chef Darren McGrady, the king does love his food. McGrady explained to Delish: "I cooked lamb a lot at Buckingham Palace. Prince Charles ... he was a foodie, into organic farming before it was even invented. He loves wild mushrooms and would take his chefs to Balmoral to show them where the best mushrooms are." Given that Charles and Camilla have the best chefs in the world at their disposal, the paprika certainly wouldn't have gone to waste. As for the ceramic boot, perhaps it could have been repurposed into a salt shaker?
Four soft toy pretzels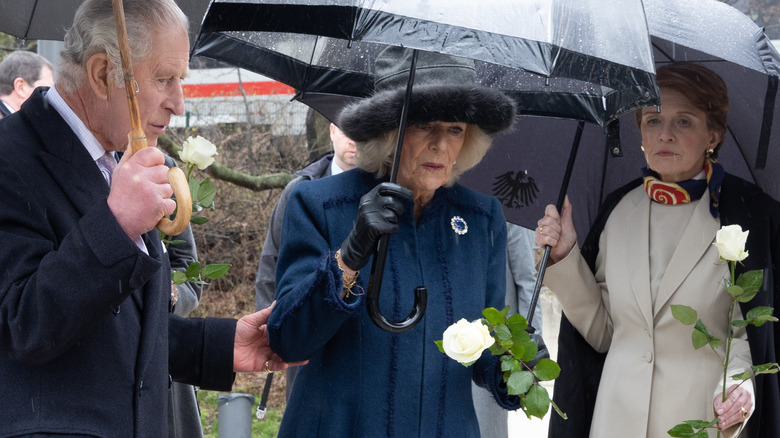 Samir Hussein - Pool/Getty Images
When a new baby arrives, it's common to mark the occasion by presenting them with something sweet and cute, like a babygro or a rattle. It's usually only friends and family that feel the need to buy gifts, but when a royal baby is born, the public can't wait to shower the new tot with tokens. It becomes just as much a public blessing as it is a private blessing. In 2019, King Charles III and Camilla, Queen Consort had just welcomed another grandchild, Prince Harry and Meghan, Duchess of Sussex's son, Archie, Prince of Sussex. During their travels to Germany shortly after the birth, Charles and Camilla were given what every grandparent needs ... four soft toy pretzels. Alongside this, they also gratefully received teddies and a selection of clothes for the latest addition to the Windsor lineage.
While a pretzel toy may seem like a strange choice to some people, it has a special meaning that goes beyond "delicious". Pretzels have been popular in Germany for centuries, stemming right back to the Middle Ages. These twisty morsels of pastry goodness are also said to represent good luck, which may be why a well-wisher thought it was the ideal baby gift. Whether or not Prince Archie ever received the gift, we'll never know. After all, the royals can't use everything that they're given, no matter how well-meaning the sentiment behind it might be.
A pair of swimming trunks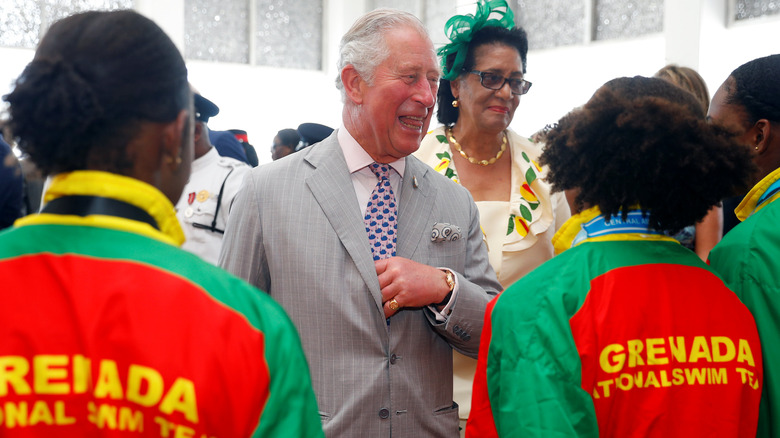 Wpa Pool/Getty Images
Even the king of England has to take a dip every now and then, and what better place to do it than Saint Vincent and the Grenadines? During his travels to the area in 2019, King Charles III was gifted a new pair of swimming trunks should he want to bask in the cool waters. Interestingly, he was also given a tie on the same trip, presumably just in case he wanted to go for a formal swim at any point. This lighthearted gift may have given Charles food for thought – after all, with a schedule as hectic as his was even before he became king, he could likely do with a break.
Charles and Camilla, Queen Consort, also did a royal tour of New Zealand in the same year, where they received further gifts including a set of eight wooden eggs. Interestingly, Charles' late mother, Queen Elizabeth II, also had an eggy encounter during her 1986 trip to Ellerslie Racecourse in Auckland ... but it wasn't anywhere near as positive. Elizabeth and Prince Philip were happily waving to schoolchildren from an open-top car when protestors dressed as crowd control staff threw eggs at them. Apparently, they were less than pleased with a treaty England had signed back in 1840, hence the unsavory encounter. The queen handled the situation with her trademark poise, while the two perpetrators were charged with assault and disorderly behavior. Unfortunately, it wasn't a very funny yolk ...
12 bottles of olive oil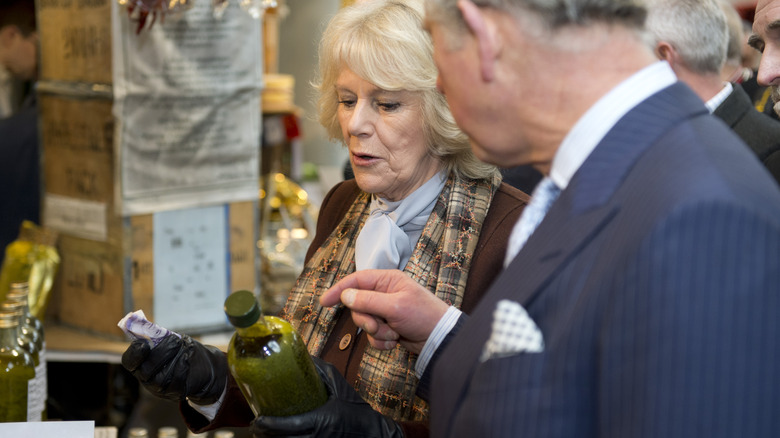 Wpa Pool/Getty Images
One can never have too much olive oil in one's royal kitchen, one supposes. Jordan's Princess Alia bint Al Hussein seemingly lives by this philosophy as she gave Prince Charles 12 bottles of the stuff back in 2014. To the average Joe, it may seem like an odd choice of condiment to hand over in such bulk, but olive oil is treasured in many middle eastern and Mediterranean countries, including Jordan. In fact, there are around 11 million olive trees in the country, making it somewhat of an olive oil mecca. Hopefully, Charles took the meaningful gift back to the cooks at Buckingham Palace so they could prepare a dish fit for a king, although, it's not just used for eating.
When Charles was officially crowned in 2023, he was anointed with holy oil called chrism, which was made of pressed olives harvested from a mountain ridge close to Jerusalem's Old City. The olive oil was then mixed with multiple other fragrant concoctions, such as cinnamon, amber, rose, jasmine, and orange blossom. This special mix was blessed by the Patriarch of Jerusalem, His Beatitude Patriarch Theophilos III, and the Anglican Archbishop in Jerusalem, The Most Reverend Hosam Naoum. This type of olive oil may be one of the most sacred types on the planet, but it certainly doesn't overshadow the oil Charles received from Jordan. After all, it may be holy, but you can't sprinkle it on a salad!
Two pairs of Bedouin socks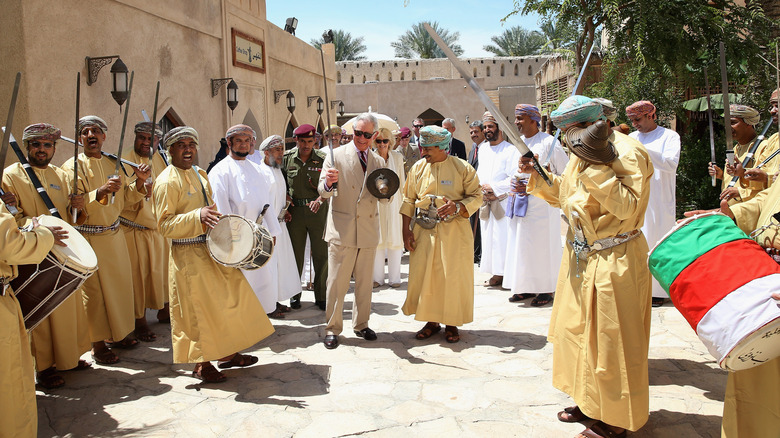 Chris Jackson/Getty Images
When buying gifts, there's one thing that usually goes down a treat without fail: socks. Socks are such a popular present that a 2022 survey showed that 80% of people asked would be happy to receive them for Christmas, according to Statista. King Charles III and Camilla, Queen Consort, likely have all of their sock-buying needs taken care of by assistants and personal shoppers, but that doesn't mean they're averse to the odd feet-warming gift. Even royal feet get cold sometimes. The pair were given two pairs of Bedouin socks by an unnamed Omani in 2017, but these aren't just any regular socks that you can pick up at Harrods.
Bedouin socks are actually designed to be worn in the desert as a type of shoe. Made from goat or camel hair and incredibly thick, this type of footwear is traditionally worn to protect the wearer's feet from all sorts of nasties, from thorns to snakes and scorpions. The king and queen probably don't have a need for them as it's highly unlikely they'll ever find themselves shoeless in a remote sandy plain. However, this gift goes to show just how important it is for other cultures to give a gift that's reminiscent of their way of life as a token of respect. It does beg the question, what do Charles and Camilla give to other states? Baskets of tea and scones?
Multiple horses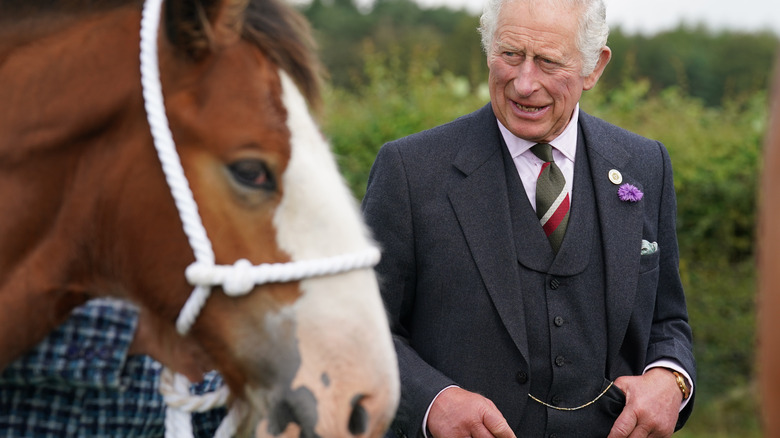 Wpa Pool/Getty Images
It's no secret that, like many other high-society families in Britain, the royals love horses. Princess Anne is a keen equestrian that once competed in the Olympics, and the same can be said for her daughter, Zara Tindall. King Charles III also has a passion for the sport, having competed in charity races in the eighties and being an avid racegoer himself. The monarch also owns horses, with one of them, Steal a March, winning a jump race on Boxing Day in 2022 and scooping a prize of £13,000. That isn't exactly chump change, but it's not the most that Charles has gained from a horse, either.
According to a report in The Guardian, both Charles and Queen Elizabeth II made a tidy sum by selling off around 29 horses over the last decade that they were given by several other prominent figures, including Saudi royalty. Charles also received another mare as a coronation gift which was presented to him by the Royal Canadian Mounted Police. The black beauty, called Noble, was given to the king with all the pomp and circumstance you might expect, including a royal salute by four Mounties who specially traveled to England for the occasion. Noble didn't rest in the stables but got straight to work and replaced an older horse. The new addition even took part in the coronation procession.
Parts of Jesus' real cross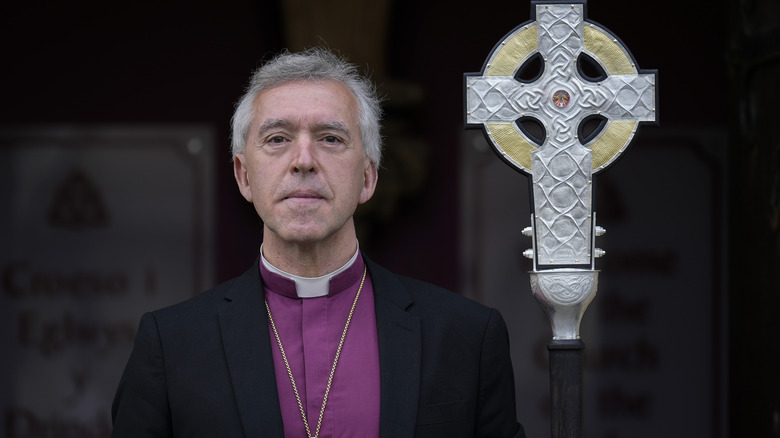 Christopher Furlong/Getty Images
There are many things that can be dreamt up when thinking of gifts to hand over to a new monarch, from a traditional bunch of flowers to a diamond brooch. When you're an important figure such as Pope Francis, you can't simply send an assistant out to the local department store and hope for the best, or put an order in with Cartier. It has to be an important, special gift that people will remember, and more importantly, think is significant. The pope came up with the perfect solution, ensuring no one else would have got the same thing for the coronation: pieces of the original cross that Jesus was supposedly crucified on.
Known as the "True Cross", these shards of wood were made into a new cross that was used during the coronation. The Holy See press office confirmed the gift in a statement that read (via CBS): "I can confirm that the fragments of the relic of the True Cross were donated by the Holy See in early April, through the Apostolic Nunciature, to His Majesty King Charles III, Supreme Governor of the Church of England, as an ecumenical gesture on the occasion of the centenary of the Anglican Church in Wales." After use in the ceremony, the cross returned to the church in Wales where it will be kept permanently. As far as royal gifts go, Pope Francis might have just taken the top prize for originality.