Halle Bailey's Little Mermaid Hair Cost A Staggering Amount Of Money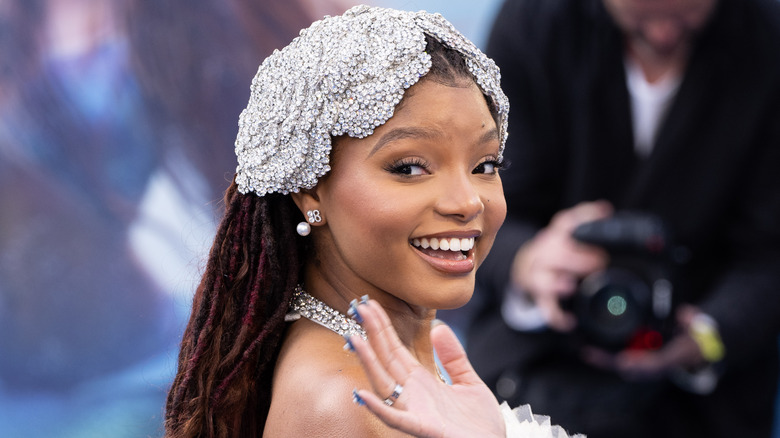 Jeff Spicer/Getty Images
A typical Hollywood blockbuster calls for millions of dollars in budget money and a lot of this dough goes to the costume design and makeup to make the visuals appealing, particularly for a fantasy movie. With Disney remaking their most iconic animated movies into live-action versions, they have the task of keeping the legendary parts of the movies while adding some modern flair and special effects which usually don't come cheap.
The remake of "The Little Mermaid" came highly anticipated, especially when "Grown-ish" star and musician Halle Bailey was cast as our favorite red-headed mermaid, Ariel. We couldn't be happier to see Halle portray the feisty, determined, half-fish teen with a hypnotizing voice; however, some of us couldn't help but wonder how the costume designers would pull off Ariel's signature red mane on Bailey's full head of locs.
Because Bailey's hair had to resemble the original Ariel's in color and mobility underwater, the hair department had to make some adjustments to hers. While these modifications ended up looking stunning on screen, they definitely cost Disney a pretty penny to undertake and Bailey's on-set hair stylist is telling it all.
Halle's mermaid-esque hair cost $150,000 throughout production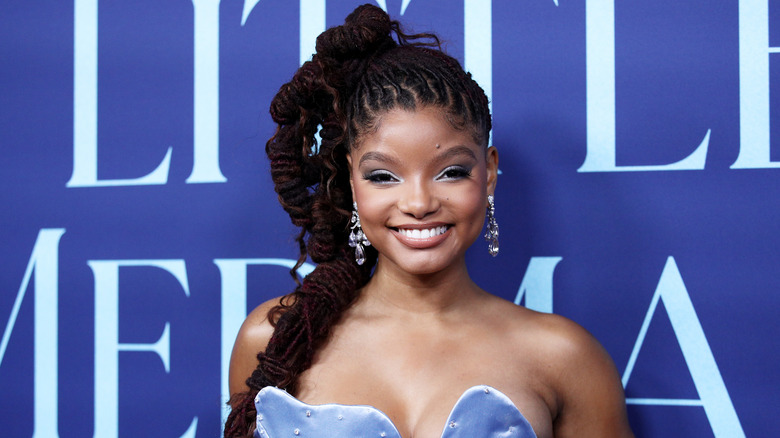 Don Arnold/Getty Images
"The Little Mermaid" remake made global headlines when Halle Bailey, one half of the sister musical duo, Chloe x Halle was picked for the role. While plenty of the talk surrounding this casting decision centered on Bailey's being Black, other people were wondering how Ariel's red hair would come into play with the actor's dreadlocks. Well, if there's one thing Disney will do, it's the seemingly impossible. When you are a multi-billion-dollar mega-corporation, you have the financial leeway to go a little crazy now and then. "The Little Mermaid" cost a whopping $250 million to make and now we know where a sizable chunk of that money went.
Camille Friend is one of the hair stylists that helped transform Bailey's locs into Ariel's new hair and she revealed to Variety that styling the star's hair for the role set Disney back at least $150,000. If that sounds like the most expensive hairdo ever, it's because of how many times they had to redo it.
Because of the star's attachment to her hair, Friend decided it would be better to add three shades of red extensions around her dreadlocks rather than using a wig. "If we take hair and wrap it around her locs, we don't have to cut them and we don't have to color them," Friend explained. "We can change her color without changing her internal hair structure. Her structure and her hair are her."
Halle felt the pushback against her hair and her skin color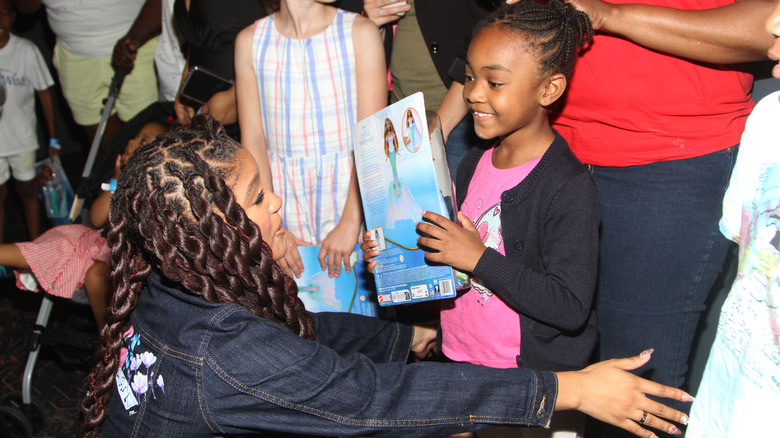 Joi Stokes/Getty Images
Halle Bailey's determination to keep her natural hair in the movie sat well with most of us hankering for representation. For a lot of Black people, having dreadlocks is not just a hairstyle, but a piece of culture that speaks to Black identity and heritage. To have a well-known and liked Disney princess carry that torch unapologetically drew heartfelt adoration and heavy criticism alike.
Dealing with racism and the naysayers was something Bailey had to come to terms with during her stint as Ariel. To her credit, the "Do It" singer handled the nasty comments with the utmost grace and poise as her mentor, Beyoncé, noted. "When [Chlöe and I] first signed to Parkwood, B was always like, 'I never read my comments. Don't ever read the comments,'" Bailey reminisced to The Face. "Honestly, when the teaser came out, I was at the D23 Expo and I was so happy. I didn't see any of the negativity."
Bailey couldn't be happier to be a beacon of hope for so many little Black girls and boys, and a source of healing for some of us grownups, too. "If somebody can take something away from whatever character I'm playing," she said, "that's all that matters to me."